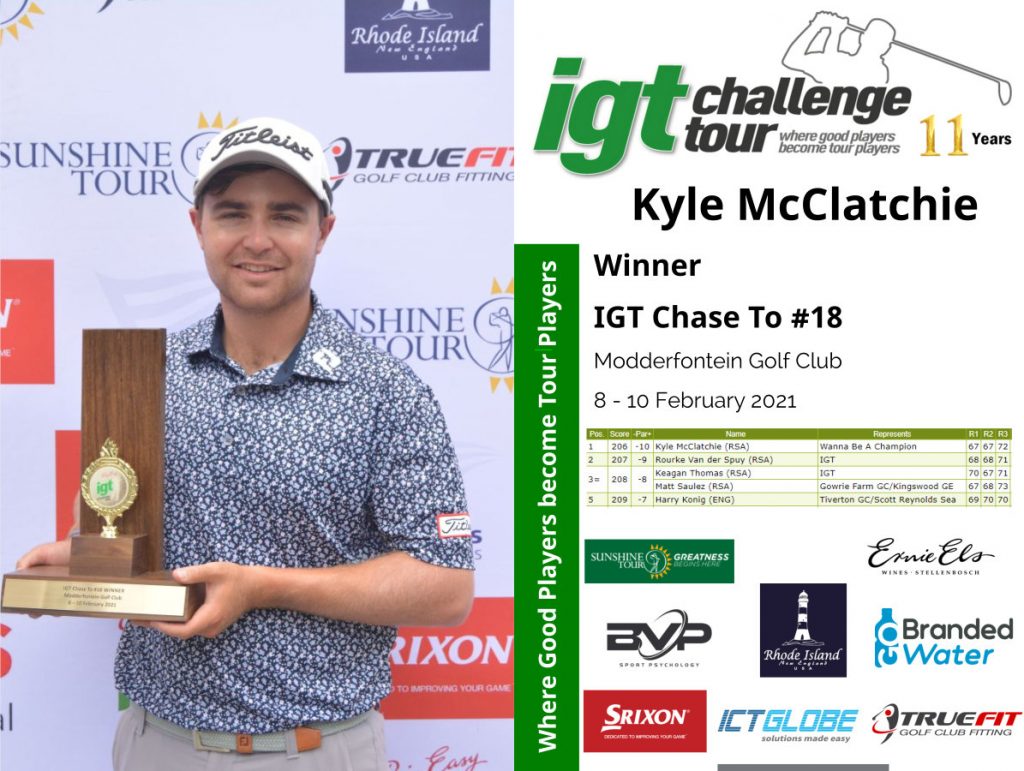 10th February 2021 | IGT Challenge Tour
McClatchie labours to Modderfontein victory
MODDERFONTEIN, February 10 – Kyle McClatchie admitted that his even-par final round of the IGT Chase To #18 wasn't his best but he was happy to walk away victorious after a laborious day at Modderfobtein Golf Club.
Leading the field coming into the final round, McClatchie's final round of 72 was enough to hold off challengers the calibre of Sunshine Tour winner Rourke Van Der Spuy and last week's winner Matt Saulez; earning him his second victory of the season in the process.
"Today was a little bit tougher than the previous two days, I think," said McClatchie of the tough day at Modderfontein. "I thought the flags were trickier and the last day's pressure might have had a part to play in it all. I struggled a bit on the front nine but I played nicely for the most parts and I put together some good stuff at the back."
A two-over-par front nine – consisting of bogeys on the second and par-three ninth holes – contradicted McClatchie's previous two rounds on that stretch where he made significant gains en route to the summit of the leaderboard after 36 holes.
A spirited effort, however, combined with patience and a level of experience competing at this level resulted in back-to-back birdies for McClatchie after turn, the kind of work that would encourage any athlete to go for more. Indeed, McClatchie found more joy after two straight pars; birdieing the par-three 14th.
His progress was abruptly halted, though, when he dropped shots on either side of his birdie on 16. With Van der Spuy only able to piece together a round of 71 and his nine-under-par 207 total falling just a shot away from forcing a play-off situation, McClatchie's effort was enough to win him the title.
"I just knew that if I could just keep in the game, I would have a chance on the last five or six holes," he said, detailing his thinking around the turn, "I didn't play particularly great today but I hung in there and worked hard, stayed very patient when I had to. Even with the two bogeys on the back nine, I didn't do too much wrong but after that, I had to stay patient. But I really enjoyed the competition out there this week and I just want to build on this going forward."
Another solid week for Van Der Spuy ends in disappointment for not claiming victory but he will be pleased with the level of his game and his ability to push those who lead to their limits. His total of nine-under earned him solo second while Saulez and Keagan Thomas placed in a share of third at eight-under-par.
Another top 10 finish for Michael Kok this week – a three-way tie of ninth with Jason Froneman and Kai-Alexander Brandkamp – means his march to the summit of the Order of Merit continues and rubber-stamps a solid season up to this point.
Latest IGT Challenge Tour News