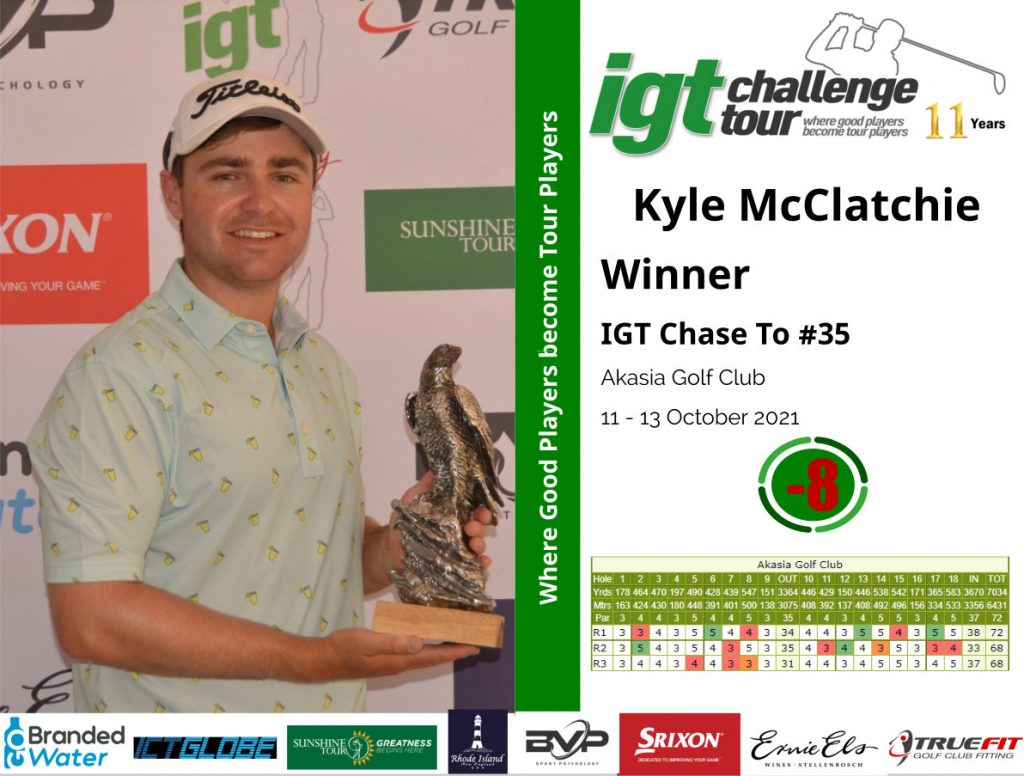 16th October 2021 | IGT Challenge Tour
McClatchie wins again with victory at Akasia
Kyle McClatchie eagled the eighth hole on Wednesday which put the seal on his victory in the Big Easy IGT Challenge Tour's Chase to the Sunshine Tour #35 at Akasia Golf Club.
McClatchie carded a four-under-par 68 to go to eight-under for the tournament. That gave him a one-stroke victory over Herman Loubser, Ryan Tipping and Franklin Manchest. Sentanio Minnie and Michael Kok were in a share of fifth place, one shot further back on four-under for the 54-hole tournament.
"I chipped it in from just short of the green," said McClatchie of the eagle which took him to eight-under and the lead which he never relinquished. "It was a good thing, because I wasn't putting too well, so it took the putter out of the equation."
He had chances to go further ahead on his homeward nine, but he was unable to make any birdies. "It was difficult with the putter no co-operating," McClatchie said, "and I was disappointed to not make birdies on the three par-fives on the second nine. But I was pleased to get the job done with all those guys chasing me."
It was McClatchie's fourth victory of the year, and his fifth of the season since he won his first back in October last year at State Mines. It's also his second inside the last month after he won at ERPM on September 13. "It's good to have all the hard work paying off towards the end of the season," he said. "It almost feels as if it counts more, and, of course, having form ahead of the Chase to the Sunshine Tour Final at Irene on November 22 is very valuable."
McClatchie heads the rankings on the Chase to the Sunshine Tour, ahead of Kok in second and Leon Vorster in third. The top three players after the final will earn their Sunshine Tour cards.
Latest IGT Challenge Tour News