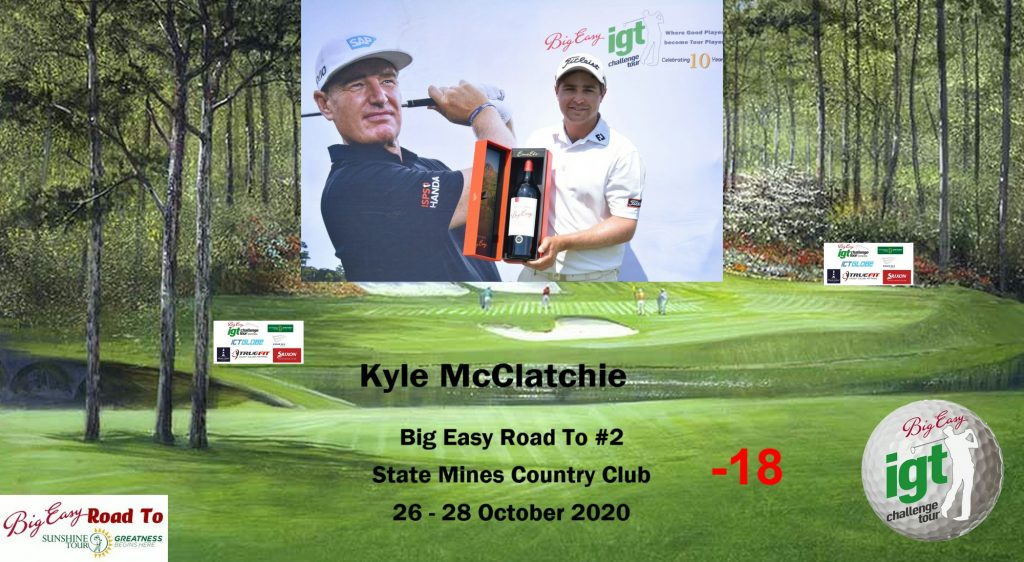 28th October 2020 | IGT Challenge Tour
McClatchie wins first Big Easy Tour title as a pro
BRAKPAN, October 28 – In an almost similar fashion to when he won the first Sunshine Big Easy Tour event of the season back in 2017 at Killarney Golf Club, Kyle McClatchie comfortably won this season's second event on the schedule, the Big Easy Tour Road To #2 at State Mines Country Club, by three shots on Wednesday.
Still an amateur back then, McClatchie entered the final round of that tournament – which would raise his profile in many ways – leading by four, and while there was still some work to be done in the final round to claim victory, McClatchie came through it all unscathed, trophy in hand, following a seven-shot victory over Maritz Wessels.
This week in the East Rand, however, McClatchie took a slim one-shot lead into the final round following back-to-back rounds of seven-under 65 and would have been confident of his ability to put together a low one when it mattered the most, and despite the piling pressure from the rest of the field. He told media on Tuesday that he aims to keep seeking out birdie-opportunities on Wednesday and a conservative approach was the last thing in his mind.
He did exactly that on Wednesday in the final round; getting off the mark quickly with back-to-back birdies on the second and third holes. Two more birdies followed on the sixth and seventh before he turned in 32 and without blemish.
A brilliant birdie at the turn, on the par-five 10th, was immediately canceled out by his first bogey of the day and one par later, another drop followed. In what's been one of his strongest points this week, after birdieing all the par-fives, except for the 10th where he made par on Monday, McClatchie made yet another birdie on 15 before a bogey threatened to snatch victory from his grasp.
"I got a little bit nervous at the back nine," admitted McClatchie who is a GolfRSA graduate. "But I am happy to win. This is my second one but the first one I won as an amateur. It's always hard to win especially if you have not won in a long time. So, I was nervous but I am happy I managed to come out with a win.
That fear was short-lived because McClatchie held on and birdied the last hole to sign for a four-under-par 68 which took his total for the week to 18-under and hand him a three-shot win over Vaughn Van Deventer.
"I'm just happy with the way I played more than anything," he said, "I thought I played nicely down the back nine, I just missed a couple of putts that I probably should have made but I just kept patient and kept doing the same things that I did on the front when I was playing nicely.
"Today I controlled what I could control and didn't worry myself about things that are out of my control. So, this win means a lot because I have been working very hard and I feel like it's been a good couple of months building up to this. It's been a long time since I won a golf tournament and it feels great to get back on that road. I feel I can build on this for the future."
198 – Kyle McClatchie (RSA) 65 65 68
201 – Vaughn Van Deventer (RSA) 63 68 70
204 – Dylan Kok (RSA) 68 72 64, Llewellyn Booysen (RSA) 68 71 65
205 – Ryan Tipping (RSA) 69 70 66, Gregory Mckay (RSA) 68 68 69, Darin De Smidt (RSA) 65 68 72
207 – Jordan Duminy (AM) (RSA) 70 69 68, Caylum Boon (RSA) 69 67 71
208 – Marco De Beer (RSA) 67 73 68, Michael Pfeifer (RSA) 72 67 69, Casey Jarvis (AM) (RSA) 72 67 69, Ricky Hendler (RSA) 73 65 70, Ruan Groenewald (RSA) 67 69 72, Bradley Diggeden (RSA) 66 70 72, Keaton Slatter (RSA) 69 66 73
209 – Leon Vorster (RSA) 67 73 69, Carlo Heunis (RSA) 67 71 71, Zabastian De Jager (RSA) 71 67 71
210 – Nikhil Gopal (AM) (RSA) 70 71 69, Christiaan Burke (AM) (RSA) 69 72 69, Erhard Lambrechts (RSA) 71 69 70, Therion Nel (RSA) 71 68 71, Herman Loubser (RSA) 70 65 75
211 – Gregg Gilson (AM) (RSA) 71 71 69, Gerhard Pepler (RSA) 72 70 69, Harry Konig (ENG) 66 71 74
212 – Ryan Van Velzen (AM) (RSA) 69 72 71, Matthew Rushton (RSA) 70 70 72, Michael Kok (RSA) 69 71 72
213 – Morne Buys (RSA) 67 75 71, DK Kim (KOR) 70 71 72, Angus Ellis-Cole (RSA) 70 71 72
214 – Fritz Orren (RSA) 68 74 72, Warwick Purchase (AM) (RSA) 69 71 74, Rigardt Albertse (RSA) 70 70 74, Drikus Joubert (AM) (RSA) 66 72 76, Conner Mackenzie (AM) (RSA) 68 68 78
215 – Reinhardt Blaauw (RSA) 71 71 73, Jonathan Waschefort (RSA) 70 72 73
216 – Charlie Dell (AM) (ENG) 71 70 75
218 – Wynand Potgieter (RSA) 73 69 76, Neal Woernhard (SUI) 69 72 77
220 – Slenda Sithebe (RSA) 70 71 79
221 – Mohammed Darsot (AM) (RSA) 70 72 79
WDN – Michael-James Steyn (RSA) 66 68 WDN
Latest IGT Challenge Tour News