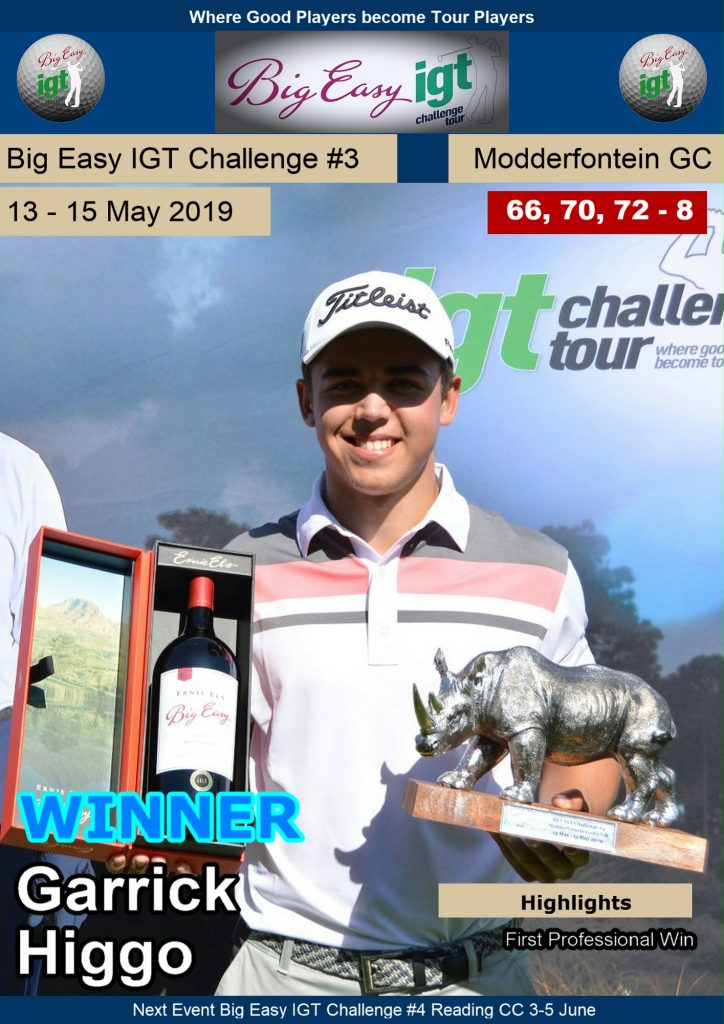 15th May 2019 | IGT Challenge Tour
Memorable maiden for Higgo in Big Easy IGT Modderfontein
Memorable maiden for Higgo in Big Easy IGT Modderfontein
(PHOTO – Garrick Higgo; credit CJ du Plooy)
MODDERFONTEIN, 15 May 2019 – Boland rookie Garrick Higgo went wire-to-wire at Modderfontein Golf Club to lift his first professional title on the Big Easy IGT Challenge Tour on Wednesday.
Less than two months since the GolfRSA National Squad 'Old Boy' joined the paid ranks, Higgo closed out a one-shot victory on eight-under 208 over Clinton Grobler and 17-year-old Southern Cape amateur Martin Vorster with a final round level-par 72.
But the 20-year-old barely had time to soak up the success before he had to speed off to Swaziland with the trophy and his signature bottle of Ernie Els wine on the back seat.
"I have a 06h50 tee-time in the Lombard Insurance Classic qualifier tomorrow morning, so the celebrations are on ice," Higgo said. "It's kind of ironic, because I made the cut in the Investec Royal Swazi Open in Swaziland two weeks ago, but now I have to go back to qualify. That comes with rookie territory, though; you have to pay your dues.
"I'm super stoked. I played the Big Easy IGT before Q-School and came up this week to stay competitive and to test my new driver and 3-wood. The clubs performed great and I ended up coming away with a trophy."
Playing the course blind in round one, Higgo took the lead with a blistering six-under-par 66.
He kept the advantage going with second round 70 and started the final round final round two shots ahead of former Sunshine Tour campaigners Marthin Scheepers and Ryan Tipping and three clear of Vorster.
The Pinnacle Point junior, playing in the penultimate group, got off to a birdie-birdie start and a third gain at the par four fifth saw Vorster draw level with the leader.
"Martin was playing really well up ahead," Higgo said. "He was holing putts from all-over and his ball-striking was great. I didn't want to start firing at pins at a course I don't know well, so I just stayed patient, played for position and waited for some scoring opportunities to come."
Higgo matched Vorster's birdie at the par four seventh, but bogeyed the par five eighth. Higgo also let one slip at the short ninth and the pair turned on eight-under.
Meanwhile Sunshine Tour rookie Grobler also joined the title fight.
The Krugersdorp golfer, who was six off the pace at the start of the final day, got to four-under with back-to-back birdies at seven and eight. He birdied 10 and eagled the par five 13th to move within a shot of the joint leaders.
Higgo took back the lead with a birdie at the 10th, but let Vorster and Grobler back in the door with a bogey at 13. The duo failed to take advantage, though. Grobler birdied 14, but dropped at the next hole and Vorster also bogeyed the par four 15th.
"I've been in that position before, and you can't control what your opponents are doing. You can only manage your own game, so I just kept my head down over the last five holes and made sure of pars," Higgo said.
"They both made pars over the last three holes, and that meant par at 18 would guarantee the win, so I played the safe shots. It felt fantastic to get that first win under the belt. I really came under pressure today, but I held it together and kept the round going with some great putting and par-saves. It's brilliant to take that game and confidence back on the Sunshine Tour."
Scheepers shot level par 72 to tie for fourth with Jordan Duminy, who set the low round target in the second round with a five-under-par 67. The 16-year-old made an eagle start and finished birdie-birdie for a round 69 and a six-under total.
Duminy and fellow Louis Oosthuizen Junior Golf Academy member Vorster – the only amateurs to make the cut – used the Big Easy IGT Challenge Tour to prepare for the GolfRSA National Squad Tour to the United Kingdom and Ireland at the end of May. The pair gained a boat-load of experience and confidence to their debut in the East of Ireland Championship in early June.
Final Result
All competitors RSA unless otherwise specified and amateurs indicated at AMA
208 – Garrick Higgo 66 70 72
209 – Clinton Grobler 70 72 67, Martin Vorster AMA 70 69 70
210 – Jordan Duminy AMA 74 67 69, Marthin Scheepers 67 71 72
211 – Jason Roets 71 72 68, Ryan O'Neill (ENG) 70 70 71
213 – Gareth Sargent 69 74 70, Ruan De Smidt 72 73 68, Clayton Mansfield 70 72 71, Coert Groenewald 76 70 67
214 – Jason Froneman 72 72 70, Karl Ochse 70 73 71, Roberto Lupini 73 73 68
216 – Divan Marais 71 73 72, Hennie O'Kennedy 69 73 74, Leon Vorster 76 70 70, Michiel Bothma 68 72 76, Jacquin Hess 71 68 77
217 – Luke Mayo 73 70 74, Makhetha Mazibuko 72 71 74, Malcolm Mitchell 72 71 74, Basil Wright 74 69 74, Ryan Tipping 68 70 79
218 – Darin De Smidt 72 74 72, Jason Smith 76 70 72
219 – Jeff Inglis (ENG) 76 70 73
220 – Gerhard Pepler 75 70 75, Luan Boshoff 74 72 74
221 – Jack Rex Duthie 72 72 77, Hanlo Jacobs 70 74 77, Leon Visser 73 72 76, Hans-Jurie Human 73 73 75
223 – Paul Boshoff 67 75 81, Gideon Van Der Vyver 73 69 81
224 – Eric Nel 73 71 80, Gary Daoust (BEL) 71 74 79, Evance Vukeya 71 75 78
227 – Paul Rodrigues 72 73 82
Written and released by Lali Stander on behalf of the Big Easy IGT Challenge Tour.
Latest IGT Challenge Tour News