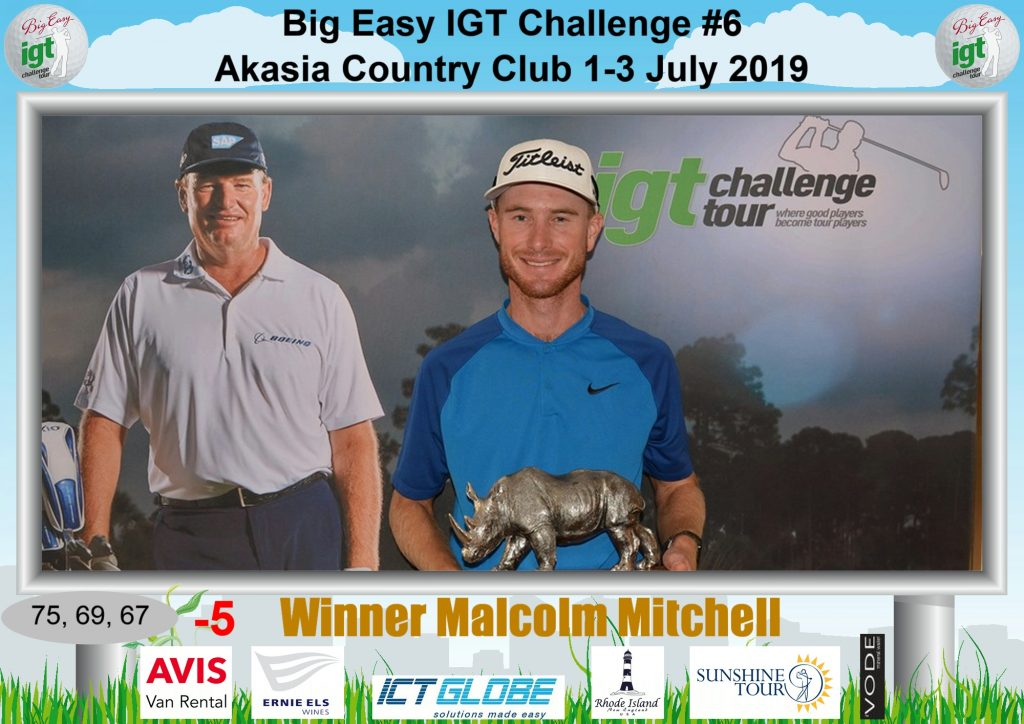 3rd July 2019 | IGT Challenge Tour
Mitchell maidens in Big Easy IGT at Akasia
Mitchell maidens in Big Easy IGT at Akasia
(PHOTO – Malcolm Mitchell; credit CJ du Plooy)
PRETORIA, 3 July 2019 – KwaZulu-Natal rookie Malcolm Mitchell overturned a three shot deficit as he cut through the competition to win his maiden Big Easy IGT Challenge title in style on Wednesday.
The 23-year-old Kloof golfer had set himself the target of securing his first professional title this season and he duly delivered in the sixth event at Akasia Country Club.
Mitchell carded five birdies in his last seven holes for a five-under-par 67 to finish the week on five under par, and a one-shot victory on five-under came yielded a big bonus – a R10 500 pay day that propelled him to the top of the Race to Sunshine Tour standings.
"It's a pretty good place to be with only the top six ranked players gaining playing privileges for the next Sunshine Tour season at the end of the series," Mitchell grinned.
Mitchell began the final round three off the pace and was still three shots adrift of joint overnight leaders Hennie O'Kennedy and Matthew Rushton after a bogey start, another drop shot at the seventh and brace of birdies on eight and nine.
Birdie at the par three 12th delivered an unexpected kick and launched his incredible birdie haul down the stretch that saw him leave O'Kennedy and Rushton in his dust.
"There wasn't much wind today, so I went with a sand-wedge on 12 and I hit it eight foot left of the pin," Mitchell said. "I holed a tough little left-to-righter for birdie and that delivered a nice punch of confidence.
"I hit 8-iron front edge on the par-five 15th and two-putted for birdie. At the next par five, I drove it down the middle, hit 4-iron through the green and made another two-putt birdie. The short hole was 148 metres flag. I hit my wedge shot 10 feet behind the hole and made a downhill left-to-right slider for birdie. At 17, I hit a great 4-iron off the tee and had 50 metres in, so I wedged it to 10 feet and rolled in an uphill putt.
"At the last hole, I hit it down the left to open up the hole and hit 7-iron just left of the green, but I had a very tricky chip. I pitched it 20 feet below the hole and my birdie putt finished just behind the hole, but that left me with a stress-free tap-in for par."
Mitchell reeled a trio of top 10 finishes in his first four starts, but he came into the tournament having missed the cut at State Mines last week. "I made a swing change, and became totally swing orientated at State Mines," he said. "I blew out in the first nine holes and just struggled to get my mind-set right.
"This week I just let the swing happen like I normally do, and it worked out for me. It's gratifying to get this first win under the belt, because the course this week was very different to the softer courses we've played thus far. Being winter up here, the greens were very firm and you couldn't attack the pins. You had to play strategically.
"I'm pretty chuffed that I landed my first win under tough conditions. I've ticked a box that sets me up nicely for the rest of the season. No-one becomes a millionaire in a day, so this is the first step in the right direction."
O'Kennedy and Rushton both made a valiant effort on the back nine to catch Mitchell, but the pair had to settle for second and third respectively.
Stellenbosch rookie O'Kennedy atoned for bogeys at 11 and 13 with an eagle at the par five 14th, which he backed up with birdies at 15 and 16 for a final round 71 and sole second on four-under.
Rushton birdied 14 and 15, but successive bogeys at 16 and 17 put paid to his challenge. The Erinvale golfer signed for a 73 and finished in third on two-under.
Final Result
All competitors RSA unless otherwise specified and amateurs indicated as AMA.
211 – Malcolm Mitchell 75 69 67
212 – Hennie O'Kennedy 73 68 71
214 – Matthew Rushton 72 69 73
215 – Coert Groenewald 73 74 68
216 – Carlo Heunis 74 72 70, Quintin Wilsnach 76 67 73
217 – Gideon van der Vyver 75 67 75
218 – Allister de Kock 74 72 72, John McClean (NIR) 73 72 73
219 – Reinhardt Blaauw 74 74 71, Neal Woernhard (SUI) 70 76 73, Clayton Mansfield 72 74 73, Theunis Bezuidenhout 72 72 75
220 – Desne van den Bergh 76 73 71, Dwayne Basson 74 73 73, Albert Venter 76 71 73
221 – Jeff Inglis (ENG) 75 75 71, Thabang Simon 75 74 72, Darin de Smidt 75 74 72, Jaco van der Merwe 74 73 74, Michael-James Steyn 74 72 75, Michael Schutz 70 74 77
222 – Christo Lamprecht AMA 77 72 73, Jason Rossiter 76 73 73, Cameron Moralee 75 73 74
223 – Matthew Spacey 77 73 73, Erhard Lambrechts 77 73 73, Ruan Korb 77 71 75
224 – Deon Bredenkamp 75 73 76
226 – CJ Levey 76 70 80
228 – Leon Vorster 81 69 78
229 – Werner Deyzel AMA 78 72 79
230 – Hanlo Jacobs 77 73 80
231 – Albert Visser 75 73 83
Written and released by Lali Stander on behalf of the Big Easy IGT Challenge Tour.
Latest IGT Challenge Tour News