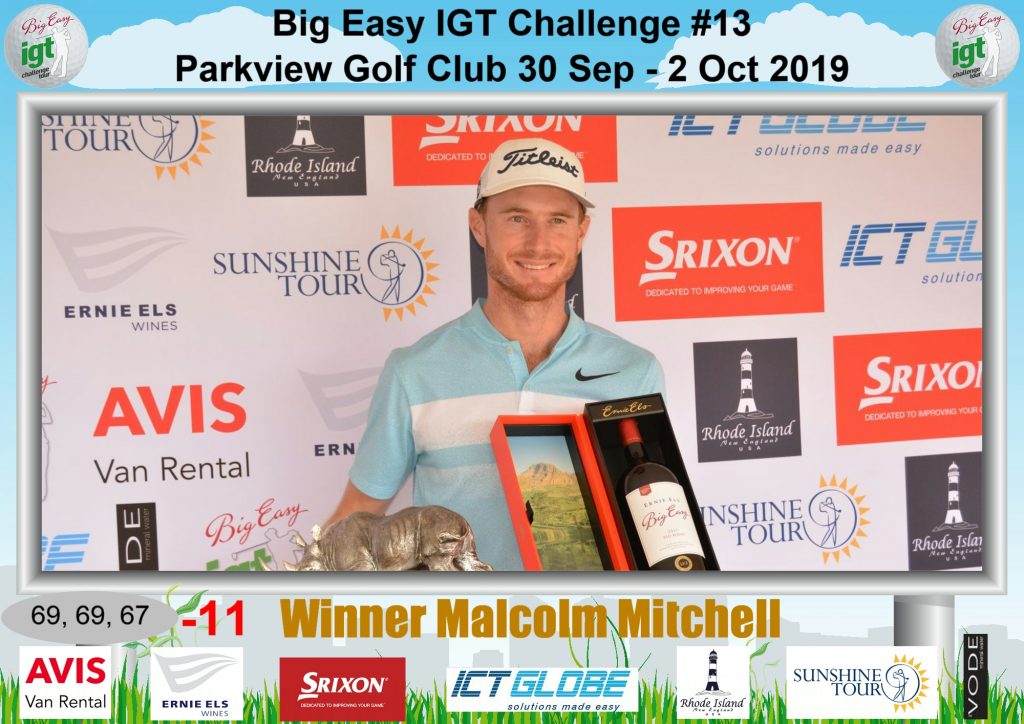 2nd October 2019 | IGT Challenge Tour
Mitchell wins epic play-off at Big Easy IGT Parkview
Mitchell wins epic play-off at Big Easy IGT Parkview
(PHOTO – Malcolm Mitchell; credit CJ du Plooy)
JOHANNESBURG, 2 October 2019 – Malcolm Mitchell won his third title of the season on a day of high drama at Parkview Golf Club, beating his buddy Matt Saulez in the longest play-off in Big Easy IGT Challenge Tour history.
The lead changed hands countless times on a day of twists and turns, but Mitchell took charge on 11-under with four birdies on the bounce from the 13th.
Overnight leader Saulez dropped four shots on his outward loop, but rallied with a pair of birdies and an eagle on the par five 14th to draw level with Mitchel. Both players parred the final two holes, and a five-under-par 67 from Mitchell and level par 72 from Saulez saw the two friends head to extra holes. The pair halved the first four extra holes in pars until Mitchell locked down the title when he holed a six-footer for birdie on the 18th.
Mitchell has battled his fair share of play-offs, but victory in the 13th event of the series was by far the most emotional of his burgeoning career.
"Matt and I have known each other since we were little," said the 24-year-old Kloof golfer. "We represented KwaZulu-Natal at Junior and Open Amateur level. We were both in the GolfRSA National Squad and represented South Africa in number of events internationally.
"A year ago, Matt was one of the top ranked amateurs in South Africa. Then he lost his swing and went through really dark times. It was hard to watch but he never gave up and Clayton Mansfield and I just kept him motivated. He kept on grinding and now he has found his way back to the top.
"We both knew he needed to be up there more today than I needed to win. That's why it was a strange play-off. Normally I'd be out there fighting for the win and I'd be devastated with a loss, but today I didn't care either way. Win or lose, was a great day for both of us."
At the start of the final round Mitchell lagged five shots behind 36-hole leader Saulez on 11-under.
"I made three birdies in a row from the third, but I three-putted the sixth for bogey and dropped another shot when I couldn't up-and-down from the bunker on seven. But you're never out of it and still backed myself with two par fives to come on the back nine," Mitchell said.
Mitchell found the fairway bunker on the par five 13th, but a great trap-shot left him 100 metres short of the green. He wedged it close and boxed for birdie.
"I had a stock-standard two-putt birdie on 14 and a great revenge birdie on 15,"Mitchell said.
That par three really did me in this week. A double bogey in the first round and bogey in the second, so it felt really good when I hit it eight feet behind the flag and rolled in a tricky downhill putt.
"On 16, I changed strategy and it paid off. I felt driver would be too long and I wouldn't clear the trees with a 3-wood, so I laid up with a 6-iron and wedged it to three feet. I didn't really have good birdie chances on 17 and 18, so I was happy to go toe-to-toe with Matt in the play-off.
"We squared the first two trips down 18 in pars. Matt had a 15-footer for birdie on the third play-off hole, but he missed and we went to the ninth for the fourth play-off hole. Halved in pars again and back to 18 we went and knocked in the birdie to win."
The outcome cemented Mitchell's position at the top of the Road to Sunshine Tour standings and with five events left, he is almost R14 000 clear of nearest rival Jason Smith.
"All in, it was a brilliant final result for both of us," Mitchell said.
"Matt's confidence and his game is back and I couldn't be happier for my buddie and I am in a good spot to seal my card for the Sunshine Tour next season. The standard on the Big Easy IGT Challenge Tour is really high, though and it's really very competitive this year, so I will need to keep it the form going over the business end."
Dylan Kok from Pretoria carded 68 to finish third on nine-under and Krugersdorp golfer Jason Rossiter fired eight birdies on his way to a round of 66 to seal a fourth place finish on eight-under.
Final Result
All competitors RSA unless otherwise specified and amateurs indicated at AMA
209 Malcolm Mitchell 69 69 67 (won 5th play-off hole)
209 Matt Saulez 65 68 72
207 Dylan Kok 69 70 68
208 Jason Rossiter 70 72 66
209 Quintin Wilsnach 69 72 68; Adriel Poonan 68 70 71; Byron Coetzee 66 70 73
210 Jeff Inglis (ENG) 69 71 70
211 Gideon Van Der Vyver 70 72 69; Carlo Heunis 69 71 71; Matthew Spacey 68 70 73
212 Jason Roets 70 73 69
214 Allister De Kock 72 72 70; Albert Venter 71 73 70; Dwayne Basson 72 71 71; Neil Cheetham (ENG) 71 72 71; Jack Rex Duthie 73 69 72
215 Luan Boshoff 70 74 71; Leon Vorster 69 70 76; Jason Froneman 67 72 76
216 Morne Buys 71 73 72; Richard Joubert 72 72 72; Jason Viljoen 71 70 75; Marthin Scheepers 68 72 76
217 Bryce Myburgh 68 76 73; Michael Pfeifer 73 70 74
218 Karl Ochse 76 68 74; Michael-James Steyn 73 71 74; Gerard du Plooy 71 69 78; Thabang Simon 65 72 81
220 Stuart Smith (BOT) 76 66 78
221 Keaton Slatter 71 70 80
Written and released by Lali Stander on behalf of the Big Easy IGT Challenge Tour.
Latest IGT Challenge Tour News