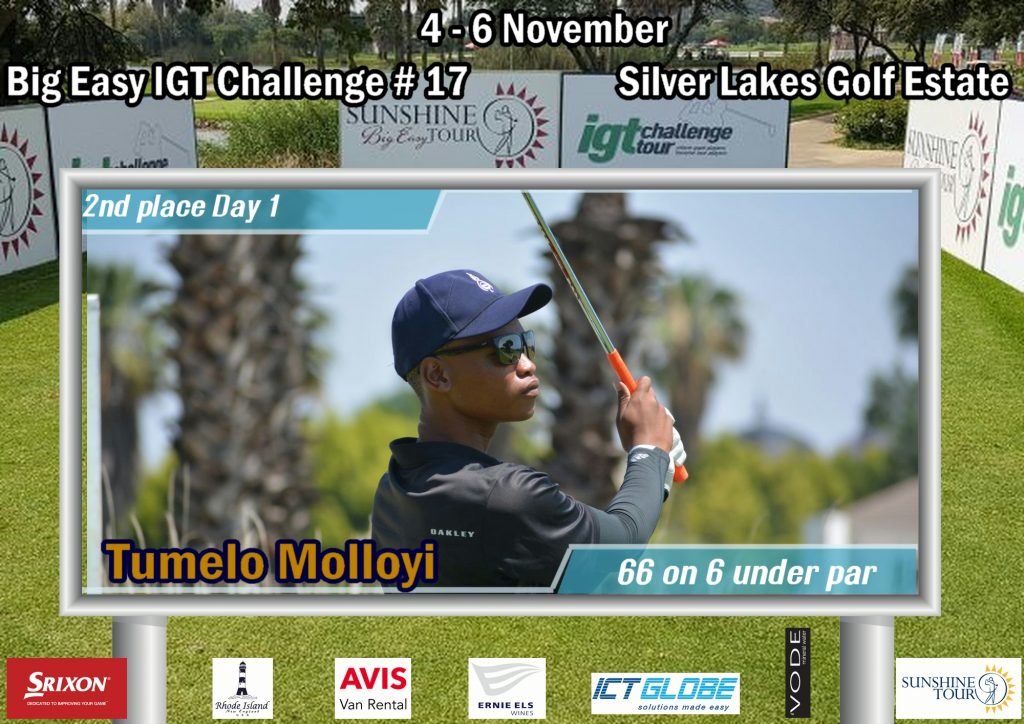 4th November 2019 | IGT Challenge Tour
Molloyi in the hunt at Big Easy IGT Silver Lakes
Molloyi in the hunt at Big Easy IGT Silver Lakes
PRETORIA, 4 November 2019 – Cosmos golfer Tumelo Molloyi soared into contention on the wings of eagles in the opening round of the Big Easy IGT Challenge Tour #17 at Silver Lakes Golf Estate on Monday.
The 24-year-old fired four birdies and two eagles in an opening round of six-under-par 66 to finish just one shot adrift of the joint leaders, Jason Smith from Pretoria and Kempton Park's Jason Froneman.
"It could easily have been a 64 or 63, but if someone offered me a 66 in the wind this morning, I wouldn't have argued," said the delighted Molloyi. "The course set-up wasn't too penal, but the greens were very firm and the wind made club selection really tricky."
Molloyi hoped to build some form for the IGT Challenge Tour, which resumes in a fortnight at Modderfontein Golf Club, and he couldn't be happier with the result.
"I have been mainly playing the IGT Challenge Tour this season," said the Jackal Creek Golf Estate member. "There are six cards up for grabs this season – three cards each for the top three golfers in the Chase to Sunshine Tour and the Transformation Order of Merit.
"I'm currently second on the Transformation standings and 10th in the Chase rankings. We had a couple of weeks off and I wanted to put into action everything my coach Dylan de Beer at the Jackal Creek Golf Academy and I have worked on in the past couple of weeks."
Molloyi made a birdie start on the par four 10th and atoned for soft bogeys on the 13th and 16th with a birdie on the par four 15th and eagle on the par five 18th.
"I wasn't too bothered with the two bogeys," he said. "On 13, I hit my tee shot just short of the flag but it rolled off the back and on 16, I hit a great shot but the wind held it up and I finished just short of the green. They were soft bogeys, so nothing too dramatic.
"The wind was into us and off the left on the 18th tee, but I hit a great drive and I was pinning my hopes on a birdie. The flag was front left and the wind was slightly stronger, so I aimed for the middle of the green.
"I hit 8-iron from 158 metres with a slight draw and it came out great. The ball finished three metres behind the hole and I boxed a downhill left to right slider for eagle to turn two-under."
Molloyi made up for short-siding himself on the par five second with two birdies on the bounce on the third and fourth holes, and eagle at the par five seventh moved him within a shot of the pacesetters.
"I boxed a five metre putt on the third and holed a curling left to right slider on four," said Molloyi. "I had to scramble for pars on five and six, but the eagle on seven made up for it. I hit a great drive down the middle and a full gapwedge to a back flag from 118 metres out to four feet and boxed the putt.
"My approach on the eighth finished one roll short of the hole and I made a good par on 18 to finish on six-under, but like I said, it could have been lower. I had a really great ball-striking day and I missed just three fairways. But I'm not complaining. It's great to be in contention and just a shot behind Jason Smith, who has won twice this year. I take a lot of confidence from this round."
Smith sits in second place on the Road to Sunshine Tour and is in the running for a hat-trick of Big Easy IGT Challenge Tour titles for a third successive week, while Froneman moved to 16th with a runner-up finish in last week's event at Reading Country Club.
Both golfers eagled the par five second and added half a dozen birdies for their opening rounds of 65.
Dylan Kok, Reinhardt Blaauw and Big Easy IGT #15 winner Byron Coetzee tied for third on five-under, with  Romano Saincic, Michael Kok, Basil Wright, Jason Rossiter, Eric Nel, Gideon van der Vyver and Sunshine Tour rookie Kyle Barker a further shot back in joint seventh.
First Round Scores
65 – Jason Froneman, Jason Smith
66 – Tumelo Molloyi
67 – Dylan Kok, Reinhardt Blaauw, Byron Coetzee
68 – Romano Saincic, Michael Kok, Basil Wright, Jason Rossiter, Eric Nel, Kyle Barker, Gideon Van Der Vyver
69 – Jack Rex Duthie, Franco Putter, Matthew Spacey
70 – Keaton Slatter, Jaco Van Der Merwe, John McClean (NIR), Theunis Bezuidenhout, Matt Saulez, Wayne Stroebel, Clayton Mansfield, Morne Buys, Malcolm Mitchell, Desne van den Bergh, Therion Nel AMA, Thabang Simon
71 – Quintin Crause, Christian MacGregor AMA, Richard Joubert, Neal Woernhard (SUI), Marthin Scheepers, Quintin Wilsnach, Thabiso Ngcobo, Albert Venter, Coert Groenewald, Dwayne Basson, Jeff Inglis (ENG)
72 – Richard Kruger, Xander Basson AMA, Mike Maile, Hayden Griffiths, Adriel Poonan, Nicholaus Frade, Wesley Du Toit AMA, Karl Ochse, Jason Roets, Peetie Van Der Merwe, Marco De Beer
73 – Carlo Heunis, Jay Dean Fourie, Arno Pretorius, Henning Du Plooy, Zabastian De Jager, Gareth Sargent, Conner Mackenzie AMA, Martinus Barnard, Paul Rodrigues, Leon Visser, Paulo Serrao (POR)
74 – Christian Basson, Michael-James Steyn, CJ Levey, Phumlani Maluka, Michael Pfeifer, Gary Daoust (BEL), Leon Van Der Walt AMA, Makhetha Mazibuko, Angus Ellis-Cole
75 – Alpheus Kelapile, Shalan Govender, Dean Du Plessis, Marcel Steyn Scholtz, Hennie O'Kennedy, Jason Viljoen, Teddy Mathebula, Ruhan Van Dijk
76 – Leon Vorster, Jason Gilliver AMA, Donovan Pearse, Keanu Pestana, Neil Cheetham (ENG), Bradley Brown AMA
77 – Ryan O'Neill (ENG), Duan Nagel, Alex Pienaar AMA, Luke Barblan AMA (SUI), Albert Visser, Luan Boshoff
78 – Hanlo Jacobs, Marnus Barnard AMA
79 – Sipho Bujela, Regan Steyn AMA, Carl Mwale AMA
81 – Nqobani Ndabambi (ZIM)
82 – Greg Bentley (ZIM), Jastice Mashego
83 – Muhluri Mahime
84 – Alwyn Smith
87 – James Cleasby AMA
RTD – Divan Marais
Written and released by Lali Stander on behalf of the Big Easy IGT Challenge Tour.
Latest IGT Challenge Tour News