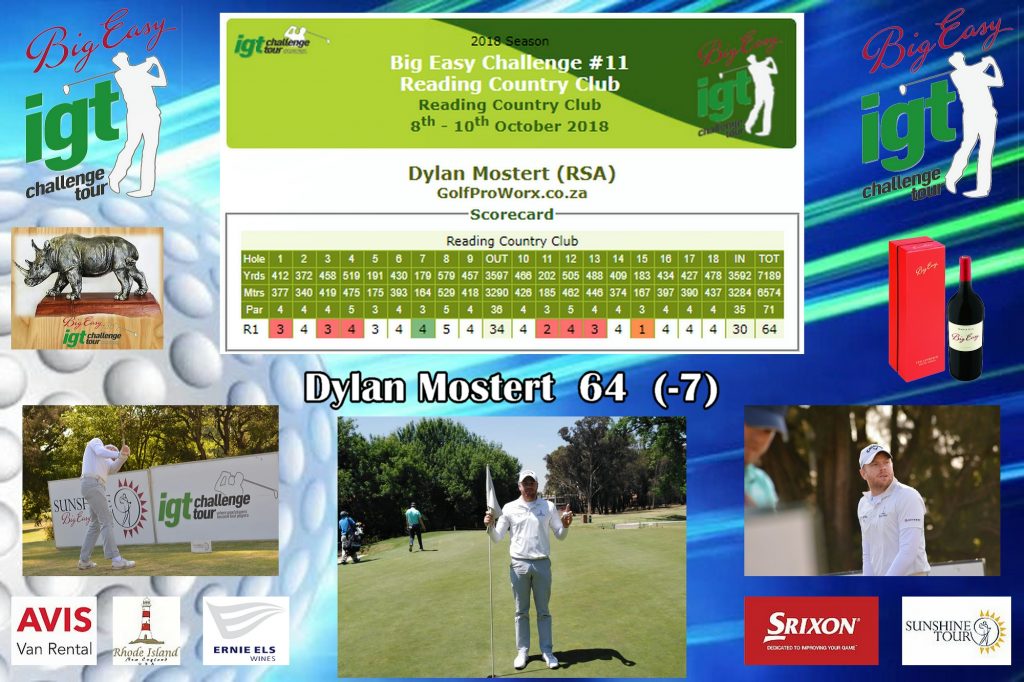 8th October 2018 | IGT Challenge Tour
Mostert makes his move at Reading
Mostert makes his move at Reading
(PHOTO – Dylan Mostert; credit CJ du Plooy)
ALBERTON, 8 October 2018 – Road to Sunshine Tour leader Dylan Mostert rediscovered his form to move into the first round lead at the Big Easy IGT Challenge Tour #11 in Alberton on Monday.
On a day when 27 players broke par at Reading Golf Club, the 20-year-old State Mines golfer set the benchmark high, making light work of the breezy conditions to fire a seven-under-par 64 that featured six birdies, a lone bogey and his third career ace at the par-3 15th.
Mostert opened up a two shot lead over Albert Venter and Kyle Barker and he finished three strokes clear Sunshine Tour player Matthew Spacey and rookie Hayden Griffiths.
A group of four players – Bryce Myburgh, Marco de Beer, Matt Bright and Quintin Crause – finished a further stroke back.
Mostert, who won the series opener and the third event, has maintained the number spot in rankings despite a string of sub-standard finishes in July and August.
The Ekurhuleni rookie showed all his class when he fired his best round of the season to make an excellent start in the hunt for a third title. He was left ruing a bogey at the par-3 seventh, but was happy overall with his opening effort.
"I put myself in a good position early on to get one of the 10 Sunshine Tour cards on offer at the end of the series, but then somewhere in July I lost my swing," said the 20-year-old Mostert.
"I was striking the ball really badly and I put in a lot of long hours to get back on track with my coach Neil Cheetham. It started to pay off in September, when I had two sub-par rounds in the Big Easy IGT at Services to tie for 10th.
"Last week I played the Witbank Open on the IGT Challenge Tour and shot three rounds of 72 and I felt that I was close to my best. I haven't played at Reading since my junior golf days, but I felt good over the driver in the practice round and my swing was there today."
Mostert drained the 35-foot downhill putt at the first for birdie to set the tone for his round.
"I birdied the third and fourth holes, but I misjudged the wind at the seventh," he said. "I took the wrong club, overshot the green and couldn't up-and-down. I didn't make a bad swing, though, so it didn't upset me too much."
Mostert judged the crosswind at the par-3 11th perfectly, though, He aimed an 8-iron straight at the flag, the ball pitched next to the hole, released to 12 foot and he boxed the putt to kick-start a run of three birdies on the bounce.
"I hit a good drive at 12, gap-wedge in and two-putted," he said. "At 13, my tee shot landed just right off the fairway. I hit my second to 15 foot and holed the putt.
"At 15, I had 150 metres to the pin, so I hit a soft, smooth wedge and watched it drop in the hole. It didn't bounce or hit the flag; just dropped straight in. That was pretty cool."
His clubhouse target went unmatched and he looks forward to leading the field in round two.
"I kept on hitting it where I wanted to and I holed some vital putts today, so hopefully I can pick up where I left off tomorrow," he said. "I'm happy now that I know what's going on with my swing and I can tell when it goes wrong. I felt really confident over my driver and it felt great to hit it down the barrel again. It's nice to start the tournament well and get off to the right foot."
Venter mixed five birdies and an eagle at the par-5 fourth with a pair of bogeys, while Barker fired a flawless six-under 66. Griffiths had eagles at eight and 12, but gave shots back with a double bogey at 13 and a bogey at 16 and Spacey racked up half-a-dozen birdies for his 67.
First Round Scores
All competitors RSA unless otherwise specified; amateurs indicated as AMA
64 – Dylan Mostert
66 – Albert Venter, Kyle Barker
67 – Hayden Griffiths, Matthew Spacey
68 – Bryce Myburgh, Marco de Beer, Matt Bright, Quintin Crause
69 – Jack Duthie, Theunis Bezuidenhout, John McClean (NIR), Jason Roets, Garth Wolter, Eric Nel, Ruan Korb, Rupert Kaminski, Romano Saincic, Albert Visser
70 – Steven Lecuyer (CAN), Peetie van der Merwe, Hendrikus Stoop, Dongkwan Kim (KOR), Allister de Kock, Jeff Inglis (ENG), Arno Pretorius, Michael Kok
71 – Tokkie van den Berg, Conway Kunneke, Tristan Topka AMA, Damon Stephenson (AUS), Louis Botha, Paul Boshoff, Phumlani Maluka
72 – Adriel Poonan, Juran Dreyer, Pieter Moolman, Stals Swart AMA, Bradley Diggeden AMA, Yubin Jung, Stuart Smith (BOT), Jonathan George AMA
73 – Blain Sansom, Jacques de Villiers, Luke Brown, Hanish Nagrani (ZIM), Jonathan Waschefort, Divan Marais, Leon Vorster, Patrick Thompson, Wayne Stroebel, Zabastian de Jager
74 – Thabang Simon, Gary Daoust (BEL), Warric Dyers, Sipho Bujela, Jason Viljoen, Landon Ferguson, Ruhan van Dijk, Ryan Tipping, Derick Petersen, Jason Smith, Duane Keun, Stefan Wears-Taylor, Andrew Carlsson, Coert Groenewald, Teddy Mathebula
75 – Shaun van Tonder, Marthin Scheepers, Keaton Slatter, Jabulane Mabilane, Keanu Pestana AMA, Dwayne Basson, Greg Bentley (ZIM), Ethan Joseph
76 – Jason Diab, Alpheus Kelapile, Shalan Govender, Jaco van der Merwe AMA, Andi Dill, Tumelo Molloyi
77 – Nico du Buisson, Tyran van Lieshout, Matthew Hands AMA, Keelan Africa, Teboho Sefatsa, Matthew Rushton, Gerard du Plooy
78 – Thabiso Ngcobo, Maritz Wessels, Dylan Kok, Tjaart van Wyk AMA, Neil Cheetham (ENG), Cameron Gunning, Marcus Smal AMA, Michael-James Steyn
79 – Andrew Plint AMA, Leon Visser, Paulo Serrao (POR), Richard Joubert, Michael Van Rooyen
80 – Jason Rossiter, Michael Pfeifer, Dean du Plessis AMA, Stephan Erasmus, Kyle Murphy AMA
81 – Cameron Moralee, Tanaka Mhere AMA (ZIM), Karl Lehmacher
82 – Tyler Johnston AMA
84 – Deane Cooper AMA
85 – Ricki Dembo, Alwyn Smit
90 – Jay Dean Fourie
RTD – CJ Levey
Ends
Written and released by Lali Stander on behalf of the IGT Challenge Tour.
Latest IGT Challenge Tour News