Launching 30 April 2021 at Services Golf Club
Franchise opportunity
You want to run and manage a MyGolf SA One Day Series in your area. Please send enquiry to [email protected] requesting info.
Areas: Western Cape, Boland, Eastern Cape, Northern Cape, North West, Free State, Kwazulu Natal, Eastern Gauteng, Central Gauteng, Gauteng North (Sold), Limpopo and Mpumalanga.
Membership
Membership is FREE!
Eligibility
Open to Professional and Amateur Golfers.
Amateurs with a maximum 5 index handicap.
Format
All events are 18 holes
Individual Stableford (This will make the rounds much faster as playing stroke play)
Professional golfers play of scratch and Amateurs of their official handicap (Maximum 5 index Handicap allowed)
Plus handicap play of scratch
In the event of a tie for 1st place there will be a sudden death play-off to get an outright winner for each event.
Entry Fee
R680 – R750 (Entry Fee based on Golf Course rates)
Winner Bonus
Winner will receive a free entry to his next Big Easy IGT Event.
Prize Pool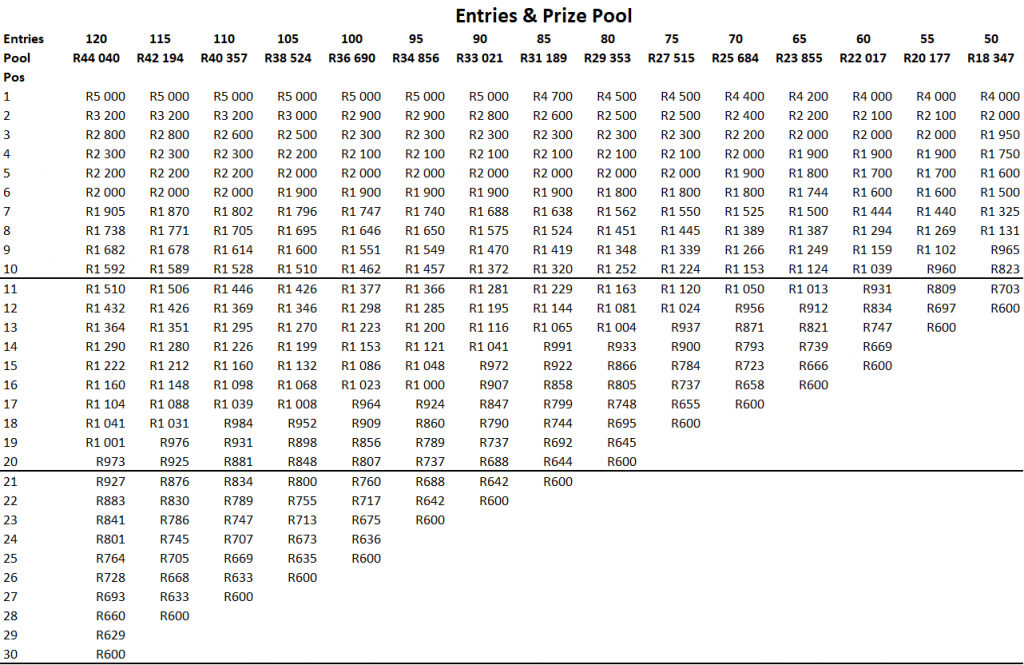 How to enter
Contact 078 3300 440 or
Quick Entry – https://wp-igt.ocs-sport.com/schedule
MyGolf Rewards Card for Amateurs
This card can be used anywhere in South Africa where MasterCard is accepted. Cash withdrawals CANNOT be made with this card.
Entries close & Tee Times
Entries close 1pm day before event.
Tee times will be sent via email after 3pm.
Measuring devices
Measuring devices WITHOUT SLOPE and WIND are allowed to measure distances on the course.
Rules
The following Local Rules apply to all MyGolf SA One Day Series events. For the full text of the Local Rules, please refer to the Official Guide to the Rules of Golf effective from January 2019 as published by R&A Rules Limited. Unless otherwise noted, the penalty for breach of a Local Rule is The General Penalty.
Withdrawals & Register
Players must withdraw before 1 pm day before event starts.
Players must register before 1pm day before event starts. Players who do not register will not be included in the draw.
Dress code
Long and short pants allowed.
Amateur Status
Amateurs can win a maximum of R6000.
Alcohol
Consumption of alcohol is strictly prohibited and will result in disqualification.