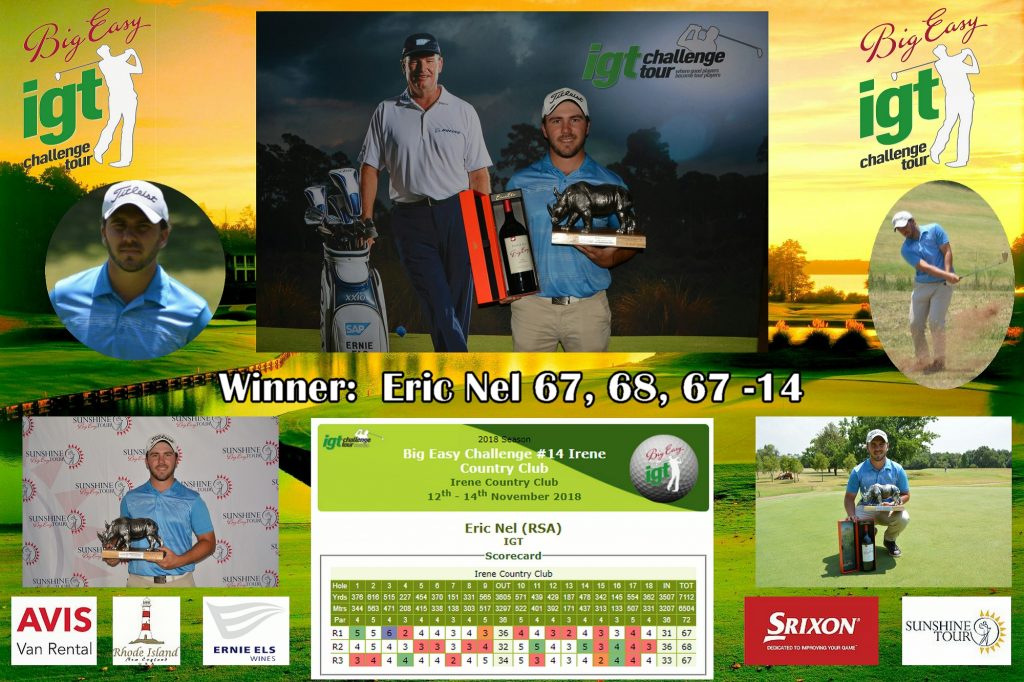 14th November 2018 | IGT Challenge Tour
Nel nails maiden Big Easy IGT win at Irene
Nel nails maiden Big Easy IGT win at Irene
(PHOTO – Eric Nel; credit CJ du Plooy)
PRETORIA, 14 November 2018 – Pretoria rookie Eric Nel joined the bandwagon of first-time winners on the Big Easy IGT Challenge Tour with a two-shot breakthrough in the 14th event of the season on Wednesday.
he 21-year-old Centurion golfer fired a final round five-under-par 67 at Irene Country Club to win on 14-under 202.
Nel became the 11th rookie to celebrate success on the golf development collaboration between the Sunshine Tour and IGT Challenge Tour this season. The top 10 ranked players on the Road to Sunshine Tour after the season-ending Big Easy Tour Championship in early December will earn cards for the 2018/2019 Sunshine Tour.
Nel started the week in 40th position and about R20 000 outside the top 10, but the maiden win came with a R10.5K pay-day, which boosted him to 16th in the rankings.
"The timing couldn't have been better," said Nel. "We only had three events left, so it was really do-or-die time for me. I got myself in contention and I had to get it done.
"I expected to be nervous at the start, but I was surprisingly calm from the first hole. I never got flustered, not even when I dropped at four and 16, because I stuck with my game plan. I played the course and I played shot-for-shot and hole-for-hole. I shut out everything else. I didn't even know what the other guys were doing. I just stayed inside my own head until I got to the last hole."
Nel shared the 36-hole lead on nine-under with two-time champion Matt Bright after posting earlier rounds of 67 and 68. The pair started the last day with a slender one shot lead, but it took Nel just two holes to take pole position on his own.
"I got off to a birdie-birdie start, but I bogeyed four after I got an unlucky bounce," said Nel, who never relinquished the lead. "I hit my tee shot slightly left. The ball bounced even further left and I couldn't up-and-down to save par, but I rolled in a 25-footer for birdie at seven to get the shot back.
Several players, including Bright, Luke Brown, Gary Player School of 2018 member Derick Petersen, Ruan Conradie and Dylan Kok took a run at Nel on the front nine, but he held his ground.
Heading down the back nine, Brown trailed by one shot. Bright birdied 10 to make it a two-way tie for second on 10-under, but both golfers had a brace of double bogeys and faded from contention.
Meanwhile Nel picked up another birdie at 11 and eagled the par four 16th.
"I drove the green and boxed a six-footer for eagle, but I gave one shot back at 17," he said. "I was between clubs, and I tried to hit a soft pitching-wedge, but it came out too hard and finished in the hazard. I didn't worry, because the next hole is another par five.
"I hit a good drive at 17, hit the middle of the green with my second and two-putted for birdie to get back to 14-under. I didn't take any risks at the last hole, just made sure I got myself in the middle of the green for two and two-putted for the win.
"I'm still R10 000 short of the top 10, so I need two more good results to make it. Getting this first win is great, though. This has given me a lot of confidence. I knew I could compete against these guys, but now I know I can beat them. This one is for my mom and dad for their support and my coach Kevin Phelan, who has been telling me the win is coming for a while now."
Woodhill golfer Dylan Kok overcame a double bogey at the par five 10th with four birdies for a 68 to take second on his own, while five-time IGT Challenge Tour winner Tristen Strydom fired nine-birdies for a seven-under 65 to finish third on 11-under with the low round of the day.
Final Result
All competitors RSA unless otherwise specified; amateurs indicated as AMA
202 – Eric Nel 67 68 67
204 – Dylan Kok 69 67 68
205 – Tristen Strydom 69 71 65
206 – Heinrich Bruiners 71 67 68, Ruan Conradie 67 71 68
207 – Allan Versfeld 69 71 67, DK Kim (KOR) 67 70 70
208 – Thriston Lawrence 70 70 68, Kyle Barker 67 73 68, Matt Bright 65 70 73
209 – Paul Boshoff 70 71 68, Juran Dreyer 73 67 69, Albert Venter 70 70 69, Derick Petersen 68 68 73
210 – Jeff Inglis (ENG) 72 69 69, Leon Vorster 70 70 70, Dwayne Basson 69 71 70, Louis Albertse 71 68 71, Luke Brown 67 69 74
211 – Jason Diab 69 70 72, Marthin Scheepers 66 72 73, John McClean (NIR) 68 69 74
212 – Ruan Korb 72 69 71, Duane Keun 73 68 71, Estiaan Conradie 68 73 71, Matthew Spacey 72 69 71
213 – Teboho Sefatsa 70 71 72, Thabang Simon 68 72 73, Antonio Costa (CHL) 73 67 73
214 – Altaaf Bux 71 70 73, Gerard du Plooy 70 71 73, Jason Rossiter 69 70 75
215 – Keaton Slatter 72 69 74, Roberto Lupini 67 73 75
216 – Wayne Stroebel 71 70 75, Theunis Bezuidenhout 66 75 75, Jason Roets 71 70 75
221 – Thabiso Ngcobo 75 65 81
Ends
Written and released by Lali Stander on behalf of the IGT Challenge Tour.
Latest IGT Challenge Tour News