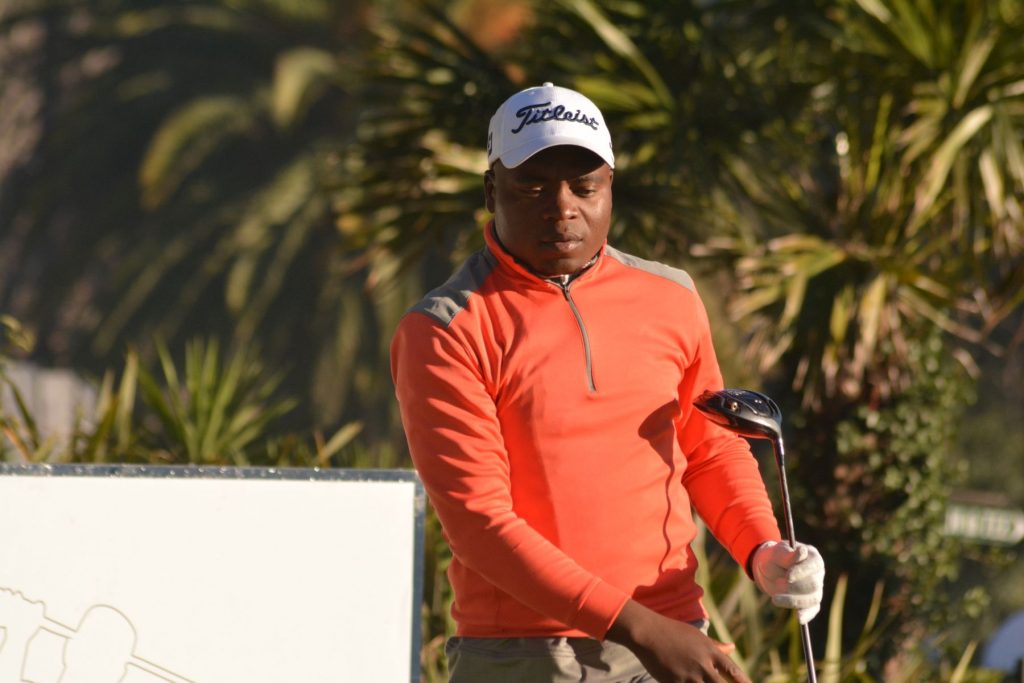 18th June 2018 | IGT Challenge Tour
Nethunzwi near his sweet-swinging best at Kyalami
Nethunzwi near his sweet-swinging best at Kyalami
(Musi Nethunzwi; credit CJ du Plooy)
JOHANNESBURG, 18 June 2018 – Soweto golfer Musi Nethunzwi hit the front in the opening round of the IGT Challenge #7, thanks a brilliant burst of scoring on the back nine at Kyalami Country Club on Monday.
The 29-year-old member of the Gary Player School of 2018 was one-under through the turn. He racked up four birdies and an eagle down the home stretch, including gains at 15 and 16 to finish at seven-under 65.
Pretoria amateur Otto van Buynder, who won the fourth Big Easy IGT Challenge Tour event two weeks ago, finished three shots back.
Nethunzwi fired a final round four-under-par 68 at Irene Country Club last week to tie for sixth in the IGT Challenge #6. He was pleased to pick up where he left off.
"We had a great boot-camp at the World of Golf at Woodmead at the end of May," said Nethunzwi.
"I have been striking the ball really well, but I feel like the work we did on the shorter irons and wedges are starting to pay off. I feel like I'm playing as well as I did when I won on the Big Easy Tour last year. It was nice to put all that practice to work on the IGT Challenge Tour last week and come away with a good result and to keep the form going today."
Nethunzwi birdied the par five fourth to go one-under and cancelled back-to-back bogeys at five and six with gains at seven and nine. He sunk a 15-footer at 11 and hit an amazing approach into the par five 13th that left him with a six-footer for eagle.
"I hit my tee shot behind a tree," he said. "I didn't have much room to work with, but I had a line to the green, so I hit my second with a hook to the back pin. It finished six foot short of the pin and I made the putt to go four-under."
Nethunzwi converted a close range putt for birdie at 15, sunk a 12-footer for birdie at 16 and two-putted for a final gain at the par five closing hole.
Fellow Gary Player School of 2018 member Thabang Simon posted a three-under 69.
He tied for third with rookie Peetie van der Merwe and four amateurs – Keegan Mclachlan, Slade Pickering, Stals Swart and South African Golf Development Board player Chandler Shaw, who closed with three birdies on the bounce to join the bus at three-under.
First Round Scores
All competitors RSA unless otherwise specified; amateurs indicated as AMA
65 – Musiwalo Nethunzwi
68 – Otto van Buynder AMA
69 – Peetie van der Merwe, Chandler Shaw AMA, Slade Pickering AMA, Thabang Simon, Keegan Mclachlan AMA, Stals Swart AMA
70 – Caylum Boon AMA, Jason Diab
71 – Dongkwan Kim (KOR), Eric Wower AMA, Paul Rodrigues AMA, Marthin Scheepers, Dwayne Basson, Breyten Meyer, Keelan Africa
72 – John McClean (NIR), Christiaan Pretorius, Cameron Moralee, Andrew Carlsson, Lejan Lewthwaite, Albert Visser, Kyle Barker
73 – Neil Cheetham (ENG), Omar Sandys, Stefan Wears-Taylor, Ricardo Towell, Ruhan van Dijk, Allister de Kock, Mitchell Lightfoot AMA, Clifford Thompson AMA, Stuart Smith (BOT)
74 – Gareth Sargent AMA, Ivanna Samu, Alpheus Kelapile, Zander Gous AMA, Stephan Erasmus, Keaton Slatter, Armand van Dyk AMA, Hayden Griffiths
75 – Derick Petersen, Ruan Korb, Evance Vukeya, CJ Levey, Jancarel Rossouw AMA, Andrew Plint AMA, Makhetha Mazibuko, Nicholas Souranis AMA
76 – Dean du Plessis AMA, Gilson Filho (BRA), Irvin Mazibuko, Nicklas van Wyk AMA, Leslie Grandet (MDG), David Rebelo, Andrej Skrbinsek AMA, Rock Tlhabanyane
77 – Jan-Louis Nel AMA, Angus Ellis-Cole AMA, Liam Clinton AMA, Kai Li AMA, Gianni Pera AMA, Liam Labuschagne AMA, Maverick Faber AMA (FRA), Leon Vorster, Fritz Orren, Richard Maree
78 – Heinrich Bruiners, Michiel Bothma
79 – Aidan Boon AMA, Keanu Pestana AMA, Tyran van Lieshout, Christopher van der Merwe AMA, Chadd Drake AMA, Francois van Rensburg AMA, Adriel Poonan, Joshua Smedema AMA, Stephane van Neer AMA (COD), Matthew Hands AMA
80 – Dominique Jacobs, Christian MacGregor AMA, Jaco van der Merwe AMA
82 – Louis Botha, Adam Baker
83 – Hanko Bothma
85 – Morne van der Waltsleben AMA, Tiger Malabie AMA, Alwyn Smith
88 – Gerhard Botha AMA
Written and released by Lali Stander on behalf of the IGT Challenge Tour.
Latest IGT Challenge Tour News