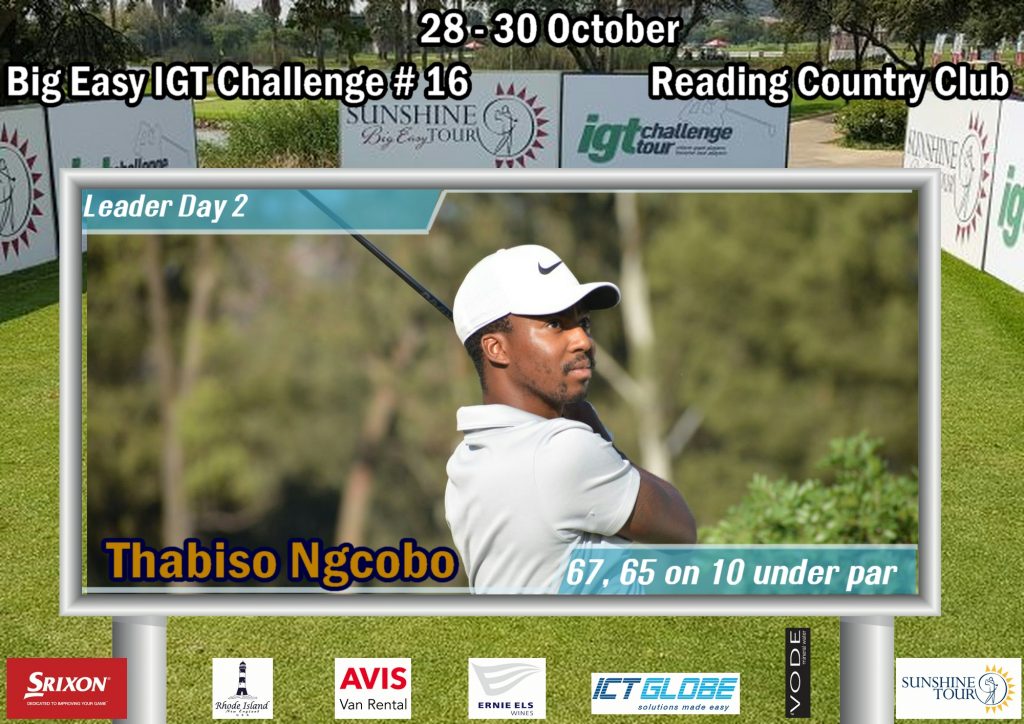 29th October 2019 | IGT Challenge Tour
Ngcobo roars into Big Easy IGT Reading lead
Ngcobo roars into Big Easy IGT Reading lead
(PHOTO – Thabiso Ngcobo; credit CJ du Plooy)
ALBERTON, 29 October 2019 – Thabiso Ngcobo will look to lift his first pro title when he heads into the final round of the 16th Big Easy IGT Challenge Tour event in Alberton with a three-shot lead on Wednesday.
Spectators at Reading Country Club were treated to a truly stunning round of golf by the Pretoria golfer as he posted a six-under-par 65 to move to 10-under.
The Centurion golfer is perfectly placed to claim a maiden win, which would boost him from his current fifth place ranking in the Road to Sunshine Tour Order of Merit to third.
"It would definitely take me another step closer to a Sunshine Tour card, because the top three ranked players at the end of the season will earn playing privileges for next year," he said. "I can't think about it, though. I need to keep a clear head for the final round. I'm really happy with the way I'm playing this week and I'll just give it my best shot tomorrow. I would be happy to shoot another solid round and if it happens, great."
Even though it could have been one shot better, Ngcobo did not rue a bogey finish.
"I can't cry over spilt milk," said the 25-year-old Phelan Golf Academy player. "That was as solid as I have played all year and apart from the bogey at 18, it could not have been any better.
"I have felt that I was underperforming a lot this season and it took me a long time to figure out that I was getting in my own way. Today I stayed really patient and trusted my game. I committed to my shots and that built my confidence.
"This golf course is a great test. You have to concentrate, and stay patient. And putt well, too. The greens are quite grainy and you have to put a bit of pace on the putts. Today I executed really well with the flat-stick."
Joint overnight leader Clayton Mansfield returned a round of 69 to finish alone in second on three-under, while a 69 earned Gideon van der Vyver a share of third alongside Basil Wright, who claimed the low round honours with a seven-under-par 64.
Jason Froneman, who held a share of the overnight lead on five-under, is five shots adrift after a level-par round. He shares fifth with Marthin Scheepers (69), Jack Duthie (65), Jason Smith (69) and Jason Viljoen (68).
Ngcobo opened with a 67 to start the second round one off the pace and racked up a trio of birdies over the first nine holes to burst into the lead.
"It was nice to get off to a birdie start. I hit 3-wood off the tee and kept it low and hit a knock-down gap-wedge into the wind to tap-in distance," he said. "My eagle putt on the fourth just pulled up short and I tapped in for birdie and on the sixth, my playing partner had a similar putt from 20 feet and gave me a good line and pace for my third birdie. The first nine holes were really solid. No drama. I never put myself in tough positions where I needed to save myself."
Ngcobo birdied the par five 12th and birdies on 14, 15 and 17 moved him to 11-under.
"On the last hole, the tees were at the back and I couldn't hit my usual draw, but I faded it too much and finished in the trees," he said. "I punched out for the bunker, because my bunker play has been solid and I was hoping to up-and-down. But the shot went too far past and I missed the 8-footer for par. It was right to left and I had the line, but I didn't give it enough pace."
After completing a Corporate Communications degree at Varsity College Pretoria in 2017, Ngcobo began competing on the IGT Challenge Tour. He missed out on a card at the Vusi Ngubeni Q-School, but the Centurion golfer believes it was for the best.
"My game was definitely not at a level where I could have competed on the Sunshine Tour," he said.
"Playing the IGT Challenge and Big Easy IGT Challenge Tours full-time this season has helped to take my game to a higher level. Both tours are hugely competitive and teaches you how to compete and keep a cool head under pressure. In retrospect it was the best thing that happened to me."
Second Round Results
All competitors RSA unless otherwise specified and amateurs indicated as AMA.
132 – Thabiso Ngcobo 67 65
135 – Clayton Mansfield 66 69
136 – Gideon van der Vyver 67 69, Basil Wright 72 64
137 – Jason Froneman 66 71, Marthin Scheepers 68 69, Jack Duthie 72 65, Jason Smith 68 69, Jason Roets 68 69, Jason Viljoen 69 68
138 – Reinhardt Blaauw 70 68, Byron Coetzee 69 69, Carlo Heunis 72 66
139 – Coert Groenewald 70 69, Quintin Wilsnach 70 69, Dwayne Basson 69 70
140 – Matt Saulez 68 72, Thabang Simon 69 71, Franco Putter 70 70
141 – Jaco van der Merwe 73 68, Zabastian de Jager 69 72, Divan Marais 70 71
142 – Alpheus Kelapile 71 71, Jason Rossiter 70 72, Hennie O'Kennedy 75 67, Nico du Buisson 71 71, Matthew Spacey 70 72, Angus Ellis-Cole 67 75, Gary Daoust (BEL) 73 69, Michael-James Steyn 69 73
Missed the cut:-
143 – Marco de Beer 73 70, Leon Vorster 70 73, Ernst Louw AMA 71 72, Mike Maile 74 69, Eric Nel 72 71, Paul Rodrigues 69 74, Fritz Orren 72 71
144 – Jeff Inglis (ENG) 70 74, Luan Boshoff 71 73, Francois Blaauw AMA 71 73, Albert Venter 72 72
145 – Jonathan George AMA 71 74, Keaton Slatter 75 70
146 – Tyler Johnston AMA 72 74, Greg Bentley (ZIM) 70 76, Conner Mackenzie AMA 72 74
147 – Neal Woernhard (SUI) 77 70, Gareth Sargent 72 75
148 – Henning du Plooy 74 74, Romano Saincic 72 76, Gerard du Plooy 74 74, Quintin Crause 76 72, Stephan Erasmus 74 74
149 – Morne Buys 72 77
151 – Cameron Gurr AMA 76 75, Desne van den Bergh 77 74, Albert Visser 72 79, Shalan Govender 75 76
152 – Keegan van Jaarsveld 78 74, Bryce Myburgh 77 75
153 – Paulo Serrao (POR) 75 78
154 – Keanu Pestana 81 73, Michael Pfeifer 74 80, John McClean (NIR) 80 74, Byron van der Merwe 78 76, Marcel Steyn Scholtz 73 81
155 – Dean du Plessis 78 77
157 – Christian Basson 82 75, Alwyn Smith 80 77
158 – Louis Botha 82 76, Clinton Duncan AMA 76 82
160 – Roedolf Klopper AMA 86 74, Lincon Cele 75 85
163 – Wynand Potgieter 85 78
164 – Songezo Sonamzi 86 78
173 – Donald Makhafola AMA 88 85
RTD – Duan Nagel RTD RTD, Michael Schutz 68 RTD, Thato Mazibuko 70 RTD, CJ Levey 70 RTD
DSQ – Michael Kok 86 DSQ
Written and released by Lali Stander on behalf of the Big Easy IGT Challenge Tour.
Latest IGT Challenge Tour News