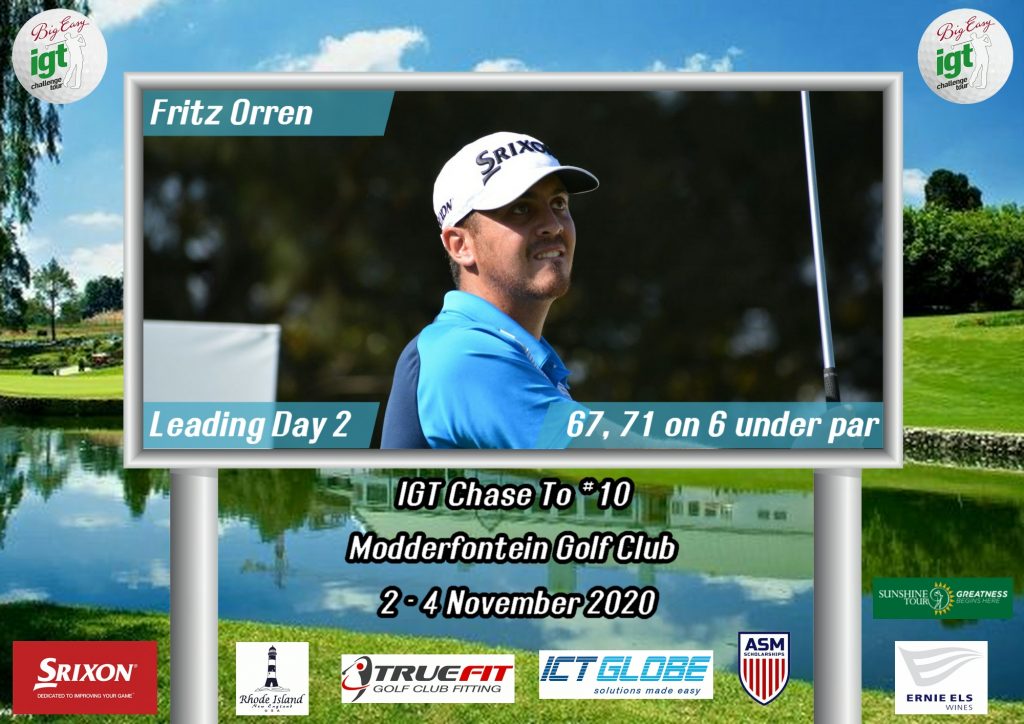 3rd November 2020 | IGT Challenge Tour
Orren embraces pressure as he hangs on to Modderfontein lead
MODDERFONTEIN, November 3– Fritz Orren signed for a hard-fought one-under-par 71 round two of the IGT Chase to #10 at Modderfontein Golf Club which saw him tie the first spot with amateur Simon Du Plooy at six-under-par ahead of the final round.
Orren was two shots clear coming into the second round and despite a strong start into the round on Tuesday – he was three-under in his first four holes before a double drop on the par-four seventh – the pressure from the chasing field was persistent.
"It's just the way sport works," said Orren, "I think there's always pressure in any round we play. I just tried to stick to my game plan and commit to every swing I made and that was important for me."
While the double-bogey on the seventh may have hurt him, Orren steadied himself nicely to make pars on the next two holes before the turn. A birdie on the 10th brought a short-lived sense of joy because it was followed by back-to-back bogeys, placing Orren under some stress as the field chased hard.
"I just needed a few more putts to drop," said Orren with hindsight, "otherwise, my game is feeling good and I'll be ready for tomorrow. Of course, there will be pressure tomorrow but that's why we play sport; to put ourselves in these positions and we learn how to deal with it. So, yes, I will be ready."
Du Plooy has tasted IGT Tour victory after claiming his emotion-filled maiden title in the Race to Q-School #4 at Wingate Park Country Club in February. Tied for the lead and two shots ahead of the rest, Du Plooy will fancy his chances at a second IGT Tour win. At four-under-par and within a realistic distance of the top spot lies the trio of Vaughn Van Deventer whose eight-under 64 was the lowest round of the day, Herman Loubser and amateur Nikhil Gopal.
Franklin Manchest's one-over-par round sees him in a share of sixth with amateurs Dylan Melville, Ryan Van Velzen and England's Harry Konig and they're at three-under for the week, three shots off the lead. A two-under 70 sees Micheal Kok occupying the 10th spot at two-under-par.
138 – Fritz Orren (RSA) 67 71, Simon Du Plooy (AM) (RSA) 73 65
140 – Vaughn Van Deventer (RSA) 76 64, Herman Loubser (RSA) 69 71, Nikhil Gopal (AM) (RSA) 69 71
141 – Dylan Melville (AM) (RSA) 71 70, Ryan Van Velzen (AM) (RSA) 72 69, Harry Konig (ENG) 72 69, Franklin Manchest (RSA) 68 73
142 – Michael Kok (RSA) 72 70
143 – John-William Blomerus (AM) (RSA) 73 70, Keelan Van Wyk (RSA) 70 73, Jason Froneman (RSA) 69 74, Victor Lange (RSA) 72 71, Gerard Du Plooy (RSA) 74 69, Carlos Laranja (AM) (POR) 74 69
144 – Leon Vorster (RSA) 73 71, Wayne Stroebel (RSA) 71 73, Sam Mc Kenzie (AM) (RSA) 73 71
145 – Jordan Duminy (AM) (RSA) 75 70, Guy Waterhouse (AM) (RSA) 77 68
146 – Cameron Borcher (AM) (RSA) 72 74
147 – Henning Du Plooy (RSA) 70 77, Lwazi Gqira (RSA) 74 73
148 – Terence Mogapi (RSA) 72 76, Lincon Cele (RSA) 80 68
149 – Handre Truter (AM) (RSA) 78 71, Travis Ladner (AM) (RSA) 77 72, Bryce Myburgh (RSA) 78 71, Lora Assad (RSA) 70 79
150 – Ivan Verster (AM) (RSA) 75 75, Warwick Purchase (AM) (RSA) 75 75
151 – Ricky Hendler (RSA) 75 76, Clinton Duncan (AM) (RSA) 72 79, Slenda Sithebe (RSA) 78 73
152 – Adam Gamsy (AM) (RSA) 79 73
153 – Duan Nagel (RSA) 76 77, Dechlan Bennett (AM) (RSA) 76 77, MS Calitz (RSA) 79 74
154 – Massimo Mbetse (AM) (RSA) 75 79, Nikki Jonker (RSA) 79 75
156 – Stephan Meintjes (AM) (RSA) – Cut 75 81, Ronan Du Plessis (RSA) – Cut 73 83
157 – Jan-Louis Nel (AM) (RSA) – Cut 74 83, Byron Van Der Merwe (RSA) – Cut 76 81
158 – Leon Scheepers (RSA) – Cut 76 82
159 – Phumlani Maluka (RSA) – Cut 80 79, Donald Makhafola (RSA) – Cut 82 77
161 – Joshua Riemer (AM) (RSA) – Cut 83 78, Robert Mavundla (AM) (RSA) – Cut 78 83
162 – Peter Lekhoaba (AM) (RSA) – Cut 79 83, Divan De Villiers (RSA) – Cut 82 80
164 – Arno Muller (AM) (RSA) – Cut 77 87, Richard Tsai (AM) (RSA) – Cut 82 82, Nkosikhona Dilla (RSA) – Cut 82 82
165 – Francois Storm (AM) (RSA) – Cut 85 80, Raymond Wilken (RSA) – Cut 84 81
167 – Lesego Lekoma (RSA) – Cut 78 89
169 – Neo Mokgatle (RSA) – Cut 84 85
170 – Christopher Constantinou (AM) (RSA) – Cut 85 85
172 – Russell Heine (AM) (RSA) – Cut 83 89
173 – Pierre Du Plessis (AM) (RSA) – Cut 93 80
174 – Shaun Bernstein (AM) (RSA) – Cut 96 78
178 – James Kerr (AM) (RSA) – Cut 86 92
180 – A E S Wolmarans (AM) (RSA) – Cut 90 90
182 – Heinrich Bolleurs (AM) (RSA) – Cut 88 94
186 – Mchumane Wayiti (AM) (RSA) – Cut 99 87
Latest IGT Challenge Tour News