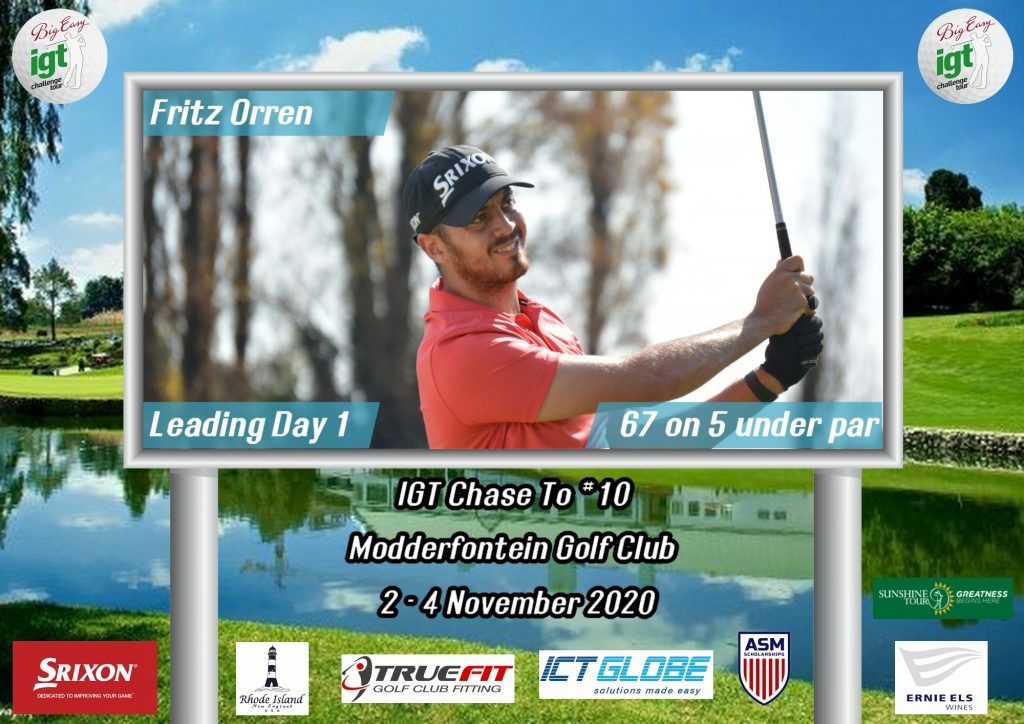 2nd November 2020 | IGT Challenge Tour
Orren takes to the top at Modderfontein
MODDERFONTEIN, November 2 – Fritz Orren says he has his putter to thank for his solid five-under-67 opening round of this week's IGT Tour Chase to #10 at Modderfontein Golf Club where he leads by one shot after Monday's round.
"I putted the ball really well today," said Orren. "I drove it well of the tee too. I have been working on converting my chances on the greens in my practice and my sessions really paid off nicely today."
His front nine yielded a flawless three-under-par and was characterised by birdies on the second hole, the seventh hole, and the par-five eighth hole as he turned in 33. Two pars after the turn were followed by three straight birdies but a drop on the last hole meant Orren's hope for a bogey-free round was lost. He will not worry himself an awful lot about that, seeing that his efforts saw him to the summit of the leaderboard.
"I think it was a great day for me out there today," he added, "I really enjoyed my round. The conditions were pretty tough with the wind blowing consistently throughout the day but solid day overall. It is still anyone's game and I just have to stick to my own game plan and execute one shot at a time. I plan to keep the momentum going. I am still looking for my maiden win on Tour, however, we still have a long way to go before I start thinking about that."
He will do well to keep grounded, especially because a very capable field will want to pile up some pressure as many will be looking to unseat Orren. Among those players will be Franklin Manchest whose four-under 68 left him just a shot off the pace. Sharing the third position at three-under after day one is the trio of Herman Loubser, Jason Froneman and amateur Nikhil Gopal.
Lora Assad, Keelan Van Wyk and Henning Du Plooy share sixth at two-under while Wayne Stroebel and amateur Dylan Melville make up the top 10 leading players at Modderfontein after round one.
Orren knows the pressure is on but seems to have a strategy to see himself through the second round.
"I will go through my warm-up process before the round and when I get out there, the aim is to take care of the par fives."
67 – Fritz Orren (RSA)
68 – Franklin Manchest (RSA)
69 – Nikhil Gopal (AM) (RSA) , Jason Froneman (RSA) , Herman Loubser (RSA)
70 – Lora Assad (RSA) , Keelan Van Wyk (RSA) , Henning Du Plooy (RSA)
71 – Dylan Melville (AM) (RSA) , Wayne Stroebel (RSA)
72 – Cameron Borcher (AM) (RSA) , Clinton Duncan (AM) (RSA) , Terence Mogapi (RSA) , Ryan Van Velzen (AM) (RSA) , Harry Konig (ENG) , Victor Lange (RSA) , Michael Kok (RSA)
73 – Ronan Du Plessis (RSA) , Sam Mc Kenzie (AM) (RSA) , John-William Blomerus (AM) (RSA) , Simon Du Plooy (AM) (RSA) , Leon Vorster (RSA)
74 – Jan-Louis Nel (AM) (RSA) , Carlos Laranja (AM) (POR) , Gerard Du Plooy (RSA) , Lwazi Gqira (RSA)
75 – Stephan Meintjes (AM) (RSA) , Ivan Verster (AM) (RSA) , Jordan Duminy (AM) (RSA) , Warwick Purchase (AM) (RSA) , Ricky Hendler (RSA) , Massimo Mbetse (AM) (RSA)
76 – Dechlan Bennett (AM) (RSA) , Byron Van Der Merwe (RSA) , Duan Nagel (RSA) , Vaughn Van Deventer (RSA) , Leon Scheepers (RSA)
77 – Guy Waterhouse (AM) (RSA) , Travis Ladner (AM) (RSA) , Arno Muller (AM) (RSA)
78 – Robert Mavundla (AM) (RSA) , Lesego Lekoma (RSA) , Slenda Sithebe (RSA) , Handre Truter (AM) (RSA) , Bryce Myburgh (RSA)
79 – Peter Lekhoaba (AM) (RSA) , MS Calitz (RSA) , Nikki Jonker (RSA) , Adam Gamsy (AM) (RSA)
80 – Lincon Cele (RSA) , Phumlani Maluka (RSA)
82 – Richard Tsai (AM) (RSA) , Divan De Villiers (RSA) , Nkosikhona Dilla (RSA) , Donald Makhafola (RSA)
83 – Russell Heine (AM) (RSA) , Joshua Riemer (AM) (RSA)
84 – Raymond Wilken (RSA) , Neo Mokgatle (RSA)
85 – Francois Storm (AM) (RSA) , Christopher Constantinou (AM) (RSA)
86 – James Kerr (AM) (RSA)
88 – Heinrich Bolleurs (AM) (RSA)
90 – A E S Wolmarans (AM) (RSA)
93 – Pierre Du Plessis (AM) (RSA)
96 – Shaun Bernstein (AM) (RSA)
99 – Mchumane Wayiti (AM) (RSA)
Latest IGT Challenge Tour News