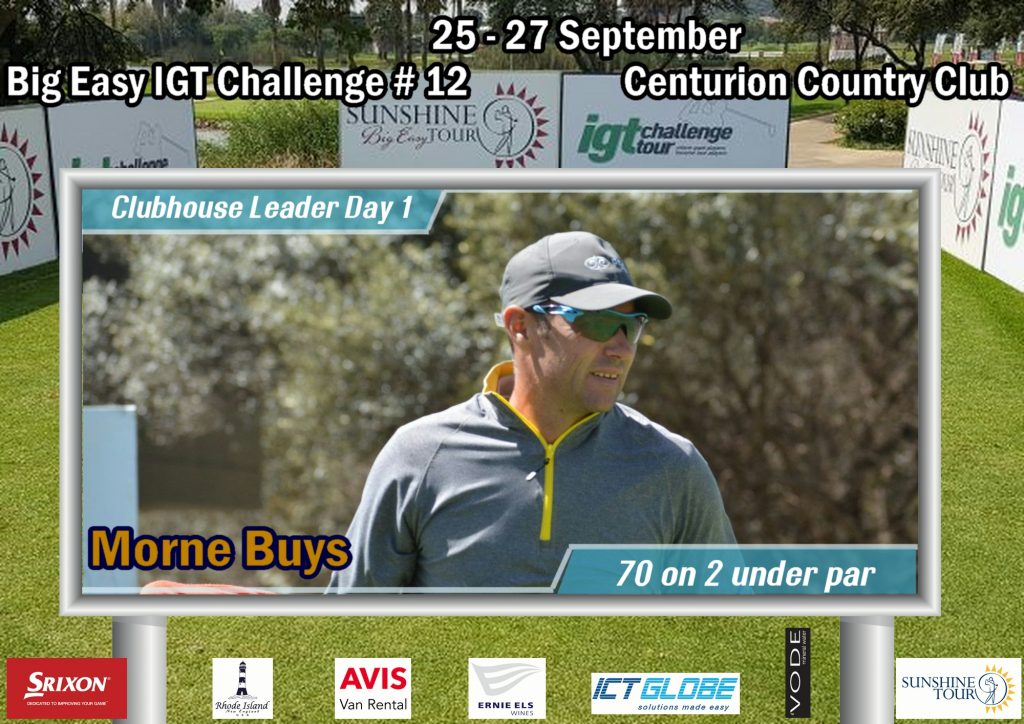 26th September 2019 | IGT Challenge Tour
Pepler and Buys lead the attack at Centurion
Pepler and Buys lead the attack at Centurion
(Photos – Gerhard Pepler and Morne Buys; credit CJ du Plooy)
PRETORA, 25 September 2019 – Limpopo rookie Gerhard Pepler and Morne Buys from Welkom lead a congested leaderboard after the opening day of the Big Easy IGT Challenge Tour #12 at Centurion Country Club on Wednesday.
On a blustery day in Pretoria, the duo carded matching two under par rounds of 70 in the afternoon session to take pole position.
Gary Player School of 2019 member Dwayne Basson offset three bogeys with four birdies to join early clubhouse leaders Albert Venter and Desne van den Berg, who lurk menacingly on one-under.
Jason Smith – already a two-time winner this season – eagled the par five first, but gave the two shot advantage back with bogeys at seven and 11. The Irene golfer finished in joint third on even-par alongside Gary Daoust from Belgium.
Jason Froneman, Dylan Kok, Marthin Scheepers and Stephan Erasmus finished just three shots off the pace, with a further six players in joint 12th and within four shots of the leading pair.
"We usually look forward to low scoring at Centurion, but the wind showed up early and blew at speed all day; it was a much tougher day at the office than the players expected and with more wind forecast for the week, the next two days could prove very interesting," said IGT Challenge Tour commissioner Cois du Plooy.
Pepler reversed a bogey on the par three third with a birdie on the par five seventh and gains on the 10th and 12th holes took him into red numbers. The Secunda golfer, who joined the pro ranks in March, gave a shot back to the field on the 14th, but a birdie at the last par five – the 15th – was good enough to gain him a share of the lead.
Buys began his opening round on the scoreable back nine with a bogey, but the Free State golfer rallied with three birdies on the bounce from the par four 13th.
He bogeyed the par four 16th and dropped another shot at the fifth but rolled in birdie putts at the seventh and ninth holes to force a two-way tie at the top.
Reigning Road to Sunshine Tour leader Malcolm Mitchell fared less well, signing for a four-over-par 76 to end the day in a share of 23rd place. Most of the damage was done on his back nine of 38 which included bogeys on two, four and five.
First Round Scores
All competitors RSA unless otherwise specified and amateurs indicated as AMA.
70 – Morne Buys, Gerhard Pepler
71 – Albert Venter, Desne van den Bergh, Dwayne Basson
72 – Gary Daoust (BEL), Jason Smith
73 – Jason Froneman, Dylan Kok, Marthin Scheepers, Stephan Erasmus
74 – Aubrey Beckley, Eric Nel, Quintin Crause, Neil Cheetham (ENG), Matt Saulez, Clayton Mansfield
75 – Jaco van der Merwe, Jason Roets, Nico du Buisson, Jack Duthie, Romano Saincic
76 – Coert Groenewald, Jeff Inglis (ENG), Neal Woernhard (SUI), Malcolm Mitchell, Luan Boshoff, Michael Schutz
77 – Keaton Slatter, Mike Maile, Henning du Plooy, Divan Marais, Matthew Spacey, Hennie O'Kennedy, Thabang Simon, Zabastian de Jager, Michael Kok
78 – Dennis Williams, Shalan Govender, Bryce Myburgh, Gideon van der Vyver, Duan Nagel, Leon Vorster, Gerard du Plooy
79 – Jared Hall AMA, Muhluri Mahime, Angus Ellis-Cole, Jason Viljoen, Jay Fourie, Maverick Faber (FRA), John McClean (NIR)
80 – Christiaan Pretorius, Carlo Heunis, JP du Rand AMA, Michael-James Steyn
81 – Cameron Moralee, Jason Rossiter, Neo Mokgatle, Martinus Barnard
82 – Reinhardt Blaauw, Donovan Liddicoat AMA, Phumlani Maluka, Byron van der Merwe, Dean du Plessis, Paulo Serrao (POR), Darren Slingers AMA
83 – Jarryd Govender, Adriel Poonan, Francois Blaauw AMA, Quintin Wilsnach, Wesley du Toit AMA
84 – Christian Basson, Ruhan van Dijk, Xander Prinsloo AMA, Gareth Sargent, Albert Visser
85 – Nqobani Ndabambi (ZIM), Richard Spagnolo AMA
86 – Richard Kruger AMA, Roedolf Klopper AMA, Marcel Steyn Scholtz
87 – Julian de Wet AMA, Clinton Duncan AMA, Keanu Pestana
89 – Alex Shahim AMA, Regan Steyn AMA
94 – Louis Botha
WDN – Michael Pfeifer
RTD – Leon Visser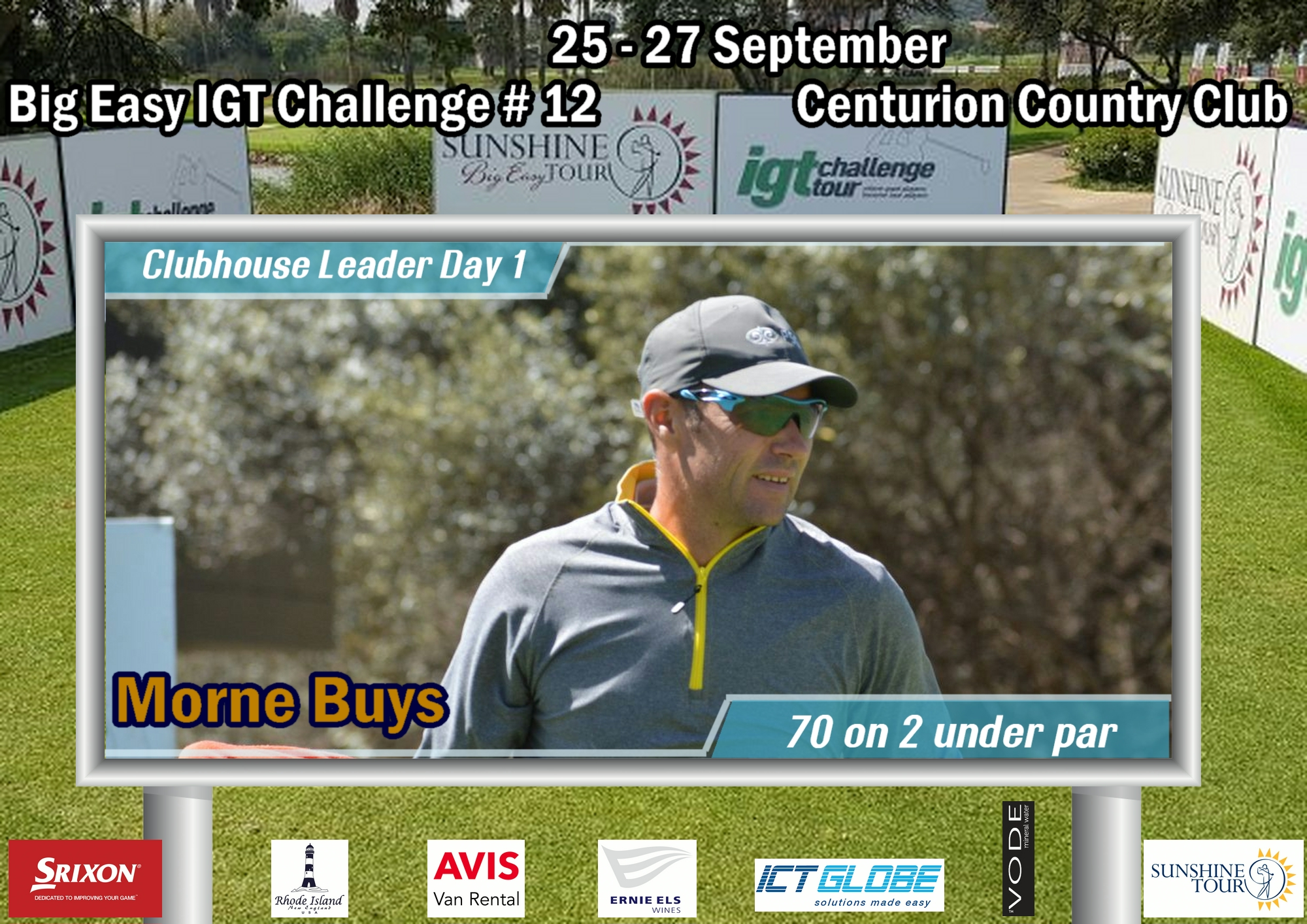 Written and released by Lali Stander on behalf of the Big Easy IGT Challenge Tour.
Latest IGT Challenge Tour News