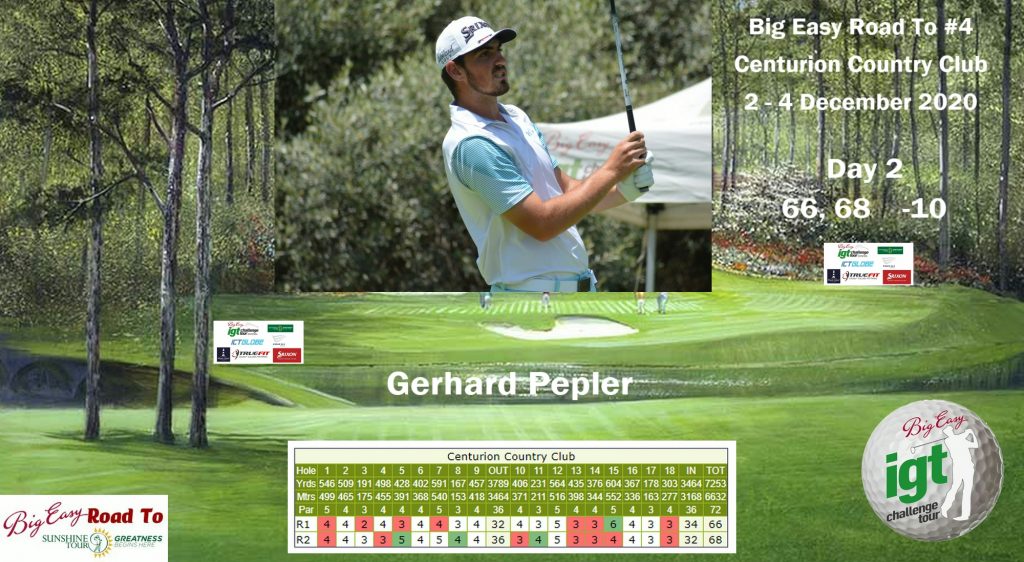 3rd December 2020 | IGT Challenge Tour
Pepler, Blaauw share Centurion lead on moving day
CENTURION, December 3 – Gerhard Pepler says despite coming into this week's Big Easy Tour Road To #4 Centurion tournament with no lofty expectations, he is more than happy with his effort so far as his moving day 68 helped him to a share of the lead at 10-under-par.
He ties that score with Reinhardt Blaauw who also carded a 68 to back up his opening round of 66, and they have a three-shot lead going into the final round.
"To be honest, I really didn't have a score in my head for either of the two days," Pepler said, "I just went out there and tried my best to enjoy every moment, and being on top of the scoreboard just added to it."
Pepler started well, birdieing the first hole and two pars later, finding another birdie on the fourth hole. A bogey on the next hole took from those gains and again, another drop, this time on the eighth, threatened to disrupt his round before the turn.
"The first bogey happened when I tried to be too aggressive and I hit my second shot into the greenside bunker," he revealed, "I just failed to up-and-down. The bogey on eight was a bit of a miscalculation, I didn't realise the wind was blowing that strong and I just took one club too short, causing me to fail to up-and-down again. The bogey on 11, was just a little too much determination to make birdie, so I hit the first putt a few feet past the hole, and failed to make the return. So just a couple of soft drops."
Coming home, Pepler switched things on a bit, and despite dropping a shot immediately after the birdie he had made on the 10th, was able to birdie four of his last six holes without making a bogey on the stretch.
"After making the birdie on 13, it felt like I just couldn't miss the hole when it came down to putting," Pepler said of his impressive run. "On 14, I hit a good second shot from the left fairway-bunker to about eight-feet and sunk the putt. The birdie on 15 is quite unusual for me because I don't usually go for the lay-up option after hitting the fairway with my drive, but in the end, it seemed to be the best choice. The birdie on 18, I just told myself to get it anywhere near the green. Once I did that, I hit a good chip and it ended up inside a foot from the hole."
Blaauw's front nine was characterised by a birdie on the first hole, a bogey on the eighth and seven pars. It was on the homeward stretch that he, too, turned things up. He made four birdies on the back nine with no bogeys to sign for a 68.
They are three shots clear of Vaughn Van Deventer who signed for a bogey-free 67 to take the third spot at seven-under-par for the week.
Latest IGT Challenge Tour News