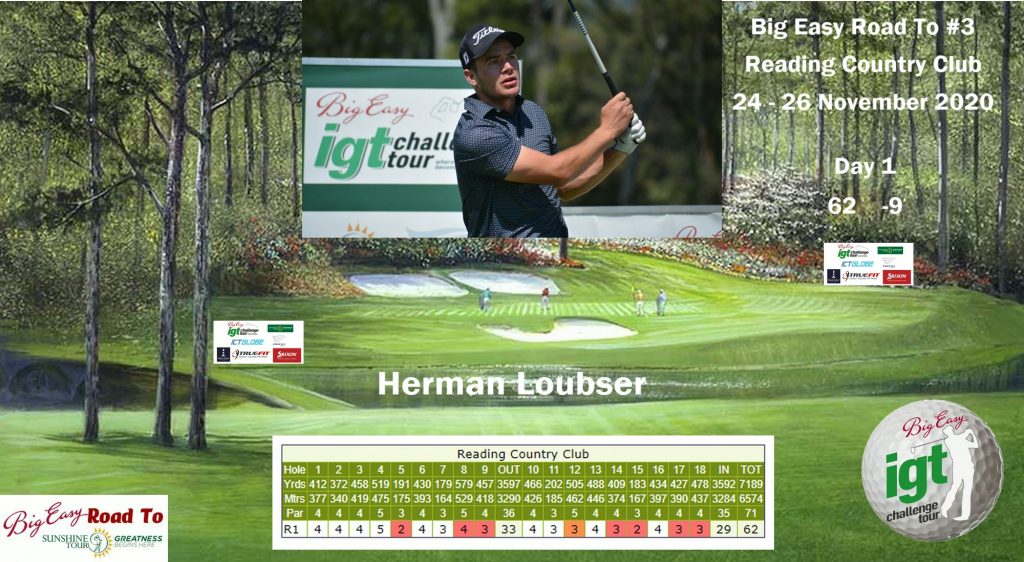 24th November 2020 | IGT Challenge Tour
Perfect Loubser takes charge at Reading
ALBERTON, November 24 – Herman Loubser fired in a flawless nine-under-par 62 first round to take control of proceedings in the Big Easy Tour Road To #3 at Reading Country Club in Alberton on Monday.
Loubser has shown signs of his brilliance in the tournaments played so far this season and his defeat in a playoff at Modderfontein on the IGT Tour was one such instance. Coming into this week's event at the back of a ninth-place finish at Waterkloof a fortnight or so ago, Loubser made his intentions clear on Monday.
In a solid front nine, Loubser carefully navigated around the Reading layout, picking up birdies where he needed to and not being ashamed of walking away with a par when the moment called for it. Easing himself into the round, Loubser made four straight pars before making his first birdie, on the par-three fifth and after an impressive show of patience, he found more joy after birdieing both the eighth and the tough ninth to turn in 33 and blemish-free.
"I got off to a slow start," he said, "I missed birdie-putts on three and four but then I holed a 30-footer on five, which got the ball rolling. I think the birdie on that difficult ninth hole set my momentum for the back nine.
"I haven't been too comfortable at Reading before because I've never driven the ball nicely there but with conditions being softer and longer than the last time I played here; it felt a lot more suitable for me today. It's a very scorable course if you keep the ball on the fairways"
He turned things up, coming home, and the eagle on 12 gave him a boost to get more. Did exactly that after the par on 13, picking up back-to-back birdies before closing off with two more on the 17th and 18th holes.
"I was quite solid with my whole game today; I hit it nicely off the tee, gave myself opportunities for birdies and the fact that the pitter got hot on the back nine made an extra few shots difference for a low one today."
Two shots off Loubser's lead lies amateur Samuel Simpson whose bogey on the second deprived him of what could have been an otherwise untainted seven-under 64 opening round. He will not be too concerned, however, because, with 36 more holes to play, there's a lot of time and plenty of opportunities to catch up with, and even unseat Loubser from the summit of the leaderboard.
Fellow amateur, Christiaan Burke, will probably feel the same way too because his six-under 65 score was just as solid and could have been the leading score on any day. He is just three shots back and third on the leaderboard.
Henning Du Plooy signed for 67 and occupies fourth while the duo of Wynand Potgieter and Gregory Mckay share fifth at three-under 68.
Latest IGT Challenge Tour News