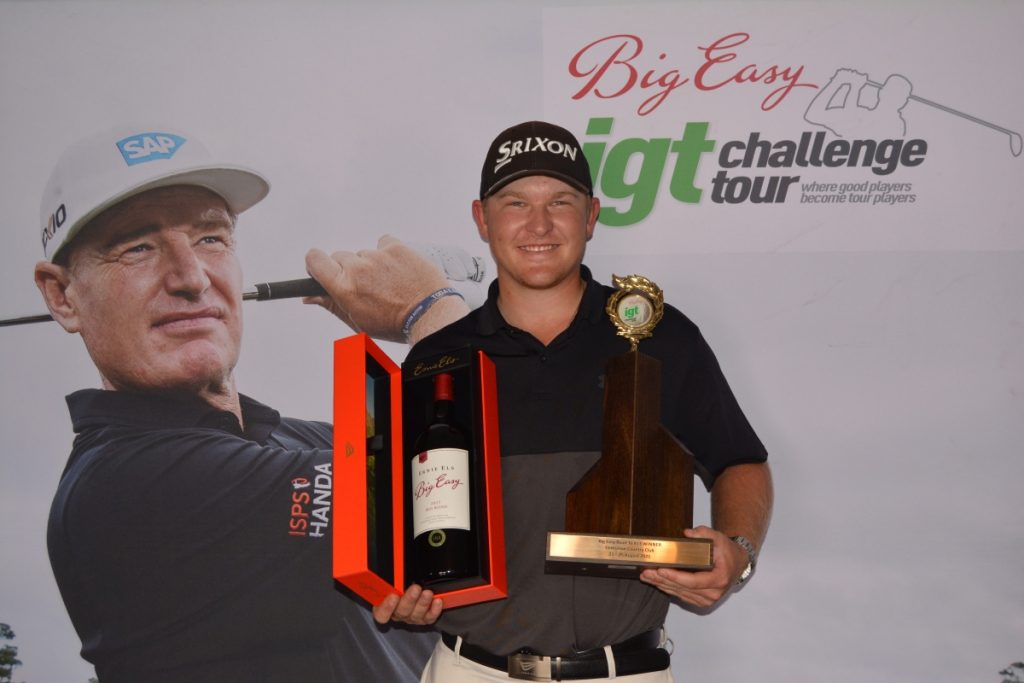 25th August 2021 | IGT Challenge Tour
Pickering eagle sets him up for comfortable Big Easy win at Centurion
Slade Pickering made an eagle two on the par-four second hole at Centurion Country Club on Wednesday as he cruised his way to a five-under 67 and a two-shot victory in the Big Easy IGT Challenge Tour's Road to the Sunshine Tour #13.
Having opened with a birdie on the first, the eagle gave him the peace of mind that he had the weapons in his armoury to hold off any challenge, and even two bogeys in his opening nine did not put a hold on his march to the win.
"I hit my drive really well down the fairway on two," said Pickering of his eagle. "I had 173 in, and I took my nine-iron to try and keep from going too long. I absolutely flushed it, and it landed about three metres from the hole, hopped twice and trickled in."
With none of the players who were close to him after the second round making any substantial move, he was able to enjoy the rest of the round. "I don't know what happened with the bogey on three," he said, "and, when I dropped that shot on the par-five seventh, I just flushed a four-iron right over the green into the hazard.
"But I made birdie on nine, and I felt things were back on track again. The birdie on 12 felt as if it gave me more space, and, when I looked at a leaderboard on the 15th, I saw I was tied for the lead with Therion Nel. But I knew he was a few holes ahead of me, and so I just tied to make sure I made two birdies in the final two holes to make absolutely sure. And they came on 16 and 17.
"So, by the time I got to 18, I knew exactly what I had to do – hit the fairway and green, two-putt and walk off."
Nel finished up with a 67 too, but it left him on 12-under for the tournament, two back. Jason Froneman carded a closing 69 to take third on 11-under, while Kyle McClatchie and Ian Snyman shared fourth on 10-under after rounds of 67 and 68 respectively.
It was the 22-year-old Pickering's second win on the Road to the Sunshine Tour series, and he also has one on the Chase to the Sunshine Tour series. "I'm playing in the SA Inter-Provincial tournament next month," he said, "and after that, I want to turn professional."
He will bring good experience with him to the paid ranks.
Latest IGT Challenge Tour News