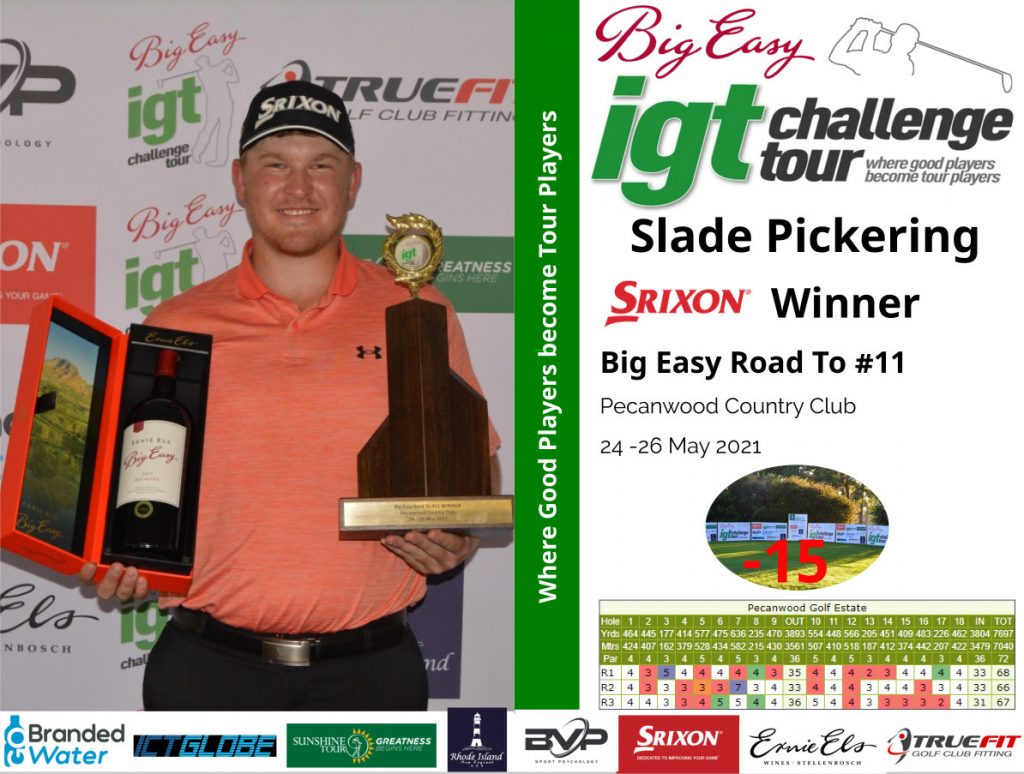 26th May 2021 | IGT Challenge Tour
Pickering powers to Pecanwood victory
BRITS, May 24 – A bogey-free five-under-par on the back nine ensured that amateur Slade Pickering claimed his maiden Big Easy Tour title on a tournament total of 15-under-par and one shot clear at Pecanwood Country Club on Wednesday.
"I had a really slow start to the round," said Pickering, "then after hole 11, I told myself that I have to start doing something. Then, on the 14th, I chipped in for birdie and that changed my whole demeanour. Then it was all guns blazing from there.
"My driver had helped me this whole week; knowing that I won't be missing a fairway and that gave me confidence one the back nine to give it all that I have."
His front nine was characterised by birdies on four and five but those were cancelled out by the bogeys Pickering made on six and eight. But it was on the back nine that Pickering made his move.
Three pars after the par gave him confidence as he didn't give any shot away in that stretch, and then a birdie on the par-five 12 made it onto his card to give him more confidence while helping a great deal with his scorecard in relation to the rest of the field.
He then made four birdies on the trot, from 14 to 17 as Pickering went for his maiden title on this tour.
"I have won an IGT before at Kyalami," Pickering noted, "but this is my first Big Easy Tour win. My plans are to play amateur for the rest of the year and get my Springbok colours. Then, I will try and Pre-Qualify for the Asian Tour and start my golfing career from there."
Fellow amateur, Otto Van Buynder, had a solid week but his final round of 69 left him a short off a playoff spot and at 14-under-par for the week, his total was just not enough this week. Sunshine Tour campaigners James Kamte, Jason Smith and Quintin Wilsnach shared the third spot after finishing the tournament on a total of 12-under-par.
A fast start by Hayden Griffiths yielded a final round of 68 but that was not enough to see him cause any significant problems and along with Rupert Kaminski, they had to settle for a share of sixth at 11-under. Overnight leader, Ernest Ludick, finished in a share of eighth alongside Jason Froneman, at 10-under for the week.
Latest IGT Challenge Tour News