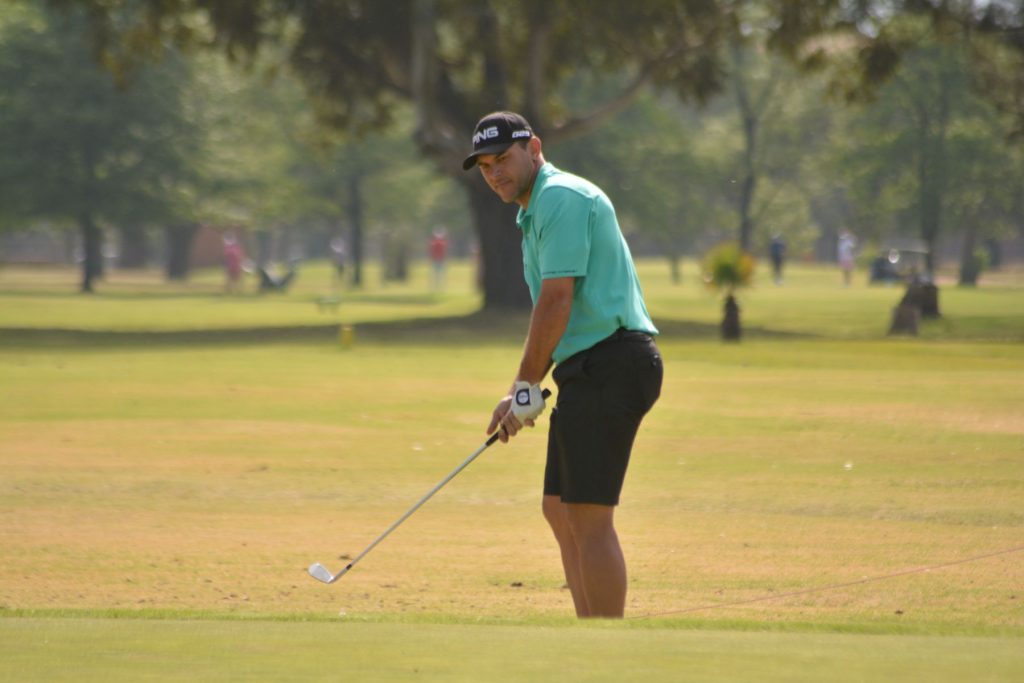 29th September 2018 | IGT Challenge Tour
Pieters powers to joint lead in IGT Witbank Open
Pieters powers to joint lead in IGT Witbank Open
(PHOTO – Brandon Pieters; credit CJ du Plooy)
WITBANK, 29 September 2018 – He might be a social golfer these days, but big-hitting Brandon Pieters hasn't lost the competitive drive that saw him bank four victories on the Sunshine Tour.
"I guess that proves this old dog still has some fight left," joked Pieters.
The Benoni Lake golfer was on top of the world after landing a share of the second round lead in the IGT Witbank Open and partnering Hennie Kruger to victory in the Pro-Am Competition with a brilliant 13-under 59 on Saturday.
Pieters fired a five-under-par 67, which included a run of four birdies on the front nine, to finish at the top of the pile alongside Michael Pfeifer from Fancourt on five-under 139.
"I was really surprised at how well I played out there," said the 42-year-old Benoni Lake golfer.
"About two years ago I started working for Nepic, the largest individually owned Internet Service Provider in Gauteng. At first it was just a part-time gig to help them market themselves, but the job has evolved. These days my golf is limited to the Thursday School at Glendower.
"I haven't really played competitive golf since I won the IGT Zwartkop Match Play in October last year.
Marius Wizen is the director of golf here at Witbank Golf Club and an old mate of mine. He called me when he learned the IGT Challenge Tour were coming to town and invited me to come.
"My expectations were low, but I think I played so well because I was having fun. I love this place. The Highveld Classic was always one of the most popular stops on the Sunshine Tour. We were all pretty cut up when Bearing Man decided to move it to Gauteng."
Pieters, who won the renamed Highveld Classic (the BMG Classic) at Glendower in 2010, would love to leave Witbank on Sunday with another IGT trophy.
"I'm stoked that I'm in a mix. I drove it well, the short game was sweet and the putter was on song. And I holed a great trap shot at the eighth for birdie that kept the buzz going. Lots of fairways and greens, so I think I'm in with a shout.
"And I see Jeff Inglis is also right up there. He has also reached the 40-mark, so maybe us old dogs will teach the whipper-snappers a thing or two on Sunday."
Inglis from England carded successive rounds of 70 to finish at four-under to take second in the Pro-Am Competition with his amateur partner from event sponsor Root Butchery. The Englishman will start the final round one off the pace in joint third with first round leaders Andrew Burmester and Ruan Groenewald, who both returned even-par 72s.
Randpark's Kyle Barker also registered a round of 70 to sit alone in sixth on three-under.
Tokkie van den Berg posted a six-under 66 to take the low round honour and a share of seventh with fellow Pretoria golfer Hendrikus Stoop on one-under.
Second Round Scores
139 – Brandon Pieters 72 67, Michael Pfeifer 70 69
140 – Jeff Inglis (ENG) 70 70, Andrew Burmester 68 72, Ruan Groenewald 68 72
141 – Kyle Barker 71 70
143 – Tokkie van den Berg 77 66, Hendrikus Stoop 75 68
144 – Juran Dreyer 73 71, Richard Joubert 73 71, Hanish Nagrani (ZIM) 71 73, Dylan Mostert 72 72, John McClean (NIR) 75 69, Marco de Beer 73 71, Lejan Lewthwaite 75 69, Dylan Kok 71 73
145 – Clinton Grobler 73 72, Leon Visser 70 75, Eric Nel 74 71, Peetie van der Merwe 73 72, Nobuhle Dlamini (SWZ) 73 72
146 – Keaton Slatter 74 72, Neil Cheetham (ENG) 72 74
147 – Leon Vorster 76 71, Stefan Wears-Taylor 74 73
148 – Stephan du Toit 73 75, Matthew Rossouw AMA 70 78, Shaun van Tonder 74 74, Gary Daoust (BEL) 72 76, Arno Pretorius 75 73
149 – Divan de Villiers 75 74, Marcus Smal AMA 76 73, Jonathan Waschefort 78 71
150 – Zabastian de Jager 79 71, Blain Sansom 78 72, Francesca Cuturi 77 73
151 – Gerhard Henning AMA 77 74, Romano Saincic 79 72
152 – Maurice Prinsloo 76 76
153 – Albert Visser 77 76, Ricardo Towell 78 75
154 – Patrick Thompson 77 77
155 – Tristan Topka AMA 79 76, Bryce Myburgh 76 79, Divan Marais 77 78
156 – Wayne du Toit 77 79, Nicholas Souranis AMA 80 76, Tristan Brice AMA 75 81
157 – Quintin Crause 83 74
159 – Nico Du Buisson 80 79
160 – David Rebelo 83 77
163 – Michael Kok 85 78
164 – Sam Metcalfe AMA 85 79, Marius Mizen 80 84
168 – Matthew Holland AMA 85 83
Pro-Am Result
59 Brandon Pieters & Hennie Kruger AMA
62 Jeff Inglis -& Marius Root Butchery AMA
62 Jonathan Waschefort & Ettienne van Tonder AMA
63 Hanish Nagrani (ZIM) & J. Coetzee AMA
63 Kyle Barker & Sarel van Heerden AMA
64 Richard Joubert & F. Visagie AMA
64 Matthew Rossouw AMA & Carel Krog AMA
64 Leon Vorster & Duncan Weideman AMA
Latest IGT Challenge Tour News