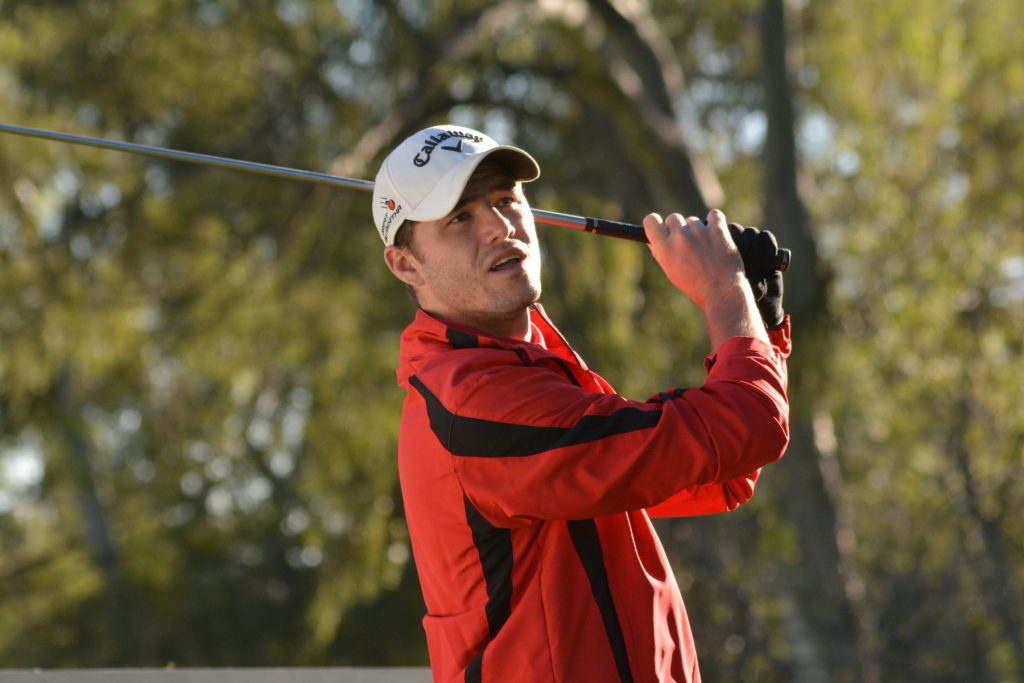 7th May 2018 | IGT Challenge Tour
Pretoria pair tied at IGT Wingate
Pretoria pair tied at IGT Wingate
(PHOTOS – Marco de Beer; credit CJ du Plooy)
TSHWANE, 7 May 2018 – An eagle at the 18th earned former IGT Challenge Tour winner Ruan Korb a share of the first round lead in the IGT Challenge #4 at Wingate Park Country Club on Monday.
Fellow Tshwane golfer Marco de Beer fired five birdies to set the early clubhouse target at four-under and his lead looked to go unchallenged until afternoon starter Korb forced his way into joint pole position with two great shots at the closing hole.
"My tee shot rolled just into the semi-rough," said the 24-year-old Korb. "I had 176 metres left to the pin and I hit 8-iron. It pitched next to the flag, leaving me with a tap-in birdie.
"I'm really pleased to be tied at the top. This was the first round I played with my new Srixon irons and they were great, much better than I expected."
Pretoria talent Tokkie van den Berg – already a winner this season – is in the chasing pack on three-under with Dylan Kok, Leon Visser and amateur Armand van Dyk.
Korb birdied the par five second, but had a double bogey at the next hole. After he turned one-under, he dropped another shot at 14 but made back-to-back birdies at 15 and 16 before the eagle finish.
"I made a solid birdie at two, but I three-putted the third," he said.
"I had 91 flag, and but I went with the wrong club. The ball pitched at the pin and spun right off the green. I chipped it about four feet past the hole, but the first putt raced past the hole.
"I made four straight pars and birdied eight and nine to get back into red numbers. The course is in good condition and the greens are running incredibly well and very true. They are fast too, running at least 10 to 12 on the stimp. But if you hit it in the wrong spot, you have a tough time making up-and-down to save par."
De Beer was equally pleased to top the pile at Wingate Park.
"It's nice to start a tournament with a solid round, especially in the wind," said the 22-year-old Wanna Be A Champion Academy golfer. "It was a pretty solid round. I struck the ball well, especially my driver and I putted decently. The guys normally shoot around 65, 66 here at Wingate, but today the wind was gusting and a lot of the pins were tucked in the tough spots.
"I made a nice birdie start after I drove it under the trees right and had to punch out. I hit the pin and the ball stopped a foot from the hole, so it was a simple tap in for birdie. I had three lip-outs on the front nine, but I managed to pick up one more birdie at six."
De Beer moved to three-under when he holed a 15-footer from below the hole at 10 and was five-under with three to play after another brace of gains at 14 and 15.
"Fourteen was playing into the wind," said the third season professional. "I hit 5-iron to 12 feet right of the hole and made the putt. At 15, I made a good up-and-down for birdie after hitting 6-iron right of the green, but unfortunately I gave one back at 16.
"The hole was playing into the wind. I had 145 metres to the flag and I hit it pin high, but I myself a lengthy putt. The first putt swung away below the hole and I missed the return for par. Overall it was a solid round with very few mistakes, and that's always pleasing."
While Korb and De Beer will chase glory over the next 36 holes, spare a thought for Sunshine Tour's Gary Player School member Dwayne Basson from the Western Cape, who disqualified himself after the first round.
"Dwayne hit his tee shot in the rough at 12 and they found the ball after a while," said IGT Challenge Tour commissioner Cois du Plooy.
"Once the group was finished and Dwayne sorting out his bag, he realised that it wasn't his ball. It was the same Titleist PRO-V 1, the same number and with a blue line, but he was quite sure that it wasn't his ball.
"He came to disqualify himself and said that could not live with himself knowing that he played the wrong ball. I take my hat off to Dwayne for calling a DQ on himself – this act speaks volumes about his character. I'm pleased that he agreed to come back on Tuesday and play as a marker so his trip all the way from Cape Town is not completely wasted."
First Round Scores
All competitors RSA unless otherwise specified; amateurs indicated as AMA
68 – Marco de Beer, Ruan Korb
69 – Tokkie van den Berg, Dylan Kok, Leon Visser, Armand van Dyk AMA
70 – Richard Joubert
71 – Albert Venter, Jan-Louis Nel AMA, Marcus Smal AMA, Otto van Buynder AMA
72 – Quintin Crause, Gilson Filho (BRA), Ruan Groenewald, Neville Mitchell AMA, Romano Saincic, Keaton Slatter AMA, Keegan Mclachlan AMA
73 – Conway Kunneke, Peetie van der Merwe, Jason Reynolds AMA, Christopher van der Merwe AMA, Jonathan Waschefort, Matthew Rossouw AMA
74 – Kyle Barker, Henning Stander AMA, Michael Kok, Ivan Mare AMA
75 – Zander Gous AMA, Gary Daoust (BEL), Luke Brown, Dylan Mostert, Maritz Wessels, Divan Marais, Stefan Cronje, Fritz Orren
76 – Andrew Plint AMA, August Pienaar AMA, Leon Vorster
77 – Allan Jirek AMA (CZE), Henning du Plooy AMA, Stephan Erasmus, Jancarel Rossouw AMA, Brendan Sly AMA (ZIM), Eric Nel, Angus Ellis-Cole AMA, Terry Smith
78 – Christopher de Beer, Jay Fourie, Yusuf Raidhan AMA (MLW), Michael van Rooyen, Duan Nagel AMA, Hendrikus Stoop, Andi Dill
79 – Hayden Griffiths, Neo Mokgatle AMA
80 – Christiaan Greyling, Alpheus Kelapile, Neezy Thubisi, Lance van Rensburg AMA, Stals Swart AMA
81 – CJ Levey, Helary Jules AMA, Stephane van Neer AMA (COD)
82 – Jesse Jacobs AMA, Gerhard Pepler AMA
83 – Terence Archibald AMA, Stephan du Toit AMA, Paulo Serrao (POR), Marcel Steyn Scholtz AMA
84 – Duan de Vries AMA, Marc de Jager AMA (ENG), Divan de Villiers, Tommie Brits, Reinard Schuhknect, Christian MacGregor AMA
87 – Gerhard Botha AMA
88 – Dylan Morton AMA
89 – Hanro Booysen
93 – Gustav Erasmus
94 – Jabu Radebe
DSQ – Dwayne Basson
Written and released by Lali Stander on behalf of the IGT Challenge Tour.
Latest IGT Challenge Tour News