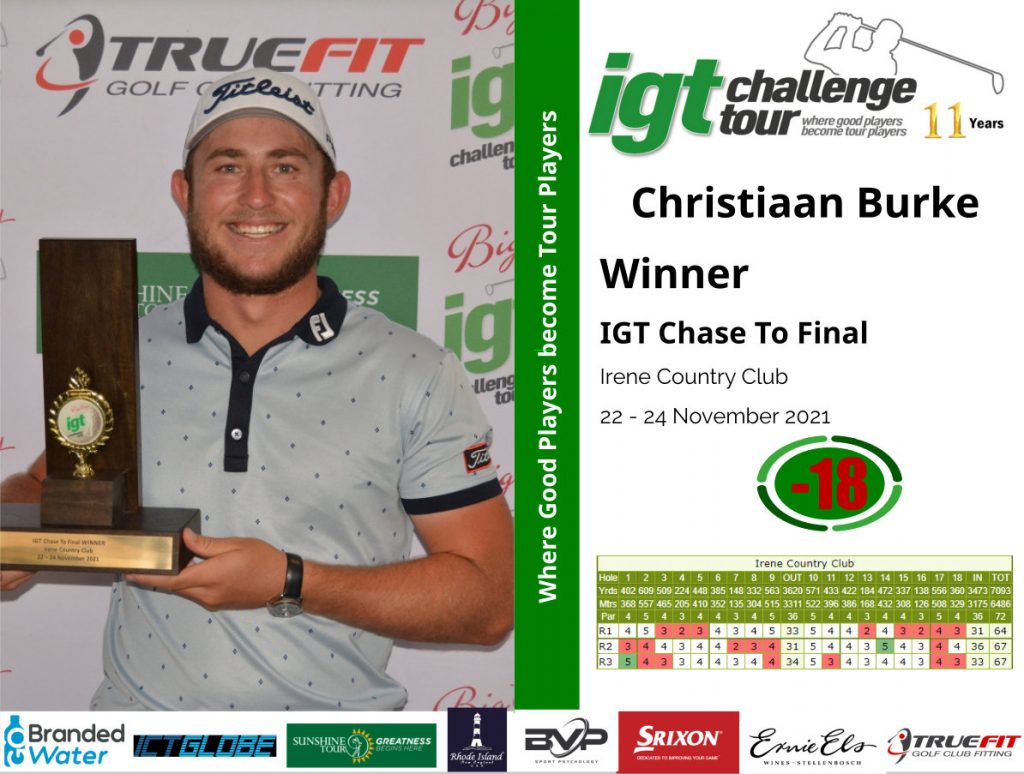 25th November 2021 | IGT Challenge Tour
Red-hot Burke powers to 2nd successive 67 to claim Irene win
Amateur Christiaan Burke bogeyed the first hole of the final round of the Big Easy IGT Tour Chase To the Final at Irene Country Club but bounced back spectacularly as his five-under-par 67 earned him a two-shot win over Kyle De Beer on Wednesday.
Both players entered the final round as co-leaders at 13-under-par after 36 holes of play, with Burke having slept on the lead from day one, after some brilliant golf at the wind-affected Irene course.
"The wind started to come up on our back nine that made it a bit tricky," said Burke after his win, "but it was still fun. I was just playing my own game and focusing on every shot and didn't really think about the other guys."
Burke shrugged off that birdie on the first hole with back-to-back birdies on the second and third holes. De Beer had made two pars and a bogey after three holes while Casey Jarvis was two-under after three holes. Without dropping a short in the next five holes, Burke navigated the Irene layout with discipline and poise until he made further gains with a birdie on the par-five ninth.
He made three more birdies on the back nine to total 18-under for the week and claim a one-stroke win over a very competitive De Beer who gave a solid account of himself.
"I knew they (De Beer and Casey Jarvis) needed to make birdies to catch me, so I just played for pars and let the birdies come by on their own," Burke added. "So, I just focused on every shot and tried not to make silly mistakes and just play well fairway to green. The course set-up was great today, with good flags, so it was fun.
"This win means a lot to me, especially going into next week; the SA Open because it has given me a lot of confidence. I'm really looking forward to it"
De Beer didn't play badly at all, and, had it not been for some beautiful golf by Burke, he probably would have walked away with this one. The bogey he made on the par-five second was his only drop of the round en route to a three-under 69. He made his gains on the ninth, 10th, 15th and 18th.
Jarvis was the biggest mover of the day, threatening to even topple Burke from the summit. The State Mines player's six-under-par 66 final round was clinical and blemish-free, catapulting him to solo third on the leaderboard at 14-under-par and two shots behind De Beer.
Ricky Hendler's 10-under-par total means he finishes fourth this week while Michael Kok solidified his spot in the top three players on this circuit with a fifth-place finish this week, on nine-under.
Latest IGT Challenge Tour News