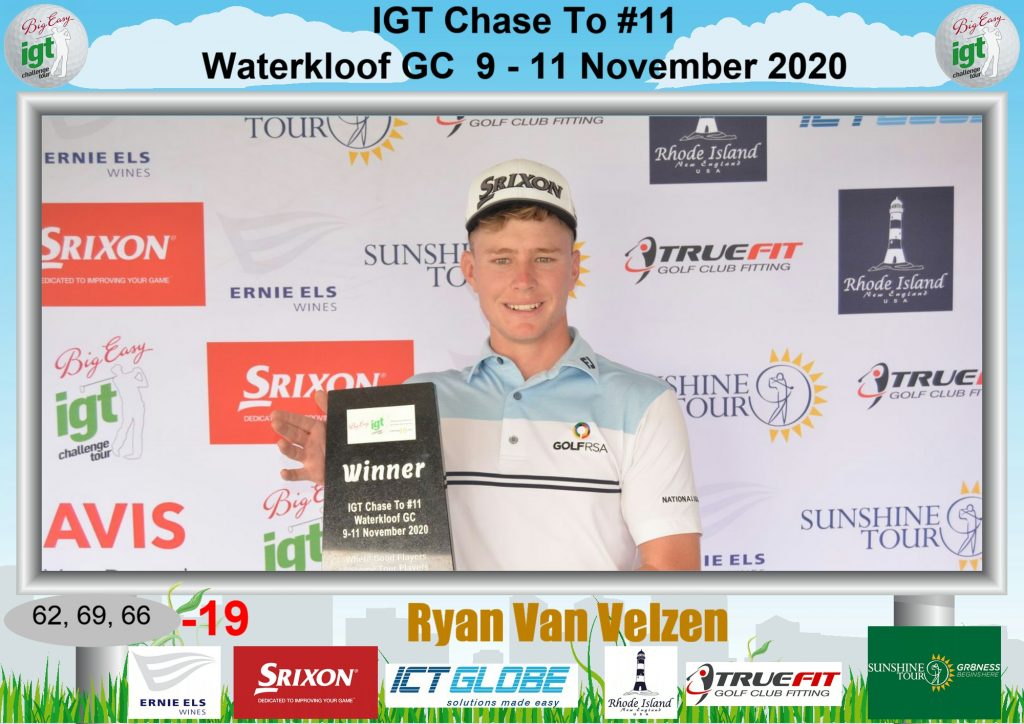 11th November 2020 | IGT Challenge Tour
Resilient Van Velzen clinches second IGT title in dramatic style at Waterkloof
PRETORIA, November 11 – Benoni's Ryan Van Velzen kept up the trend of GolfRSA amateurs winning on the Sunshine Big Easy IGT when he claimed a composed come-from-behind in the IGT Chase To #11 Waterkloof on Wednesday.
The 19-year-old Van Velzen pieced together a bogey-free final round of six-under 66 to total a tournament score of 19-under-par 197 and snatch victory right under the nose of Jonathan Waschefort. This makes it two wins in five weeks now for Van Velzen, with the teenager having triumphed in the Big Easy Tour Road To #1 at Services mid-October.
"It feels amazing," said Van Velzen after a tightly-contested final round, "Jonathan played really well today. I just had to keep my composure and stick to my basics."
Coming into the final round three shots adrift, Van Velzen had to dig deep to unsettle Waschefort who, despite playing solidly the whole week, could not avoid the big numbers on his card. His final round of 70 took his total to 18-under and was defeated by a single shot at the end.
Van Velzen's round was characterised by a solitary eagle on the par-four fifth, birdies on 14 and 17 plus a closing eagle to seal off another impressive week for the East Rand player.
"I just hit it so well today," Van Velzen said, "I just played a really solid round of golf. I just tried to stay patient even when the putts weren't dropping. My chip in on 17 really got me going but I am happy to get it done."
Waschefort, who must settle for second this week, will rue the missed chances because following his back-to-back rounds of 64, his maiden win was not too far out of reach. Veteran campaigner, Heinrich Bruiners, walks away with a third-place finish this week on a total of 15-under-par. Albert Venter finished fourth at 13-under while Vaughn Van Deventer goes home with a fifth-spot placing at 12-under.
197 – Ryan Van Velzen (AM) (RSA) 62 69 66
198 – Jonathan Waschefort (RSA) 64 64 70
201 – Heinrich Bruiners (RSA) 66 68 67
203 – Albert Venter (RSA) 69 65 69
204 – Vaughn Van Deventer (RSA) 68 68 68
205 – Warwick Purchase (AM) (RSA) 72 67 66, Sean Cronje (AM) (RSA) 70 63 72
206 – Jordan Duminy (AM) (RSA) 70 64 72
207 – Herman Loubser (RSA) 69 67 71
208 – Keanu Pestana (RSA) 71 68 69
210 – Christiaan Burke (AM) (RSA) 67 72 71, Leon Vorster (RSA) 66 68 76
211 – Drikus Joubert (AM) (RSA) 76 65 70, Henning Du Plooy (RSA) 64 73 74
212 – Leon Van Der Walt (AM) (RSA) 69 70 73, Nikhil Gopal (AM) (RSA) 68 70 74
213 – Michael Kok (RSA) 68 73 72, Phumlani Maluka (RSA) 69 68 76, Harry Konig (ENG) 68 68 77
214 – Paulo Serrao (POR) 69 70 75, Llewellyn Booysen (RSA) 74 69 71
215 – Carlos Laranja (AM) (POR) 68 73 74, Therion Nel (RSA) 71 71 73, Adriel Poonan (RSA) 75 67 73, Jason Froneman (RSA) 73 71 71
216 – Franklin Manchest (RSA) 73 68 75, Armand Van Dyk (AM) (RSA) 73 71 72, Tyron Taylor (AM) (RSA) 69 75 72
217 – Carlo Heunis (RSA) 68 73 76, Gerard Du Plooy (RSA) 73 69 75, Victor Lange (RSA) 72 72 73, Sam Mc Kenzie (AM) (RSA) 71 74 72, Dwayne Basson (RSA) 75 70 72
218 – Thabiso Ngcobo (RSA) 72 70 76, Ricky Hendler (RSA) 72 70 76, Nikhil Rama (RSA) 74 70 74, Divan De Villiers (RSA) 69 75 74, Handre Truter (AM) (RSA) 75 70 73
219 – Stephan Meintjes (AM) (RSA) 71 71 77
220 – Jade Buitendag (RSA) 73 68 79, Ernest Ludick (AM) (RSA) 71 74 75
221 – Martinus Barnard (RSA) 72 70 79, Ayden Senger (AM) (RSA) 75 70 76
222 – JP Du Rand (RSA) 75 70 77, Conner Mackenzie (AM) (RSA) 73 72 77
223 – Quintin Wilsnach (RSA) 69 70 84
224 – Wayne Stroebel (RSA) 73 72 79
Latest IGT Challenge Tour News