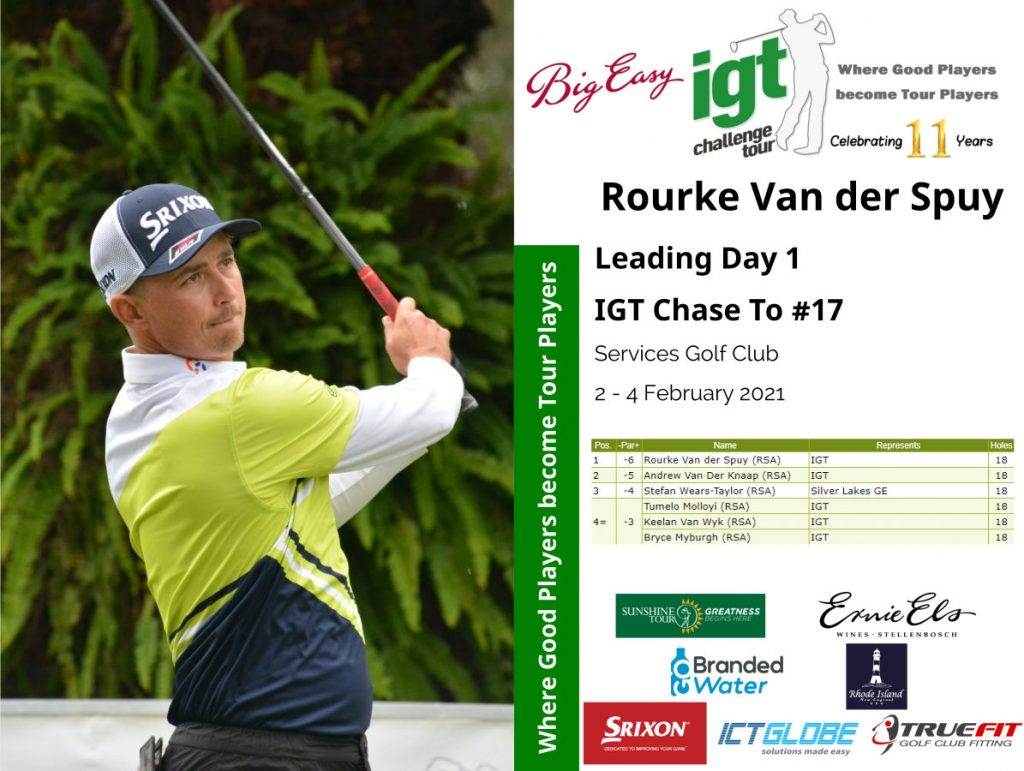 2nd February 2021 | IGT Challenge Tour
Rock-solid start for Van Der Spuy on IGT return at Services
ZWARTKOP, February 2 – Rourke Van der Spuy marked his return to the Big Easy IGT Tour with a sublime performance, firing in a six-under-par 66 round to lead the IGT Tour Chase To #17 at Services Golf Club by a single stroke.
"It's probably been three, or four years since I played the IGT," he revealed after his round," it's almost been to long, I think, especially if you look at how many events the IGT Tour and the Big Easy Tour have had. It's nice to see a nice full schedule on the Big Easy and IGT Tour and it's always a pleasure to join in with these. It's an opportunity for us to come up here and keep the game sharp and stay competitive and luckily I will be able to do that this week and next week."
Having last tasted competitive action in December of the Covid-19-stricken 2020, Van Der Spuy looked sharp as he marched to an opening round of 66 at Services. He penciled in three birdies in his first four holes before dropping a shot on the par-four fifth. He made another birdie on seven but that, too, was cancelled out by the bogey he picked up on the tricky par-three eighth hole but he played the next hole; the par-five ninth, expertly and walked away with a birdie from there.
Four straight pars paved the way for further gains as Van Der Spuy picked up another birdie on the 14th. He avoided the big numbers; settled for pars from the 15th through to the 17th and Van Der Spuy was rewarded in the end, making an eagle on the last hole to seal a strong start in his first competitive round of the year.
"I've been down in Durban; seeing my coach Shaun Coetzee down there at Kloof and we've done some good hard work," Van Der Spuy added, "not only on the range but in the gym as well and it is nice to see the work paying off this week. It's quite a strong field this week, I saw a few Sunshine Tour players here, so it's always good to come out here because the competition is very serious.
"But I managed to get to a very good start; three birdies in the first four holes and that kind of set the tone. I did have two bogeys on the card and they were very soft drops but it was a very solid round."
Van Der Spuy will be aware of the chasing pack, led by fellow Sunshine Tour players Andrew Van Der Knaap in second with a five-under 67 and Stefan Wears-Taylor who carded a 68 and lies third. Tumelo Molloyi, Keelan Van Wyk and Bryce Myburgh share fourth at three-under going into round two.
Latest IGT Challenge Tour News