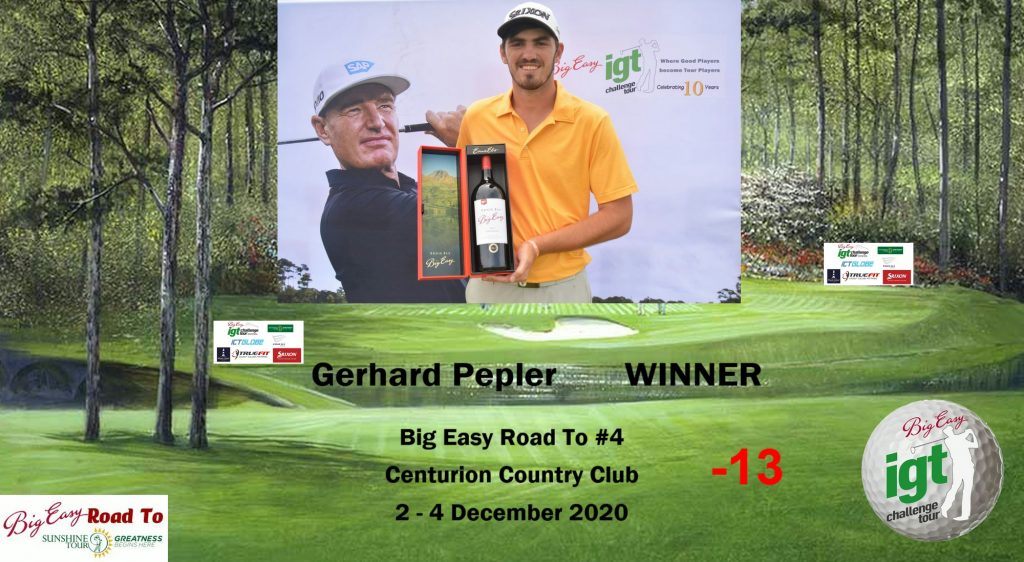 4th December 2020 | IGT Challenge Tour
Rookie Pepler claims first Big Easy Tour title
CENTURION, December 4 – Gerhard Pepler showed some nerves of steel in the final round of the Big Easy Tour Road To #4 at Centurion Country Club where his round of 69 earned him his breakthrough victory and his first as a professional on Friday.
Rounds of 66, 68 and 69 were enough to propel Pepler to a 13-under-par 203 total and earned him a one-shot victory over the pair of Werner Deyzel who signed for a perfect 66, and Reinhardt Blaauw who was co-leader coming into the final round.
"There is no feeling like this one, there are no words to describe it," he said after his impressive win, "It was quite difficult to keep the nerves under control on the back nine, luckily my girlfriend, who was on the bag, did a fantastic job at keeping me calm and in the moment. This win means a lot to me because it is my first year as a pro. It definitely shows me that I can contend with the guys up there."
Despite signing for a good score to win his first title, Pepler was critical of himself for leaving a few opportunities untested out there. He made birdie on the second hole, dropped on the fourth, and bounced back with another birdie on the fifth for a front nine of 35.
Two more birdies coming home – one on the par-five 12th and the other on the last hole – sealed a nerve-wracking final round.
"The course itself was playing a little bit easier," he said, "because conditions weren't as windy as the previous days, but the circumstances caused me to make it more difficult for myself. Honestly, I wasn't too concerned with the score for the first 14 holes, but coming down the stretch, I wanted to know where I was and what I needed to do. So, it was great to pull it off because the guys were coming up behind and I had to stay in the moment."
The Limpopo rookie becomes the third first-time winner on the Big Easy Tour this season after Herman Loubser claimed his long-awaited victory at Reading Country Club last week. Before Loubser, it was amateur Ryan Van Velzen who graced the winner's circle on this circuit following his triumph at Services in the first event of the current season.
Latest IGT Challenge Tour News