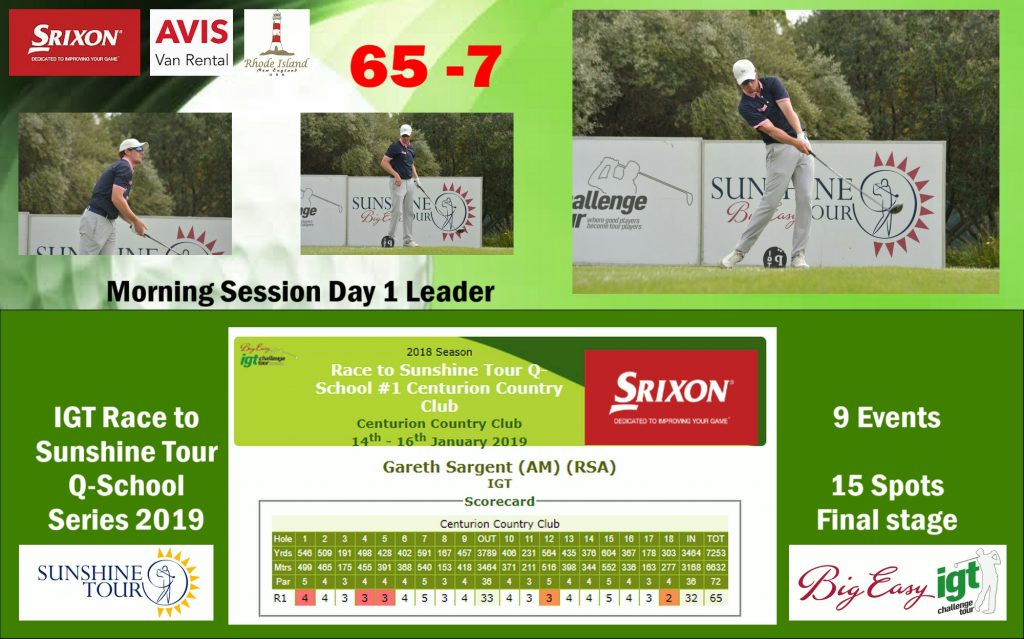 14th January 2019 | IGT Challenge Tour
Sargent leads field at IGT Race to Q-School
Sargent leads field at IGT Race to Q-School
CENTURION, 14 January 2019 – Midrand amateur Gareth Sargent made the perfect start to the first IGT Challenge Tour Race to Q-School event in 2019 to lead his more experienced peers in Monday's opening round.
Sargent clocked in with a blemish-free seven-under-par 65 at Centurion Country Club just before brutal storm hit that forced play to be called off for the day, leaving 15 players to complete the opening round at 06h40 on Tuesday.
The former Trinity House High School learner graduated from Radford University in the United States with a degree in psychology last June. He began competing on the premier golf development circuit and the Big Easy IGT Challenge Tour a month later.
Some good work with coach John Dixon after the festive break paid handsome dividends for the 24-year-old, who hit 16 greens in regulation before he missed the putting surface for the first time.
Sargent fired two eagles in his outward loop and he racked up a trio of birdies on his back nine to lead by one shot from Albert Venter and Sunshine Tour campaigner Wynand Dingle.
Big Easy IGT Challenge Tour Championship winner Luke Brown is a further shot adrift.
"It's not every day you don't have any bogeys, but if the putts had dropped, it could have been closer to 62 or 61," said Sargent.
"I hit a good drive down the 12th and hit 3-wood from 230 metres just short left of the green. I putted up and the ball dropped for eagle. I gave myself a lot of chances, but the putts stayed out. I stayed patient and was rewarded with another eagle at 18.
"It's uphill, but it's the perfect distance for my 3-wood, and the wind was also helping. I hit a slight fade to three feet and boxed the putt. Made birdie at the first, another par five, to go five-under."
The Country Club Johannesburg golfer took a Tiger-line over the out-of-bounds at four to set up his second birdie.
"I had 130 metres to the hole and hit a gap-wedge, but it pitched 25 feet past. I wanted to nestle it close, but it looked like it was going in from the moment the ball left the clubface. I was just off the fairway at five and I could hit a controlled lob-wedge to five foot at five for another birdie.
"I must say that the sessions with John has been great. He has really helped me to understand my game. I not just hitting the ball. I know what I'm doing and I am playing to my strengths."
Venter also handed in a blemish-free card that sported an eagle at 15 and four birdies.
"The front nine was really quiet, and I only made the one birdie at the second, but I wasn't hitting it close enough," said the Silver Lakes professional. "I had a lot of two-putts, but the distance control improved over the last nine holes.
"I made a great up-and-down for birdie at 12, knocked in a three-footer for birdie at 13 and holed my trap-shot at 15 for eagle. At 18, I made another good up-and-down for birdie. It was great to get the rust off and to put a decent score together this early in the season."
A total of 38 players in the 123-strong playing field managed to break par before play was called including Gary Player School of 2018 member Allister de Kock and Centurion amateur Jaco van der Merwe, who joined the bus of 11 players on three-under.
First Round Scores (completed top 10)
All competitors RSA unless otherwise specified; amateurs indicated as AMA
65 – Gareth Sargent AMA
66 – Albert Venter, Wynand Dingle
67 – Luke Brown
68 – Andrew Carlsson
69 – Reinhardt Blaauw AMA, Malcolm Mitchell AMA, Allister De Kock, Jason Rossiter, Tumelo Molloyi, Jaco Van Der Merwe AMA, Neal Woernhard (SUI), Michiel Bothma, Ruan Korb, Marthin Scheepers.
Written and released by Lali Stander on behalf of the IGT Challenge Tour.
Latest IGT Challenge Tour News