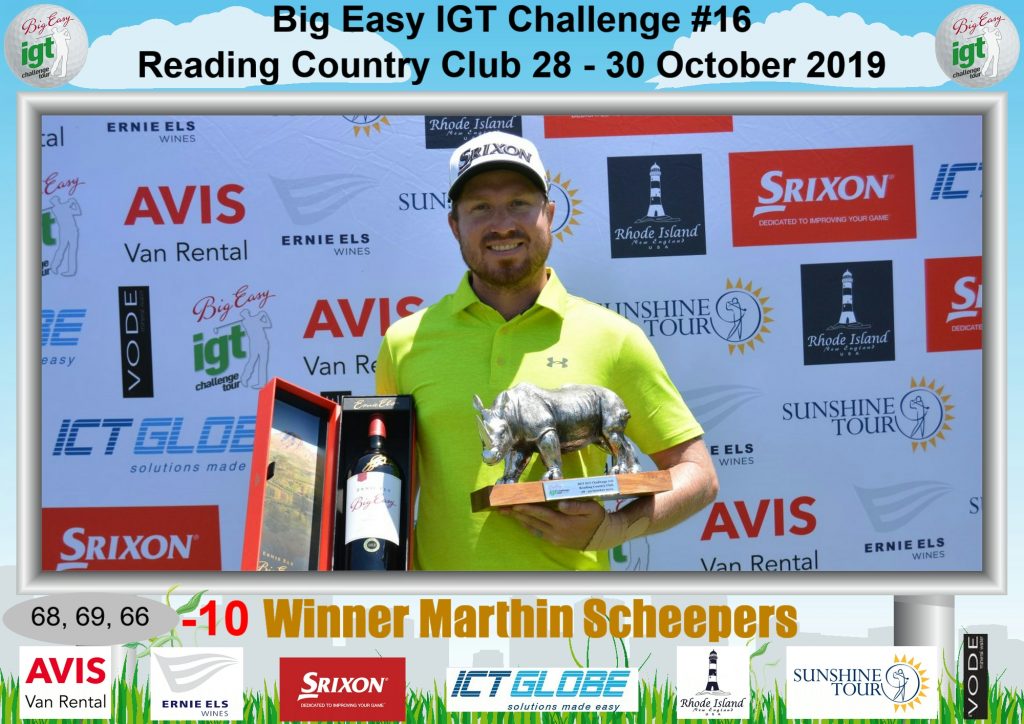 30th October 2019 | IGT Challenge Tour
Scheepers seals maiden success in Big Easy IGT Reading
Scheepers seals maiden success in Big Easy IGT Reading
(PHOTO – Marthin Scheepers; credit CJ du Plooy)
ALBERTON, 30 October 2019 – Pretoria golfer Marthin Scheepers shrugged off the bridesmaid tag and burst into the top five on the Road to Sunshine Tour with memorable maiden win on the Big Easy IGT Challenge Tour on Wednesday.
Having come close twice this season, Scheepers got the job done when he edged out overnight leader Thabiso Ngcobo with final round five-under-par 66 for a one-shot triumph on 10-under 203 at Reading Country Club.
"I thought for sure I had thrown it away when I bogeyed the 18th, but then Thabiso missed his birdie putt and it was official," said a delighted Scheepers. "I can't lie; this feels great."
The timing couldn't be better for both contenders.
Victory moved Scheepers to fifth in the rankings and a tie for second boosted Ngcobo to second in the Road to Sunshine Tour Transformation Order of Merit.
"I am sure Thabiso is gutted, but it's a great result for both of us," Scheepers said. "The top six on the Road to Sunshine Tour get cards for the Sunshine Tour next season, and the top three on the Transformation Order of Merit. Win or lose, we are both in with a shout now with just the Silver Lakes and Soweto events left. We just need to maintain our rankings now and we're there."
Scheepers began the final day five off the pace, but closed the gap on Ngcobo with three birdies on the bounce from the second hole.
"My tee shot on the second rolled just off the fairway left, but I hit a lob-wedge to eight feet and holed the putt. On the third, the tee shot rolled off on the right, but I had a good distance to the flag and I hit my second a foot from the hole and tapped in," said Scheepers.
"On the par five fourth, I hit 5-iron for my second and it took a bad bounce and finished under the trees behind the green. I had to play a bump-and-run, but it came out great and I knocked it to four feet for birdie. I was really happy with that start, and it set me up for the win."
Unbeknownst to Scheepers, Ngcobo was 12-under but dropped to nine-under after a bogey on nine and a double bogey on 10 after he leaked his tee shot into the trees.
"After I birdied the 12th I saw the mobile leaderboard and I realised I was tied for the lead with Thabiso," Scheepers said. "I knew I needed to stay patient and keep it in play to have a chance."
Scheepers took the outright lead on 11-under with birdies on 14 and 16 as Ngcobo continued to battle an ice-cold putter, but he gave the Centurion a glimpse of hope with a bogey finish.
"I drove it down the fairway, but I caught a bad lie," Scheepers said. "There was no placing this week, so I squeezed it out and caught the greenside bunker. I faced a tough bunker shot and tried to land the shot just over the fringe so it would roll down to the flag. It didn't roll out as far I thought it would, and then I hit the par putt too soft."
Ngcobo had a chance to force a play-off, but the 25-year-old pushed his birdie putt well past the hole and handed Scheepers the win.
Scheepers won his Sunshine Tour card at Q-School last year, but the Wanna Be A Champion Academy member admits he was not ready for the harsh reality of the premier circuit.
"I was so confident when I got my card, but I was completely unprepared for it," he said. "I was definitely not ready for all the stress and pressure.
"I am glad I have had this season on the Big Easy IGT Challenge and IGT Challenge Tours to prepare properly. Over the last seven months I've learned how to compete properly and how to handle the pressure and this win confirms it. More than anything, this is huge for my confidence, knowing my game can hold up when it matters the most. Closing it out today was a great experience and hopefully something I can draw on in the future – I'm not going to lie, it feels good!"
Jason Froneman carded 67 to tie for second with Ngcobo, who closed with an even-par 72, while Jason Smith carded 68 to finish third on eight-under, further cementing his second place ranking on the Road to Sunshine Tour.
Final Result
All competitors RSA unless otherwise specified and amateurs indicated as AMA.
203 – Marthin Scheepers 68 69 66
204 – Jason Froneman 66 71 67, Thabiso Ngcobo 67 65 72
205 – Jason Smith 68 69 68
206 – Jason Viljoen 69 68 69, Clayton Mansfield 66 69 71
207 – Coert Groenewald 70 69 68, Basil Wright 72 64 71
208 – Matthew Spacey 70 72 66, Quintin Wilsnach 70 69 69
209 – Thabang Simon 69 71 69, Carlo Heunis 72 66 71, Byron Coetzee 69 69 71, Jason Roets 68 69 72, Jack Duthie 72 65 72, Gideon van der Vyver 67 69 73
210 – Jason Rossiter 70 72 68, Matt Saulez 68 72 70
211 – Hennie O'Kennedy 75 67 69
212 – Divan Marais 70 71 71, Reinhardt Blaauw 70 68 74
213 – Zabastian de Jager 69 72 72, Jaco van der Merwe 73 68 72, Dwayne Basson 69 70 74
214 – Alpheus Kelapile 71 71 72, Franco Putter 70 70 74
216 – Michael-James Steyn 69 73 74, Gary Daoust (BEL) 73 69 74, Nico du Buisson 71 71 74
219 – Angus Ellis-Cole 67 75 77
Written and released by Lali Stander on behalf of the Big Easy IGT Challenge Tour.
Latest IGT Challenge Tour News