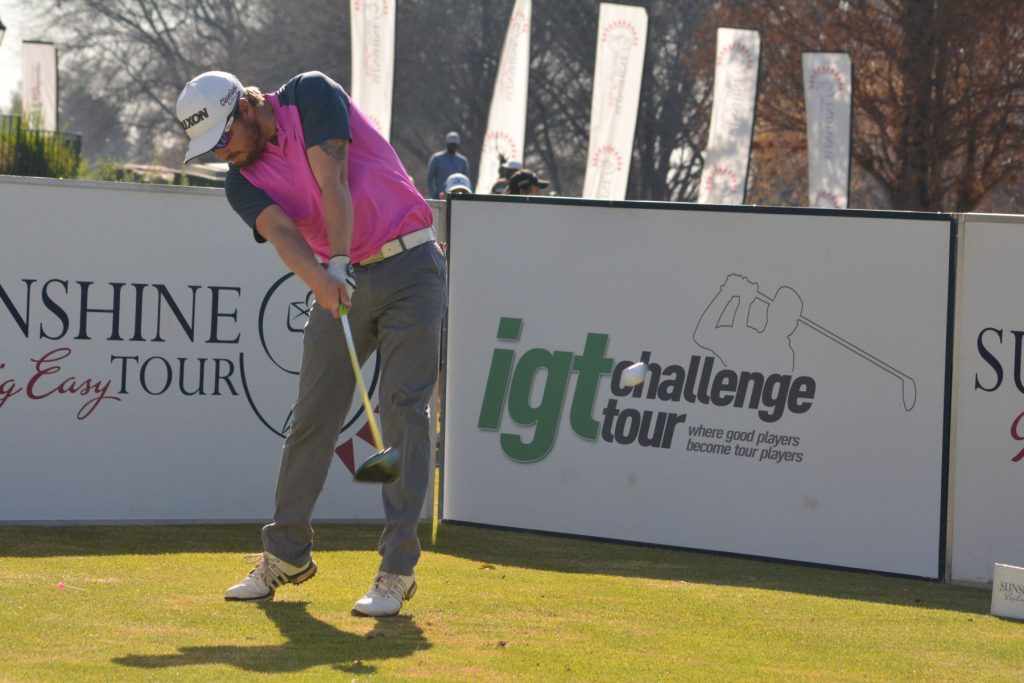 25th June 2018 | IGT Challenge Tour
Scheepers snatches Big Easy IGT lead at Killarney
Scheepers snatches Big Easy IGT lead at Killarney
(Marthin Scheepers; credit CJ du Plooy)
Johannesburg, 25 June 2018 – Sunshine Tour rookie Marthin Scheepers snatched the top spot in the fifth Big Easy IGT Challenge Tour event despite a bogey finish in the first round on Monday.
The firm and fast greens contributed to tough scoring conditions and only eight players managed to get round Killarney Country Club under par. The 26-year-old from Akasia Golf Club was the best of bunch with an opening six-under-par 66.
Scheepers leads by one from DK Kim from Korea, Gary Player School of 2018 member Thabang Simon and fellow Sunshine Tour rookie Estiaan Conradie, who won the 2017/2018 IGT Race to Q-School.
"It's not a huge, but I'll take it," said the Wanna Be A Champions Academy golfer. "I've never been in this position before, so this is new territory. But I'm here to learn how to play under pressure.
"Conditions were difficult, because the greens were firm and slick. They roll true, though, so your good putts found the hole. There wasn't too much wind and the course also played on the short side. It suited me. I'm not the biggest hitter, so that helped me to place the ball in the right positions."
Scheepers had an early birdie at 11 and made three more on the bounce before the turn saw him start the back nine four-under.
"I hit my tee shot through the fairway at 16 and had 150 metres flag," he said. "I hit a 9-iron flush and holed an eight-footer for birdie. I hit a 5-iron to three metres at 17 and holed the putt. At 18, I hit it down the middle again and my second ended in the greenside bunker, but I holed the trap-shot for another birdie. That gave me some nice momentum through the turn."
He shrugged off a pair of bogeys at two and three with successive birdies at five and six and collected another gain at eight before finishing up with a bogey.
"On both holes, I hit my tee shots down the middle, but pulled both my second shots, leaving me with really tough chips," the Akasia golfer said. "At the par five I made a text-book birdie and I boxed an uphill putt from six metres for a two at six.
"At the eighth hole, my sand-wedge pitched a foot behind the flag and spun back five meters, but I boxed that putt, too. It was tough to finish with a bogey, but it was a good one. My tee shot went right and through the trees and finished on the little road. I aimed a low 2 iron left of the green to avoid the water and hit a decent chip on the green, but I missed the par putt.
"Before Q-School, I was working full-time at The Pro Shop in Lynwood. I didn't realise how demanding this 'job' would be. It's mentally challenging, but also physically because of all the golf you have to play. Practice rounds, pre-q; if you make it, two more rounds. And if you make the cut, another one or two and mentally.
"But I'm starting to adjust. The Big Easy IGT Challenge Tour is great for us rookies, because we don't lose any momentum when the tour takes a break. You can just keep plugging away, stay in form and build experience."
Meanwhile Matt Bright and Zambia's Dayne Moore are two off the lead at two under, with Romano Saincic and Dylan Mostert – already a two-time Big Easy IGT winner this season – a further shot back.
First Round Scores
All competitors RSA unless otherwise specified; amateurs indicated as AMA
66 – Marthin Scheepers
67 – Thabang Simon, Estiaan Conradie, Dongkwan Kim (KOR)
68 – Matt Bright, Dayne Moore (ZAM)
69 – Romano Saincic, Dylan Mostert
70 – Teddy Mathebula, David McIntyre, Otto van Buynder AMA, Heinrich Bruiners, Stuart Smith (BOT)
71 – Neil Cheetham (ENG), Anton Haig, James Pennington (SWZ), Ruhan van Dijk, Matthew Rushton, Irvin Mazibuko, Theunis Bezuidenhout, Ryan Tipping, Sipho Bujela, Ruan Groenewald
72 – Clinton Grobler, Pieter Moolman, Peetie van der Merwe, Sean Bradley, Duane Keun, Ricardo Towell, Michael Kok, Gert Myburgh, Jacques de Villiers, Tokkie van den Berg, Jason Smith, Aneurin Gounden AMA
73 – Keanu Pestana AMA, Kyle Barker, Ruan Korb, Thabiso Ngcobo, Allister de Kock, Matthew Spacey, Paul Rodrigues AMA, Jabulane Mabilane
74 – Shalan Govender, Arno Pretorius, Makhetha Mazibuko, Jade Buitendag, Ruan Conradie, Slade Pickering AMA, Michiel Bothma, Roberto Lupini, Luke Brown, Eric Nel, Leon Vorster, Wayne Stroebel, Jason Viljoen, Adriel Poonan, Quintin Crause
75 – Conway Kunneke, Dylan Kok, Andi Dill, Dylan Docherty, Gary Daoust (BEL), Michael Schutz, Jason Diab, Jason Rossiter, Daniel Hammond, Louis Albertse, Maritz Wessels, Jeff Inglis (ENG), Teboho Sefatsa, Leon Visser
76 – Landon Ferguson AMA, Warric Dyers, Neezy Thubisi, Paul Boshoff, Coert Groenewald, Neal Herman, Andrew Carlsson, Brett Liddle, Keegan Mclachlan AMA
77 – Phumlani Maluka, Caylum Boon AMA, Adam Baker, Derick Petersen, John McClean (NIR), Dwayne Basson, Keelan Africa, Jay Dean Fourie, Jonathan Waschefort
78 – Antonio Costa (CHL), Jastice Mashego, Stephan Erasmus, Greg Bentley (ZIM), Hendrikus Stoop
79 – Franklin Manchest, Stals Swart AMA
80 – Jonathan George AMA, Gerard Du Plooy, Liam Labuschagne AMA, Michael Dreyer
81 – Hayden Griffiths, Jason Roets
83 – Marcus Smal AMA, Paulo Serrao (POR), Thabo Moraba
WDN – Divan Marais
RTD – Keaton Slatter
Written and released by Lali Stander on behalf of the IGT Challenge Tour.
Latest IGT Challenge Tour News