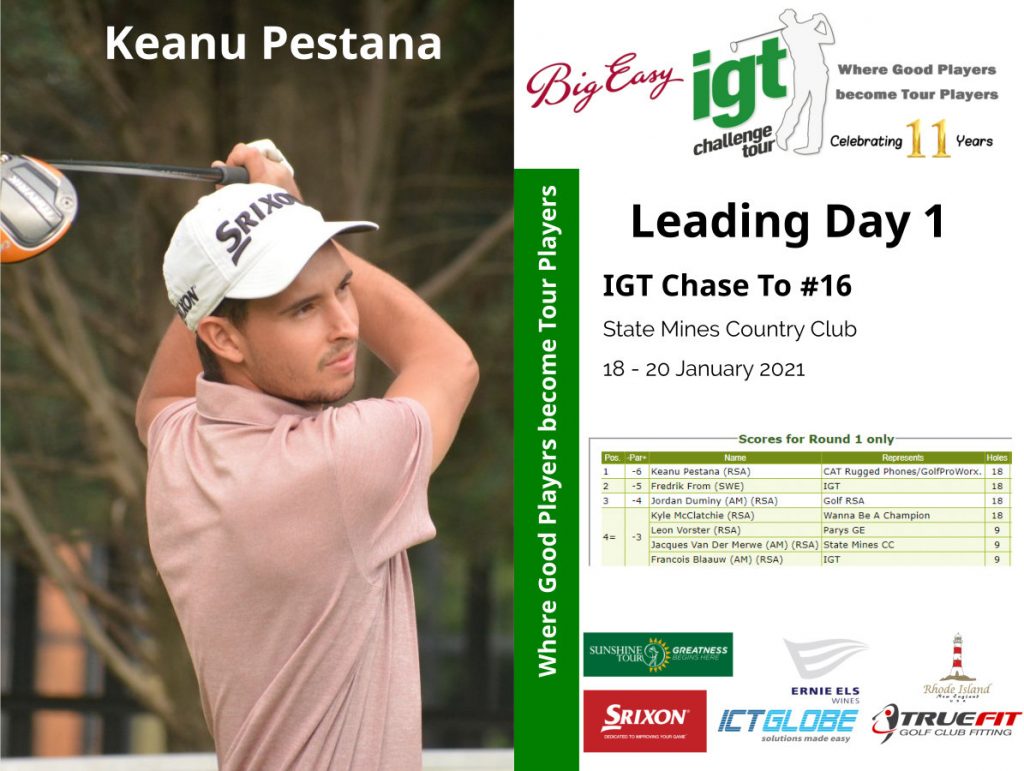 18th January 2021 | IGT Challenge Tour
Short game hands Pestana State Mines lead
BOKSBURG, January 18 – Keanu Pestana might not have been in perfect harmony with his driver on day one of the IGT Tour Chase To #16 at State Mines Country Club but a strong short game made up for that and delivered him a six-under-par 66 round on Monday.
He is one shot clear of Sweden's Frederik From and South African duo of Leon Vorster and amateur Zandre Labuschagne, all of whom signed for 67s.
"My short game was definitely the highlight of my game today," said Pestana, reflecting on his opening round. "The driver wasn't the best today and I hit a couple of drives all over the place throughout my round but I also hit some really solid drives today. The short game, however, was solid and I was hitting them tight when I had 100m or less and my putting felt solid and all my putts were dropping today."
Indeed, on the front nine, Pestana seemed to be making birdies for fun – birdieing the first two holes to set the tone. Two pars later, another birdie found its way onto his card and a par on the sixth was followed by a hat-trick of birdies to turn in 30 and blemish-free.
"The front nine was solid and the two birdies on the first two holes boosted my confidence for the rest of the round," Pestana said, "I hit a really nice eight-iron shot to around four feet on the par-three on hole five, and from there, my putting just knocked up a gear and I made five solid putts in a row for birdies from the seventh to the 11th hole.
"I think I have started well and I know that I need to keep up my momentum tomorrow and Wednesday to finish off strong. I couldn't be happier with my result this morning, though."
Back-to-back birdies on after the turn saw Pestana go eight-under-par but a double-bogey on the par-three 13th took from those gains. He kept things steady for the rest of the round, picking up pars along the way to consolidate a strong start to the week.
"The back nine was definitely solid but after the double, I struggled to find my rhythm again but I was happy with my results today," Pestana added. From, Labuschagne and Vorster will feel that a one-stroke lead can be overturned and they will be pleased with where they are on the leaderboard after round one. In a share of fifth and within two shots of the lead, the experienced duo of Thabang Simon and Derick Petersen, along with the amateur duo of Jarryd Elliot and Jordan Duminy, will relish the chase when round two tees off.
Latest IGT Challenge Tour News