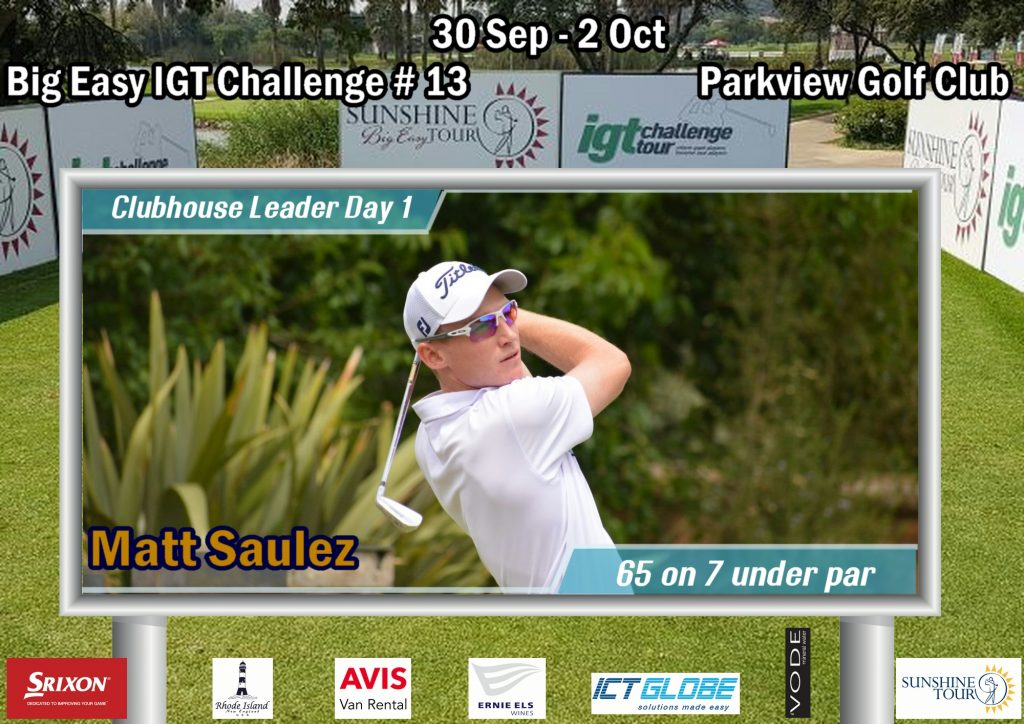 30th September 2019 | IGT Challenge Tour
Simon and Saulez soar at Big Easy IGT Parkview
Simon and Saulez soar at Big Easy IGT Parkview
JOHANNESBURG, 30 September 2019 – Thabang Simon and Matt Saulez lapped up eagles as they raced their way into a two-way tie for the lead in the 13th event on the Big Easy IGT Challenge Tour on Monday.
On a low scoring day at Parkview Golf Club, great ball-striking produced 20 eagles and 267 birdies, but the opening round also yielded 331 bogeys or worse from the 77-strong player field.
Simon notched two eagles and Saulez one and the pair reeled in half a dozen birdies a piece to share pole position on seven-under-par 65.
The pair finished one shot clear of Byron Coetzee and two shots ahead of early clubhouse leader Jason Froneman.
Former Sunshine Tour campaigner Simon has enjoyed a consistent season and the 44-year-old has moved to fourth in the Transformation Order of Merit courtesy of seven pay days. "The goal is to crack the top three and to stay there for the rest of the season so I can secure my card for the Sunshine Tour next year," he said.
The Soweto Country Club golfer got off to a flying start and was seven-under through six holes.
"I eagled the ninth, birdied 10 and 12, eagled the 13th and birdied 14," he said. "I hit a great drive down the middle on 16, but the ball landed in a divot. I duffed it into the lip of the greenside bunker and made double from there. And I three-putted 17, but I made good on the bogeys with birdies at one, seven and eight to get back to seven-under.
"I missed short putts of about two metres in five and six, so it could have been better. This is a good start, though. I'll take it because the course was no gimme. The set-up was tough, with a lot of tucked pins, but the greens are a dream. They are running fast and true. For a course coming out of winter, the conditioning of the track is really great.
"You have to know where to here and our tee shots are crucial if you want to score. My ball striking today was as good as it's been all season and the putter has been behaving beautifully for the last three events."
Saulez went through a trying time with his swing during the GolfRSA National Squad Tour in June and the Durban golfer went back to the drawing board with renowned golf coach Roger Wessels on rebuilding his game.
After a few missed cuts, he started to show the form that saw him rise to second in the GolfRSA Open Amateur rankings.
After a recent top 12 finish on the IGT Challenge Tour at Silver Lakes, the 22-year-old was delighted to be back in contention.
"I had no confidence in my swing and it impacted the rest of my game. I connected with Roger during the GolfRSA National Squad Tour, so we began working together when we got back from the United Kingdom," Saulez said. "It's been a slow process, but the confidence is starting to come back. Roger has been great and I travel with my former GolfRSA National Squad maters Malcolm Mitchell and Clayton Mansfield, who have just kept me positive that the game will return.
"Today I had my first really great day on the course where I was striking ball really well and the flat-stick cooperated. For the first time it felt that every aspect of the game worked together."
Saulez also made a birdie start on the ninth and picked up shots at the two par fives to go four-under.
"After the birdie on 12, I hit driver down the middle on 14 and gap-wedge to eight feet and boxed the eagle putt," he said. "I birdied 16, gave one back on 17 when I hit miss-hit an 8-iron just short of the green, but got the shot back with an easy birdie on the first.
"I picked up two more coming home for a 65 and that's the lowest round I've shot in months. The key was taking advantage of the par fives, which has always been one of my strengths and capitalising on good tee shots. If you hit it skew on this course, you're going to struggle to score."
Marthin Scheepers, who was denied his first win of the season by Jason Smith at Centurion Country Club last week, is back in contention in joint fifth on four-under alongside Adriel Poonan, Bryce Myburgh and Matthew Spacey, already a three-time winner this season.
A group of seven players led by reigning Road to Sunshine Tour rankings leader Malcolm Mitchell complete the top 10 on three-under.
First Round Scores
All competitors RSA unless otherwise specified and amateurs indicated at AMA
65 – Matt Saulez, Thabang Simon
66 – Byron Coetzee
67 – Jason Froneman
68 – Adriel Poonan, Bryce Myburgh, Marthin Scheepers, Matthew Spacey
69 – Jeff Inglis (ENG), Leon Vorster, Dylan Kok, Carlo Heunis, Quintin Wilsnach, Clayton Mansfield, Malcolm Mitchell
70 – James Pennington (SWZ), Jason Rossiter, Luan Boshoff, Gideon Van Der Vyver, Jason Roets
71 – Phumlani Maluka, Jason Viljoen, Michael Kok, Albert Venter, Keaton Slatter, Shalan Govender, Gerard Du Plooy, Quintin Crause, Morne Buys, Neil Cheetham (ENG)
72 – Dwayne Basson, Allister De Kock, Richard Joubert, Gareth Sargent, Zabastian De Jager, Angus Ellis-Cole
73 – Michael Pfeifer, Duan Nagel, Jack Rex Duthie, Stephan Erasmus, Reinhardt Blaauw, Jason Smith, Donovan Liddicoat AMA, Divan Marais, Xander Prinsloo AMA, Michael-James Steyn
74 – Gerhard Pepler, Neal Woernhard (SUI), Paul Rodrigues, Patric Dowling AMA, Alpheus Kelapile, Gary Daoust (BEL)
75 – John McClean (NIR), Romano Saincic, Tristan Eeles
76 – Dean Du Plessis, Hennie O'Kennedy, Karl Ochse, James Searson, Donovan Pearse, Stuart Smith (BOT)
77 – Keanu Pestana, Christian Basson, Eric Nel, Mark Fraser
78 – Henning Du Plooy, Paulo Serrao (POR)
79 – Darren Slingers AMA
80 – Jaco Van Der Merwe, Clinton Duncan AMA, Alwyn Smith
81 – Marcel Steyn Scholtz, Coert Groenewald, Sheldon Steyn (ZIM)
82 – Jonathan George AMA
84 – Neo Mokgatle, Albert Visser
Written and released by Lali Stander on behalf of the Big Easy IGT Challenge Tour.
Latest IGT Challenge Tour News