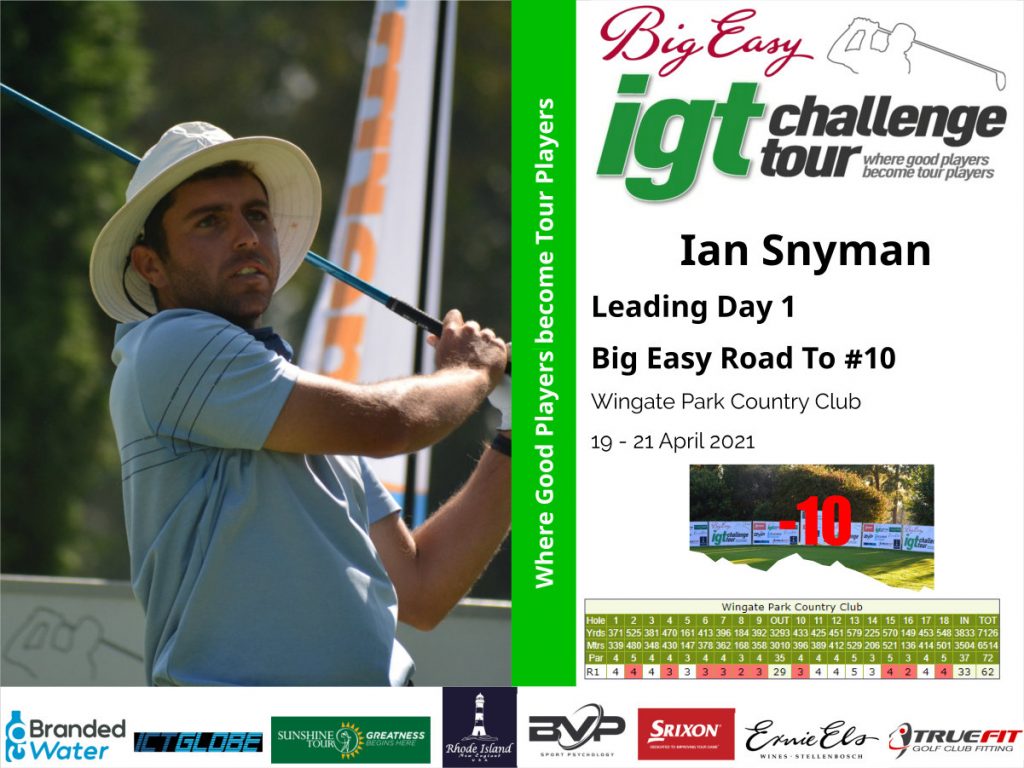 19th April 2021 | IGT Challenge Tour
Sizzling 62 hands Snyman dream start at Wingate
PRETORIA, April 19 – Cape Town's Ian Snyman raced to a superb five-shot lead on day one of the Big Easy Tour Road To #10 thanks to a scintillating 10-under-par 62 at Wingate Park Country Club on Monday.
"My short stick was awesome today," said an elated Snyman after his round. "The biggest thing today was the putter. Whenever I got onto the greens, I sort of went to autopilot mode and everything just found the center of the cup every single time. It was a really solid day all round."
A bogey-free return of six-under 29 on the front nine – characterised by birdies on the second, fourth, sixth, seventh, eighth and ninth holes – was solid enough all on its own but Snyman knew he still had some work to do coming home.
Another birdie on 10, to make it five birdies on the trot, made its way onto Snyman's scorecard before two more, this time on 15 and 16, followed. Fittingly for a dominant round of this sort, Snyman closed off with a birdie to sign for a 62.
"I think for me it kind of started on the fourth hole," added Snyman, describing how his round went. "I just put myself in positions for birdies, and especially around the back nine and I made a few around that stretch. Overall, I'm very happy with my game.
"I wouldn't say I have been as consistent as I would like because there was a time in the United States when I was really playing consistently. For now, I can't say I've reached that level but I'm happy with my game. Consistency is important on the Big Easy and IGT Tour but I feel like I'm on the right track."
He will sleep on a five-stroke lead over Reinhardt Blaauw, Jason Froneman, Arno Pretorius, England's Harry Konig and amateur Leon Van Der Walt. Gerhard Pepler and Matthew Rushton carded 68s and they tie seventh after round one while member of the GolfRSA National Elite Squad, Christiaan Burke, opened with a 69 to take solo ninth on the leaderboard.
Kyle McClatchie, Matt Bright, Phumlani Maluka, Henning Du Plooy, Ricky Hendler, Llewellyn Booysen and veteran Ryan Tipping share the 10th spot after rounds of 70 each.
Latest IGT Challenge Tour News