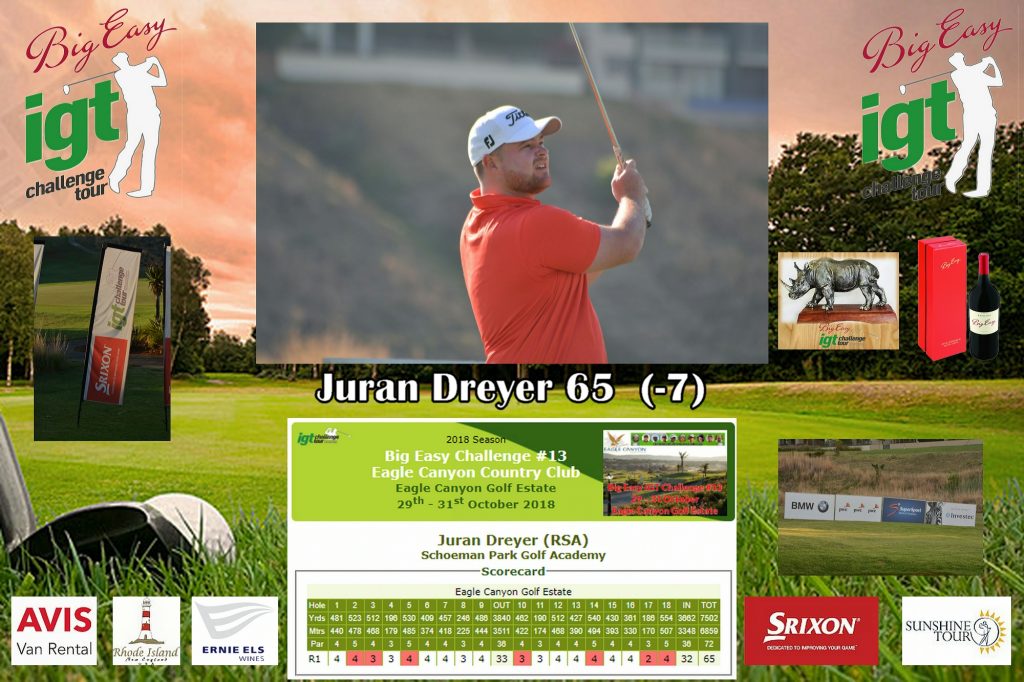 22nd October 2018 | IGT Challenge Tour
Sizzling 63 sees Dreyer surge to top at Lake Club Benoni
Sizzling 63 sees Dreyer surge to top at Lake Club Benoni
(PHOTO – Juran Dreyer; credit CJ du Plooy)
BENONI, 22 October 2018 – A brilliant first round of nine-under-par 63 saw Free State rookie Juran Dreyer soar into the lead at the Big Easy IGT Challenge Tour #12 on Monday.
The 23-year-old Schoeman Park golfer made a perfect start with five birdies on the bounce and surrendered just one shot at the ninth before reeling in five more gains on the back nine at the Lake Club Benoni.
Dreyer certainly had the most profitable day, but he was not the only one.
Irene's Matt Bright, who already ran up a Big Easy IGT double this season, fired a flawless 65 to move within a shot of Dreyer's lead. He shares second with Centurion golfer Tokkie van den Berg and Stellenbosch rookie Michael James-Steyn.
Ruan Korb, who led the first two rounds of the CMR Golf Club Pro-Am on the IGT Challenge Tour last week, is also within striking distance in fifth at six under.
Botswana's Stuart Smith – the man who beat Dreyer for victory in the Big Easy IGT Challenge Tour #10 at Services Golf Club last month – also took full advantage of the fine conditions and pristine putting surfaces to finish just four off the pace.
But it was Dreyer who stood at the top of the pile following his outstanding first round performance.
The 24-year-old is still hunting a maiden win and the stakes are ever-increasing. Only the top 10 golfers on the final ranking will earn playing privileges on the Sunshine Tour at the end of the Big Easy IGT Challenge Tour series. With only three events after this week before the Big Easy Tour Championship, Dreyer needs another high finish to protect his top 10 ranking in the Road to Sunshine Tour and he found The Lake Club Benoni very much to his liking.
"I'm definitely under pressure to perform," said the big-hitting Bloemfontein bomber. "I am currently ninth in the Road to Sunshine Tour and I can't afford to slip. To start with five birdies in a row definitely gave me a spurt of confidence.
"I hit it give at the first, and boxed an eight-footer at the second. I drove it just right off the fairway at the third and overshot the green with my second, but I hit a great chip and made the birdie putt. I drove it down the middle at the fourth, hit my second to eight foot and lipped out for eagle.
"At the fifth I holed a 15-footer for birdie. I missed one from the same distance for birdie at six. After pars at seven and eighth, I bailed out right at nine. I chipped it to 10 foot but missed the par-putt."
Dreyer made amends for his lone bogey in spectacular fashion, plundering a trio of birdies from 10 and adding a brace of birdies at 15 and 16 to his tally.
"I was especially happy with the birdie at 15, the toughest par five on the course," said Dreyer.
"I drove it straight down the middle, hit a 6-iron right of the flag. I hit a great lagging putt, downhill right to left, to tap-in distance from 15 foot. At 16, I hit a 7-iron from 185 metres over the water to 10 foot and boxed the putt.
"I made a solid up-and-down for par at 17. At the last hole, my tee shot finished 10 metres short of the green. I hit a little punch shot to 10 foot and holed the putt. All in, I hit 18 greens in regulation and had 28 putts, so the irons and the putter was hot."
Dreyer said he learned a few valuable lessons playing the final group on the last day.
"I led the first two rounds and although I tried not to think about it, I think subconsciously it made a bit complacent," he said. "You can't control your playing partners, only your own game. If someone starts to run hot, you have to try and stay with them. You have to be in it to win for 54 holes and you can't afford to let your focus slip, not even once. I'm ready for the next two rounds, but there one goal from here is to build on this start and to make sure I keep myself in the top 10."
First Round Scores
All competitors RSA unless otherwise specified; amateurs indicated as AMA
63 – Juran Dreyer
65 – Michael-James Steyn, Matt Bright, Tokkie van den Berg
66 – Ruan Korb
67 – Stuart Smith (BOT)
68 – Arno Pretorius, Jason Roets, John McClean (NIR), Cameron Moralee, Conway Kunneke, Dylan Kok, Hayden Griffiths, Blain Sansom
69 – Eric Nel, Divan Marais, Leon Visser, Maritz Wessels, Hendrikus Stoop
70 – WM Coetzee AMA, Dwayne Basson, Paul Boshoff, Dean du Plessis AMA, Jeff Inglis (ENG), Richard Joubert, Gary Daoust (BEL), Luke Brown, Thabiso Ngcobo, Stephan du Toit, Albert Venter
71 – Michael Kok, Dean O'Riley, Harry Konig (ENG), Matthew Hands AMA, Jason Rossiter, Quintin Crause
72 – Greg Bentley (ZIM), Matthew Spacey, Kyle Barker, Tristan Topka AMA, Teddy Mathebula, Zabastian de Jager, Brett Liddle, Jason Diab, Peetie van der Merwe, Llewellyn Grobbelaar AMA
73 – Ruhan van Dijk, Romano Saincic, Shaun van Tonder, Jonathan Waschefort, Patrick Thompson, Gareth Sargent AMA, Bryce Myburgh, Dylan Mostert
74 – Bradley Diggeden AMA, Daniel Hammond, Dongkwan Kim (KOR), Jay Dean Fourie, Michael Louth
75 – Donovan Liddicoat AMA, Warric Dyers, Jack Duthie
76 – Gerard du Plooy, Keanu Pestana AMA, Keaton Slatter, Andrew Carlsson, Neil Cheetham (ENG), Andi Dill, Michael van Rooyen, Albert Visser, Michael Dreyer, Andrew Burmester, Stefan Wears-Taylor
77 – Matthew Rushton, Johan Buitendag AMA
78 – Kyle Murphy AMA, David Rebelo, Matthew Rossouw AMA, Shalan Govender, Dylan Morton AMA, Cameron Gurr AMA
79 – Ethan Joseph, Kyle Opperman AMA, Leon Vorster, Louis Botha, Tumelo Molloyi, Alwyn Smith, Paulo Serrao (POR), Tanaka Mhere AMA (ZIM), Christopher de Beer, Jordan Parsons AMA
80 – Cameron Gunning
81 – Stephane van Neer (COD)
82 – Chase Paton AMA
88 – Marcus Smal AMA
89 – Jonathan George AMA
RTD – Karl Lehmacher
Ends
Written and released by Lali Stander on behalf of the IGT Challenge Tour.
Latest IGT Challenge Tour News