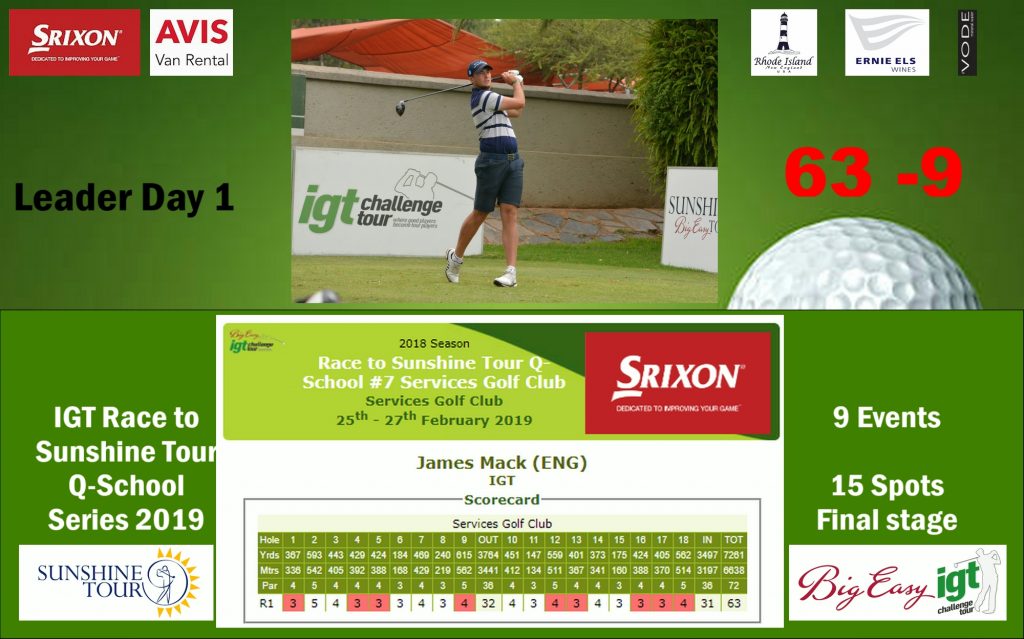 25th February 2019 | IGT Challenge Tour
Sizzling 63 sees Mack surge to IGT Services lead
Sizzling 63 sees Mack surge to IGT Services lead
PRETORIA, 25 February 2019 – Benoni-born Englishman James Mack fired a career-low nine-under-par 63 to grab the first round lead as par took a beating in the IGT Challenge Tour's Race to Q-School Series on Monday.
The former Lee Westwood Golf School student did not drop a single shot in his morning round at Services Golf Club in the seventh event.
On the par five, 514 metre 18th, tapped in for his ninth birdie and a one stroke lead over Mpumalanga golfer Ruan Groenewald.
A further stroke back on seven-under was Tristen Strydom, with Thabang Simon, Thabiso Ngcobo, Nqobani Ndabambi from Zimbabwe, Michael Saunders from England and Kyle Barker in touch on five-under.
Mack moved to England at the age of sixteen, where he joined the Lee Westwood Golf School.
He moved to Germany when he joined the pro ranks in 2018 and has been honing his craft at the Golfer's Tuned Performance Centre in Eisenach.
The 20-year-old travelled to South Africa last year to take a stab at a Sunshine Tour card at the First Stage of Qualifying School.
"After I missed First Stage, but I heard about IGT Top 15 swing. Basically the top 15 on the IGT Challenge Tour Race to Q-School Series get into Final Stage, so I decided to give it a bash," he said.
"I know all the courses and figured I could hold my own among the South African golfers. It's great to have this bonus opportunity to get to Final Stage.
"So far, it's been going well. I moved to ninth in the Race to Sunshine Q-School Rankings with a top 10 finish at Modderfontein last week. A few more good finishes should guaranteed my start in the Final Stage next month."
Mack said he had a game plan after the practice round and stuck to it diligently.
"I was happy that I shot a good under-par score in the practice round. I knew I could play the course well. It suits my eye. So I hit driver everywhere, because if you overpower the course, you can have wedge shots in," he explained.
"I went with driver at the first, hit it to three foot and holed it for a birdie start. I drove it behind a tree at the par five (second) and missed an easy opportunity, though. I knew the putter was working well and I could attack the pins. My short-game was on too, so I had no fear today."
He ran up further gains at four, five and nine to turn four-under. A pair of birdies at 12 and 13 took him six deep and he played the last three holes in a flurry of birdies.
"I nearly aced the 11th but I missed the tap-in because I rushed the putt as I tried to get it away before everyone else," Mack said. "I just had no fear. I hit driver down 16. I had about 60 yards in and put it to three foot. My playing partner Luke Brown was four feet away and he gave me the line, so it was an easy putt for me.
"Going down 17, dog-leg right, I hit the driver again. I had 82 yards in and I hit a low, one-bounce check and nearly holed it. It stopped an inch from the hole, so that was a bonus. The last hole was a tough one.
"I either could have taken a 3-iron, laid up and try to up-and-down for birdie, but I took a Tiger-line left of the trees and hit a high fade. I hit the fairway and a 7-iron in and left myself a 20-foot putt for eagle up the hill.
"I sort of thought if the adrenaline kicked in, I'd hit it too far past, and would have an awful putt coming back down the hill. So I just lagged it up there. It rolled to about six inches and I tapped it in for birdie. My best round was seven-under in a tournament, so this was my best round yet.
"I was very confident going into the first round. I've been working on my game a lot and it was good to finally see the potential realised with the 63. I knew it was there and I made the most of my opportunities. Now I just need to keep it going."
First Round Scores
All competitors RSA unless otherwise specified; amateurs indicated as AMA.
63 – James Mack (ENG)
64 – Ruan Groenewald
65 – Tristen Strydom
67 – Michael Saunders (ENG), Thabang Simon, Kyle Barker, Nqobani Ndabambi (ZIM), Thabiso Ngcobo
68 – Luke Brown, Leon Vorster, Werner Deyzel AMA
69 – Christian Basson AMA, Andrew Carlsson, Peetie van der Merwe, Christof Appel, Christopher van der Merwe AMA, Darin de Smidt AMA, Tristan Topka AMA
70 – Adriel Poonan, Jack Duthie, Gary Daoust (BEL), Matthew Spacey, Irvin Mazibuko, Andrew Williamson AMA, Leon Visser, Hendrikus Stoop, Bryce Myburgh, Stephan Erasmus, Paul Rodrigues AMA
71 – Henning du Plooy AMA, Reinhardt Blaauw AMA, Keanu Pestana AMA, Hanish Nagrani (ZIM), Jabulane Mabilane, Jay Fourie, Albert Visser, Maritz Wessels, Divan Marais
72 – Adam Baker, Michael-James Steyn, Carlo Heunis AMA, Phumlani Maluka, Andre Pistorius, Quintin Crause, Richard Joubert, Ryan O'Neill (ENG), Riaan Swart AMA
73 – Khaya Jika, Ivan Mare AMA, Jonathan Waschefort, Stefan Wears-Taylor, Makhetha Mazibuko, Xander Prinsloo AMA, Pedro August, Ricardo Towell, Ruan Korb, Zabastian de Jager, Jason Diab, Juran Dreyer, Scott Houghton (ENG), Bradley Diggeden AMA
74 – Thabo Moraba, Warric Dyers, Louis Botha, Cody White (CAN), Michiel Bothma, Hanlo Jacobs, Jaco van der Merwe AMA, Marnus Barnard AMA
75 – Neal Herman, Samba Niang (SEN)
76 – Sam Metcalfe AMA, Handre Truter AMA, Jancarel Rossouw AMA, David Rebelo, Gareth Sargent AMA, Marco de Beer, Lance Ellerbeck AMA, Alpheus Kelapile, Morne van der Waltsleben AMA, Matthew Hands AMA, Harry Konig (ENG), Maverick Faber (FRA), Juan de Bruin
77 – Hermanus Prinsloo AMA, Allan Jirek AMA (CZE), Hanro Booysen, Angus Ellis-Cole AMA
78 – Alex Pienaar AMA, Sipho Bujela, Duan Nagel AMA, Cody Holwill AMA
79 – WM Coetzee AMA, Caskin White AMA
80 – Cameron Gunning, Riccardo Barresi AMA, Paulo Serrao (POR)
81 – Reuben Gerber AMA, Shaun Bernstein AMA
82 – Christopher Constantinou AMA, Songezo Sonamzi
85 – Willie Nel AMA
Photo – James Mack; credit CJ du Plooy.
Written and released by Lali Stander on behalf of the IGT Challenge Tour.
Latest IGT Challenge Tour News