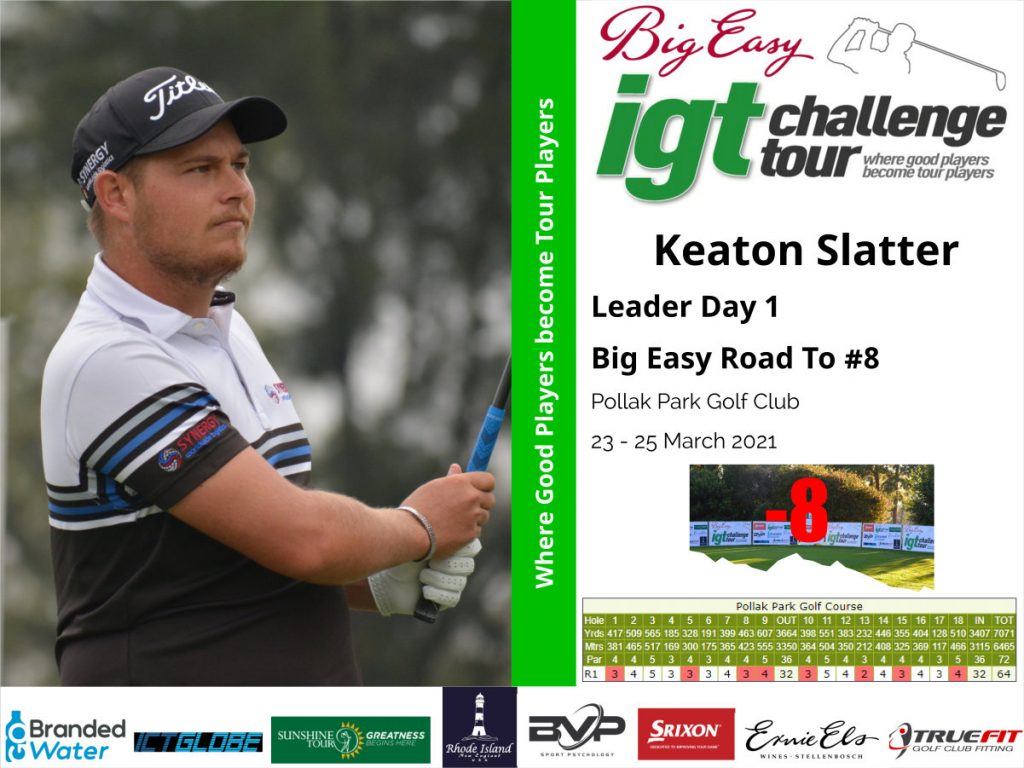 23rd March 2021 | IGT Challenge Tour
Slatter surges to a two-shot lead in Springs
SPRINGS, March 23 – Keaton Slatter took advantage of what he called scorable conditions at Pollak Park Golf Club and carded a bogey-free eight-under 64 opening round of the Big Easy Tour Road To #8 for a two-stroke lead on Tuesday.
"The conditions today were very ideal for scoring," he said, "it was cool and with not too much wind. It was just about keeping the ball in play. I drove it really nicely today which is great because this is not the longest course.
"I putted really well and I was happy to make a few outside chances for birdie; that gives the putter a bit of confidence. I was also very happy with the way I read my lines; I've been putting a lot of work into my putting and it was really nice to see it coming together."
Slatter birdied the first hole and the fifth hole before making a brace of birdies on eight and nine for a four-under-par 32 front nine. Coming home, he picked up two birdies in four holes after the turn, and again on the 15th before closing with another on the last.
Slatter will be keen to continue his great start and take the momentum into the next 36-holes of this 54-hole event. A good run this week will do him good, especially as the season continues to wind down.
"It's been an up and down season for me so far," Slatter said, "I've played well for the most part but there are some tournaments I have let slip. Consistency is what I'm looking for and if I can get that right, things will fall into place. I've been working hard over the last year and a half and to see the work coming together is really pleasing."
Two-shots off the pace lies Romano Saincic after a round-one 66. Bradley Diggeden's good form continued this week and he weaved together a five-under-par 67 round to share the third spot with Matt Saulez who also shot the same score on Tuesday.
Latest IGT Challenge Tour News