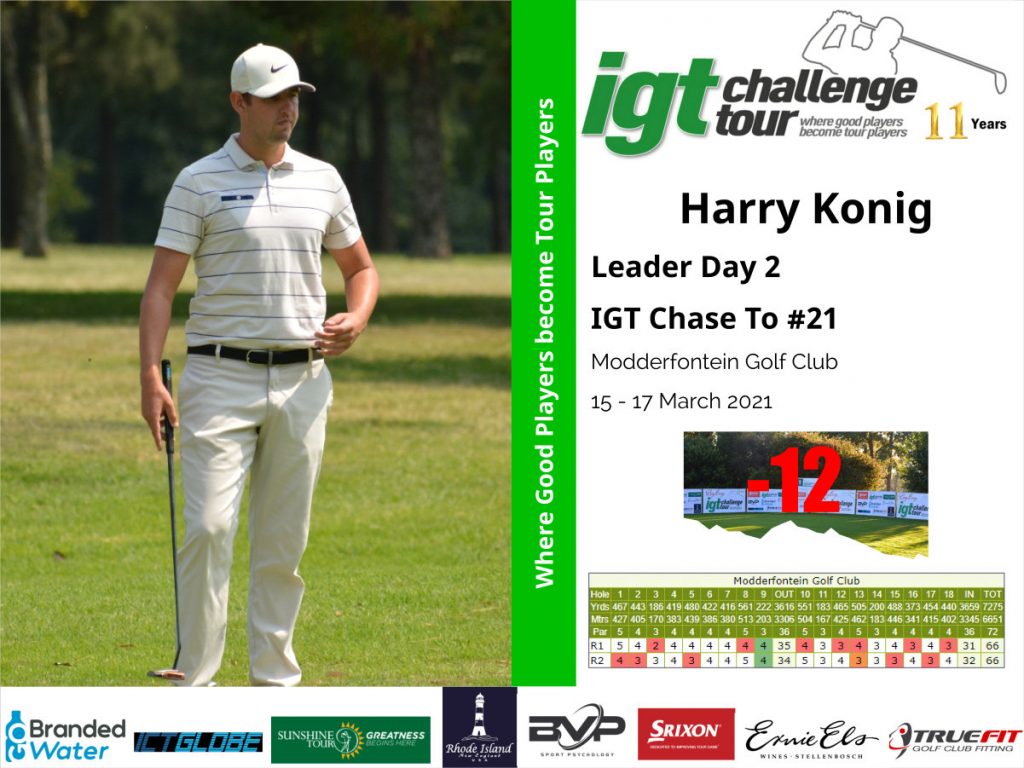 16th March 2021 | IGT Challenge Tour
Slim lead for Konig at Modderfontein
MODDERFONTEIN, March 16 – England's Harry Konig signed for a second 66 in succession in the Big Easy IGT Tour Chase To #21 at Modderfontein Golf Club to find himself one ahead of the Keelan Van Wyk and Ricky Hendler ahead of the final round.
"It feels great to see the English flag top of the leaderboard," Konig mused after his round, "mentally I've been really good at staying patient. Both days I've not holed much until the back nine so keeping the belief that they're gonna drop has been crucial. I've hit it solid and given myself lots of chances"
At 12-under-par this week, the Englishman has been in great form.
Koning opened with two birdies back-to-back before finding more joy with another birdie on the fifth. He held things steady from there on, making pars in the next three holes before making a drop on the ninth, just as he had done in round one.
Again, Koning settled himself and was happy to walk away with pars from 10 to the 12th before a game-changing eagle got onto his card. That was followed by a birdie on 15, and then by another on 17 for a six-under-par second round for a one-shot lead.
"The course has been awesome," he added. "The greens have probably been the best we've putted on this year and they can be pretty quick in places. So, I am looking forward to a good battle tomorrow with the lads. There's always pressure when you're in contention but I've been playing well for a while now and I'm loving being in contention."
Hendler and Van Wyk also showed great mettle as they carded a 67 each for a share of second and just a single stroke off Konig's lead.
Hendler produced a blemish-free round, characterised by four birdies on the front nine and a solitary birdie on the back. Van Wyk also signed for an untainted 67. Five shots adrift and in solo fourth lies the rejuvenated Jason Froneman on seven-under while Thanda Mavundla and Herman Loubser share fifth at six-under.
Latest IGT Challenge Tour News