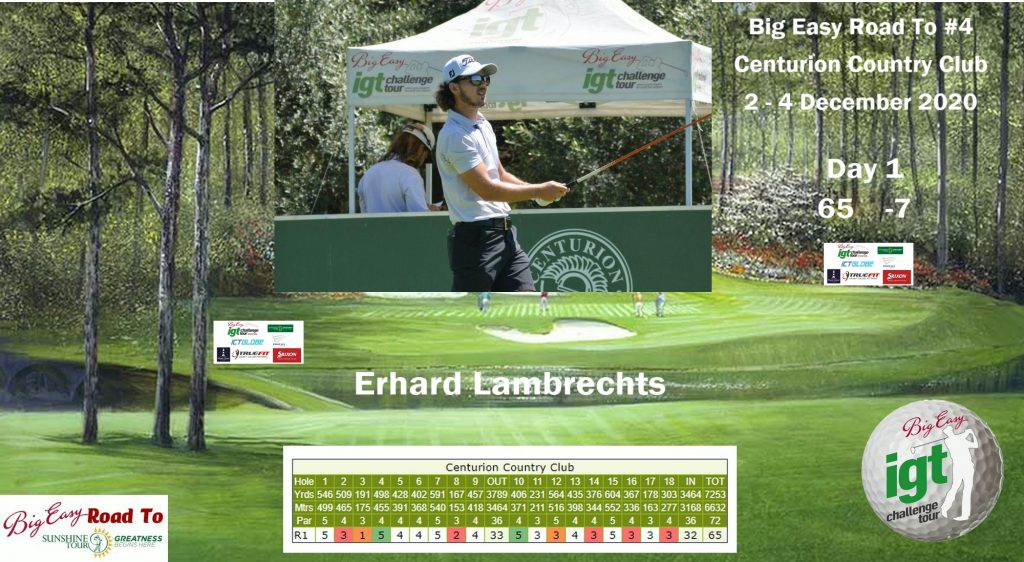 2nd December 2020 | IGT Challenge Tour
Slim lead for Lambrechts in Centurion
CENTURION, December 2 – Erhard Lambrechts says knowing the layout at Centurion Country Club where he currently leads by one in the Big Easy Tour Road To #4 Centurion, helped him a lot on day one following his eventful seven-under 65 opening-round on Wednesday.
"Reading your lines well off the tee here is very crucial," said Lambrechts, "It makes the approach shots easier when the pin positions are difficult. But I have played here many times before, so I know the course very well. I love the layout."
He teed off from the 10th and a bogey on that hole marked a poor start by Lambrechts who plays out of Stellenbosch Golf Club. An experienced player in his own right by now, Lambrecht was quick to shrug off the poor start and made up for it in style; making an eagle on the par-five 12th – his third hole of the day.
"I hit a perfect drive down the middle," he said pf his eagle, "I had 206m to the flag. I hit a good 6-iron just below the hole. I made a good 20-foot putt. It definitely gave me a lot of momentum, especially having three-putted on the first. I felt a lot better over the putter after the eagle."
He got stronger after that eagle; picking up three more birdies – on 14, 16 and 18 – to turn in 32. A par after the turn was followed by a birdie on the second hole of the golf course – Lambrechts' 11th. And suddenly and out of nowhere, Lambrechts made significant gains as he made a hole-in-one on the par-three third hole.
"I think it was 164m to the flag," he said of his ace, "It is a perfect 9-iron especially with a little wind from the right and a little bit into us. Pitch it just short and it went in. I didn't see it go in but I knew it should be close because the ball just disappeared."
The joy was short-lived, however, because Lambrechts dropped a shot immediately on the next hole before closing off with a birdie to seal a round of 65 which has him leading by a single stroke.
Tied for second and just a shot shy of Lambrechts' lead, lurks the duo of Gerhard Pepler and Reinhardt Blaauw. Gerard Du Plooy and Conway Kunneke share fourth at five-under while Llewelyn Booysen, Werner Deyzel, Jeremy Sharpe, Jonathan Waschefort and Therion Nel share sixth at four-under and make up the top 10 leading players after day one.
Latest IGT Challenge Tour News