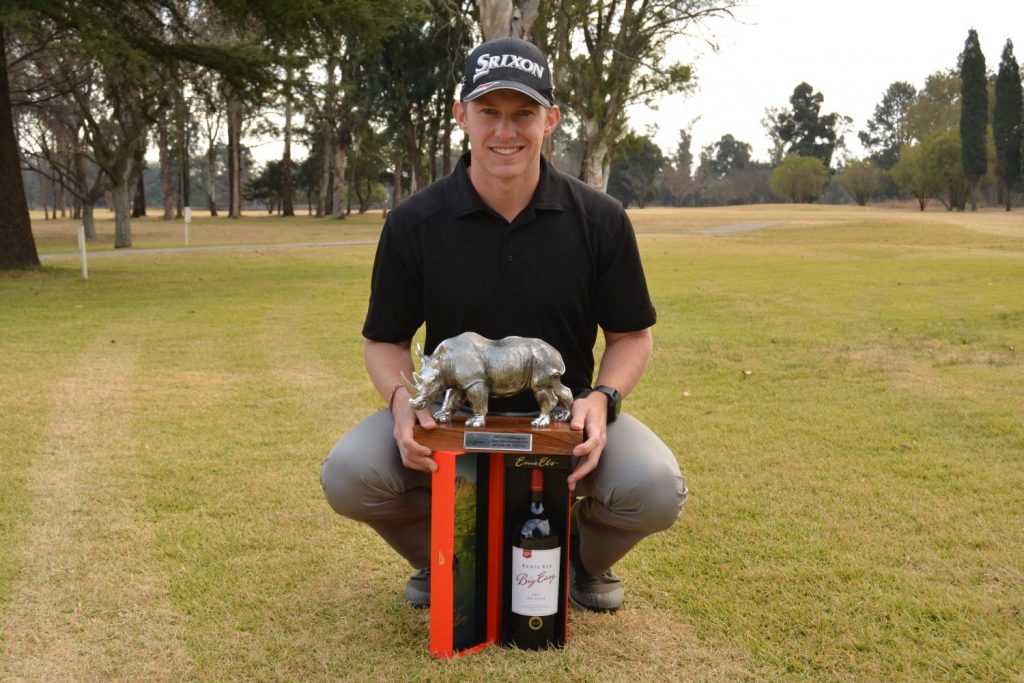 26th June 2019 | IGT Challenge Tour
Smith seals State Mines triumph
Smith seals State Mines triumph
(PHOTO – Jason Smith; credit CJ du Plooy)
BRAKPAN, 26 June 2019 – Jason Smith burst from the blocks with a trio of birdies and kept his foot on the pedal to win his first Big Easy IGT Challenge Tour title of the season at State Mines Country Club on Wednesday.
The Pretoria native, who began the final day three shots off the lead, fired a stunning five-under-par 67 to come from behind and triumph on 11-under 205.
A pay-day worth R10 500 boosted Smith to second in the 2019 Road to Sunshine Tour Rankings and he trails leader Matthew Spacey by less than R3 000. The final round 67 also netted the Irene golfer a share of the low round honours with Jeremy Sharpe.
Sharpe burst through the field with five birdies and an eagle to tie for second on seven-under with Quintin Wilsnach and overnight leader Michael-James Steyn. The pair registered respective rounds of 70 and 74.
It was an action-packed final day, with Smith taking centre stage.
The 25-year-old pitched it close on the first and second holes and knocked in makeable short putts to get off to a roaring start.
"I played the third hole nicely all week, with a birdie in the first round and eagle in the second, so I was gunning for another birdie," Smith said. "I hit a great drive and had 200 metres left, so I flushed a 6-iron in. With the wind behind, it flew the green, but I hit a great chip to up-and-down for birdie.
"I've always played the front nine great and fell apart on the back nine, so that start really set me up for a winning round."
A fourth birdie at par three eighth and an eagle at the 10th saw Smith swoop into the lead.
"That eagle was the highlight of my round. Man, holing that putt felt so good. I hit a great drive and 7-iron in from 185 metres to two foot," the champion said.
Steyn, meanwhile, made 12 straight pars and was still in touch after he boxed his first birdie putt of the day on the par four 12th.
The Stellenbosch golfer had a chance to close to gap when Smith got too aggressive at the 14th and three-putted for bogey after missing the green on the left, but his challenge tanked when he made three bogeys on the bounce from 13.
Smith drove the fairway bunker on the closing hole and a poor trap-shot left him in the long grass left of the green, but he was calmness personified as he chipped it to 12 foot and holed the par putt to secure an impressive four-shot triumph.
"I wasn't hitting it as close on the back nine as I'd done on the front, but  I sunk some pretty long par putts and that was key to the round," Smith said. "That, and the mental side of it.
"I was bitterly disappointed when I lost my Sunshine Tour card at the end of last season, but when I looked back, I detected a pattern. I would play really nicely for two rounds, and let myself down in the last round, because I let myself get distracted by what was happening around me.
"If someone made three birdies in a row, I'd be worrying about what I needed to do. So the last couple of months has been all about the mental game. The swing is just the same as it was, but mentally I feel a lot better prepared. I didn't even know what was happening with the rest of the field today.
"I saw the leaderboard after 10 quite by mistake because I walked into it, but after that I just kept my head down and stayed in the moment. The first time I saw another leaderboard was when I asked the guys what was happening after I sunk the par putt on 18. I think this has been a really good new habit for me, because my consistency has benefit hugely by shutting out what happens around me.
"This is a great result early in the season, and now I'm really keen to gun for that top six finish to get a full card for the Sunshine Tour. If I manage to win a second one, great, but golf is such a mental game; the main thing is not to get too caught up."
Final Result
All competitors RSA unless otherwise specified and amateurs indicated as AMA.
205 – Jason Smith 72 66 67
209 – Jeremy Sharpe 71 71 67, Quintin Wilsnach 68 71 70, Michael-James Steyn 66 69 74
210 – Maritz Wessels 66 71 73, Byron Coetzee AMA 71 65 74
211 – Marthin Scheepers 72 70 69, Hennie O'Kennedy 72 69 70
213 – Theunis Bezuidenhout 70 72 71, Allister de Kock 70 69 74, Jack Duthie 68 70 75, Shalan Govender 75 70 68
214 – Jason Roets 73 70 71, Erhard Lambrechts 72 70 72, Eric Nel 75 70 69
215 – Gareth Sargent 70 72 73, Romano Saincic 74 67 74, Dino Capazario AMA 70 74 71, Jonathan Waschefort 73 72 70
216 – John McClean (NIR) 73 71 72, Adriel Poonan 71 70 75, Marco de Beer 70 74 72, Cameron Moralee 72 73 71, Dylan Kok 75 70 71
217 – Arno Pretorius 71 72 74, CJ Levey 73 70 74, Leon Visser 72 68 77
218 – Luan Boshoff 68 75 75, Maverick Faber (FRA) 75 68 75, Paulo Serrao (POR) 75 69 74, Nicholaus Frade 69 72 77, Thabang Simon 74 71 73, Angus Ellis-Cole 76 69 73
219 – Zabastian de Jager 68 74 77, Keegan Mclachlan AMA 72 72 75, Michael Schutz 73 72 74
220 – Jeff Inglis (ENG) 74 68 78, Mike Maile 70 74 76
221 – Desne van den Bergh 69 74 78, Andi Dill 74 71 76
222 – Leon Vorster 77 68 77
223 – Louis Botha 73 72 78
225 – Michael Pfeifer 74 71 80
Written and released by Lali Stander on behalf of the Big Easy IGT Challenge Tour.
Latest IGT Challenge Tour News