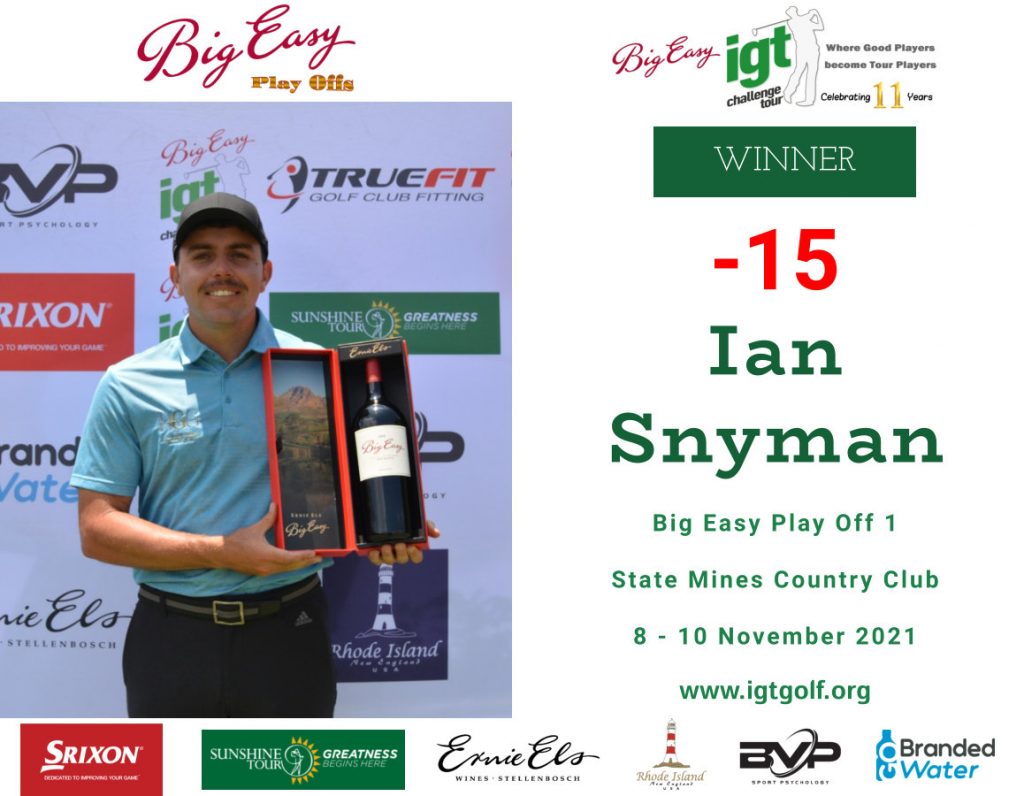 10th November 2021 | IGT Challenge Tour
Snyman charges to snatch play-off win at State Mines
It was a clash of the titans on Wednesday in the final round of the Big Easy IGT Tour's Road to the Sunshine Tour Play Off #1 at State Mines as Ian Snyman came from behind to win the title in a play-off.
It was the fifth victory of the year for Snyman – he also won the Pro-Am at Riviera-on-Vaal in September – as he carded a bogey-free six-under-par 66 to haul in Kyle McClatchie, who has won five times himself. The pair finished on 15-under-par after McClatchie closed with a bogey-free 69 which was not enough to keep him in sole possession of the lead he held from the first round.
"I knew Kyle wasn't going to make any mistakes, so I had to charge hard," said Snyman, who drew level with McClatchie for the first time with a birdie on the 10th in regulation. McClatchie regained the lead with a birdie on 11, and, when he was unable to birdie the final par-five, the 15th, Snyman drew level again with a birdie there.
"We both missed putts on the 18th in regulation play," said Snyman, "but then on the first extra hole, my putter, which had got me into a position to win through the final two days, co-operated again, and I drained a 15-metre putt from the middle of the green for birdie, while Kyle had two metres left for his par after getting out of a greenside bunker."
The pair has now pulled clear at the top of the Road to the Sunshine Tour Order of Merit, with Snyman starting to build a lead that is substantial but not unassailable with the number of points left in the remaining two play-off events. So much so that he will dash out of the country to play in his first Asian Tour event, the Blue Canyon Phuket Championship, on November 25, and then race back in time to tee off in the final play-off event at Centurion Country Club on December 8.
"I'm so excited to be playing my first Asian Tour event after waiting for so long through the COVID-19 disruptions," said Snyman, "but I'm also very keen to finish top of the Order of Merit and secure my Sunshine Tour card as well." The top six players after the final event will win their playing privileges.
Currently in third on that list is Ryan van Velzen, who finished fourth at State Mines on nine-under, one stroke behind Delano Kotze who is in 35th on the Order of Merit. Erhard Lambrechts is in fourth, and he finished in a share of fifth at State Mines with Luke Trocado, Ryan Tipping and Herman Loubser. Loubser is making a determined charge towards the top six on the Order of Merit, and is in eighth after this week's tournament.
For now, Snyman is basking in another win, and is anticipating yet another challenge from McClatchie.
Latest IGT Challenge Tour News