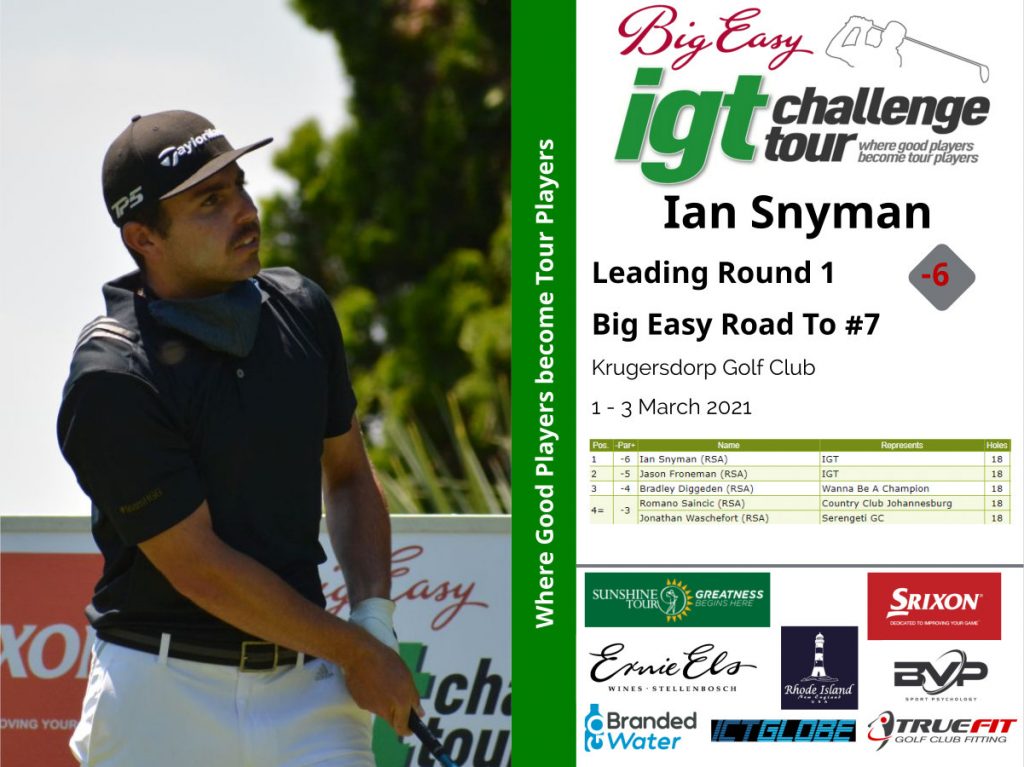 1st March 2021 | IGT Challenge Tour
Snyman grabs Krugersdorp lead with Froneman lurking
KRUGERSDORP, March 1 – Ian Snyman made seven birdies and a single drop on his way to a six-under-par round and a slim one-shot lead over Jason Froneman on day one of the Big Easy Tour Road To #7 at Krugersdorp Golf Club on Monday.
He birdied the par-five first hole to settle himself into the proceedings, made par on the second hole which is also a par-five, and then made another birdie on the third. He kept things steady after that, gladly taking pars in the next three holes. A hat-trick of birdies followed to rubberstamp a very strong start and the lowest score – five-under 32 – of any player on that front set.
"It was a beautiful day today – one-club wind at most," said Snyman. "I played the front nine nicely today and I hit the ball really well. I thought I had a couple more chances there but I couldn't take them all. I set myself up decently the whole front nine; hit fairways hit greens and made the putts I could make. Very low-stress golf on the front nine."
Birdies on the par-five 12th and the par-three 14th holes took his total to seven-under with four holes remaining. Snyman then surrendered a shot on the next hole before closing with three straight pars in what was one of his best rounds this season.
"I also thought I played solid on the back nine," added Snyman, "I missed one or two greens on the back which resulted in me not making as many birdies. But it was a solid day in general. It was just sometimes tricky to judge in which direction the wind was blowing, so if I wasn't sure about which direction the wind would go, I would just think back on previous holes to try and compare that.
"But the thing I liked the most today was that I hit the ball with the center of the clubface 99% of the time. I made a few changes in my swing and it was nice to see it paying off. This is a marathon and not a sprint, so I will take things one round at a time."
An eagle on the first hole was accompanied by back-to-back birdies to define Froneman's scintillating start to Monday's round. A bogey followed but Froneman shrugged it off with his second eagle of the day, this time on the par-five seventh. Another dropped shot on the ninth followed but Froneman bounced back with three birdies on 11, 12 and 14. His joy was short-lived, however, as he made bogeys back-to-back on 15 and 16 to sign for a five-under 67.
Bradley Diggeden is third on the leaderboard after an opening round of 68 while Romano Saincic and Jonathan Waschefort share fourth at three-under. Michael Kok, Herman Loubser and Ricky Hendler share sixth at two-under.
Latest IGT Challenge Tour News