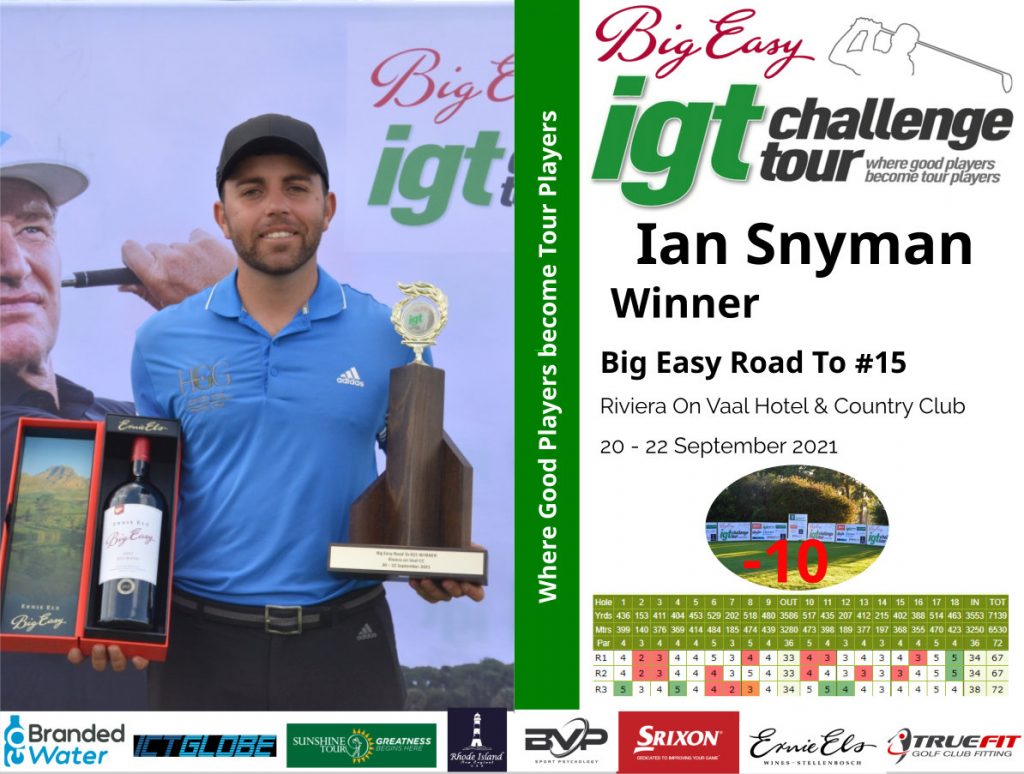 23rd September 2021 | IGT Challenge Tour
Snyman holds it together for wire-to-wire win at Riviera on Vaal
He was made to work hard for his victory on Wednesday, but eventually Ian Snyman turned out to be a wire-to-wire winner in the Big Easy IGT Challenge Tour's Road to the Sunshine Tour #15 at Riviera on Vaal.
Snyman carded a closing level-par 72 to go with his first two rounds of five-under 67 each, and that gave him a one-stroke edge over Michael Kok, who closed with a four-under 68. Herman Loubser was third after his final-round 67 put him on eight-under for the tournament and two off the lead. Matthew Rushton and Michael-James Steyn rounded out the top five with totals of seven-under.
After he had played so well in the first two rounds, it was a bit of a shock to his system when Snyman made bogeys on one and four in the final round. "I saw some places on the golf course that I hadn't seen before," he laughed. "And in the first two rounds, if I missed any greens, I was never more than a couple of inches off. Today, I had to chip, and with some of the lies I got around the greens, that wasn't easy."
But for all that, Snyman stayed calm as Kok and Loubser, in particular, put the squeeze on him. But with no-one towards the top of the leaderboard able to keep at least one bogey off the card, Snyman was able to put together what turned out to be a winning run of consecutive birdies on six and seven, and, when he followed that with an eagle on eight, he was able to feel that he could win the thing.
"I hit a good drive down the middle of wight," said Snyman, "and I hit a long eight-iron in to the green. I actually hit it about 15 metres longer than usual, probably because of adrenalin, and I had about 13 metres to the hole. I read the line of the putt perfectly, and it went in."
He followed that with two good up-and-downs for par on the next two holes, but he followed those with what he called two soft bogeys. But he kept himself together and made par all the way home, including one on 18, where he had dropped a shot in each of the first two rounds. "I'm glad I got my revenge on 18," he laughed.
But more than that, he will have got the experience of holding together what looked like an increasingly fragile lead while under the gun in the final round of the tournament. That is worth a lot in the context of his career, which may be heading to Asia with the news that that circuit is possibly opening up again in November, and on which he has status.
Latest IGT Challenge Tour News