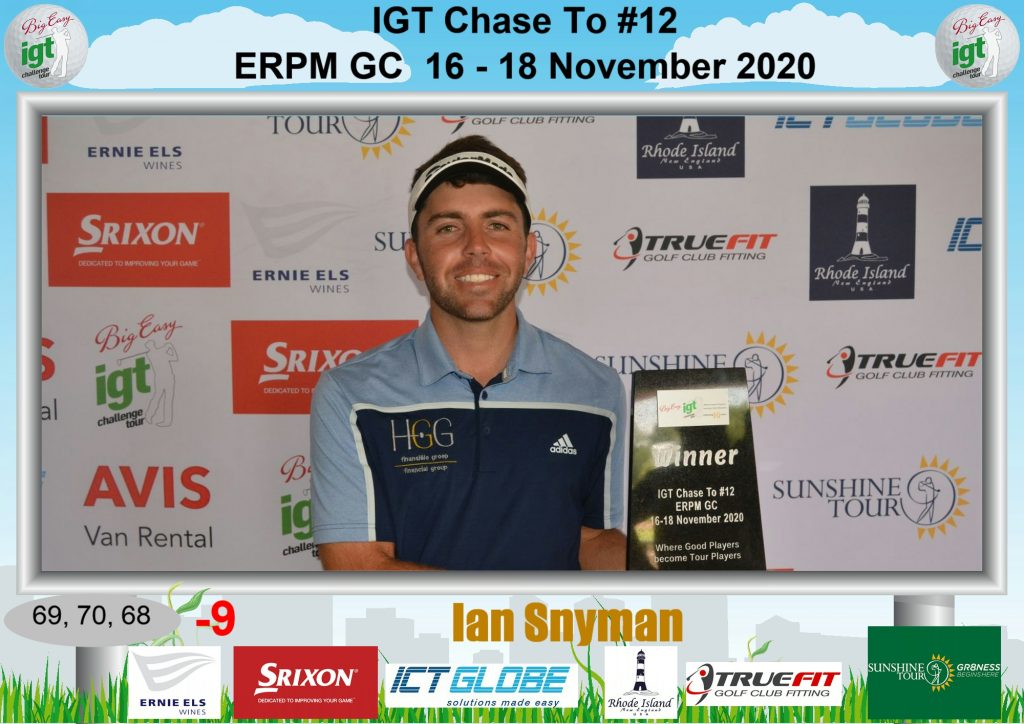 18th November 2020 | IGT Challenge Tour
Snyman snatches breakthrough victory at ERPM
BOKSBURG, November 18 – It took a gallant performance from Ian Snyman to produce a brilliant nine-under-par round score in the IGT Tour Chase To #12 at ERPM Golf Club and claim his breakthrough victory on the Big Easy IGT Tour on Wednesday.
Snyman – who also holds an Asian Tour playing card – was in a six-way share of the lead at the start of the final round, and at five-under-par with a one-shot lead, a lot of work had to be done and strong character displayed.
"My ball-striking was a bit off the 3 days but I managed to keep it in play," Snyman said. "I stayed very level-headed throughout the tournaments reminding myself to focus on the next shot. I knew Franky (Manchest) was playing well. I looked back a few times and saw he had a couple of birdie chances.
"My short game helped me stay in contention throughout the tournament. Each day my iron play and driving improved. I knew I had to make birdies coming down the stretch. I managed to stay in the zone down the stretch and converted with a hot putter."
A level-par front nine – characterised by a bogey on the par-five second and a birdie on the next par-five hole, the fourth – signified a solid start to the final round for Snyman. The field was not gaining any significant momentum to threaten him. It was on the back nine that he found something special because immediately after the turn, a birdie got on to his card. Then, again on the 15th before Snyman sealed a two-shot win with back-to-back birdies on the 17th and 18th holes.
"I have had quite a few second-place finishes but this is my first pro win," Snyman said, "It's a great feeling getting it done with making birdie on the 18th at ERPM. After not playing a tournament in eight months, this is a boost to my confidence."
Snyman's victory marks yet another first-time winner on the IGT Tour after Manchest himself claimed his maiden title some two weeks ago. At seven-under-par for the week and two shots behind, Manchest and Kyle McClatchie had to settle for a share of second while Keelan Van Wyk's inability to replicate his second-round 68 meant he walks away with a fourth spot finish this week.
207 – Ian Snyman (RSA) 69 70 68
209 – Kyle McClatchie (RSA) 65 75 69, Franklin Manchest (RSA) 69 70 70
210 – Keelan Van Wyk (RSA) 71 68 71
211 – Jason Froneman (RSA) 69 71 71
212 – Bradley Diggeden (RSA) 71 72 69, Ricky Hendler (RSA) 75 68 69, Warwick Purchase (AM) (RSA) 69 70 73
213 – Leon Van Der Walt (AM) (RSA) 75 70 68
214 – Rigardt Albertse (RSA) 75 67 72, Leon Vorster (RSA) 70 69 75
215 – Carlo Heunis (RSA) 73 72 70, Lora Assad (RSA) 71 74 70, Francois Blaauw (AM) (RSA) 76 67 72, Marno Prinsloo (AM) (RSA) 73 69 73, Victor Lange (RSA) 67 74 74, Fritz Orren (RSA) 67 72 76
216 – Lwazi Gqira (RSA) 72 72 72, Michael Kok (RSA) 72 71 73, Drikus Joubert (AM) (RSA) 72 69 75
217 – Jancarel Rossouw (RSA) 72 71 74, Marcel Steyn Scholtz (RSA) 70 73 74
219 – Matt Saulez (RSA) 75 68 76, Jonathan George (AM) (RSA) 74 73 72
220 – Tristan Leonard (AM) (RSA) 75 74 71
221 – Sam Botham (ENG) 75 71 75, Keanu Pestana (RSA) 77 70 74, Ryan Van Rosenveldt (RSA) 73 75 73
222 – Louis Botha (RSA) 77 71 74, Divan De Villiers (RSA) 74 75 73
223 – Albert Visser (RSA) 71 76 76
224 – Travis Ladner (AM) (RSA) 74 72 78
225 – Wayne Stroebel (RSA) 78 71 76
226 – Shaydon Johnson (AM) (RSA) 73 77 76
228 – Cameron Borcher (AM) (RSA) 75 75 78
229 – Phumlani Maluka (RSA) 71 78 80
232 – Byron Van Der Merwe (RSA) 71 78 83, Brandon Gildenhuys (RSA) 76 76 80, Slenda Sithebe (RSA) 79 77 76
237 – Johan Milho (RSA) 73 81 83
Latest IGT Challenge Tour News