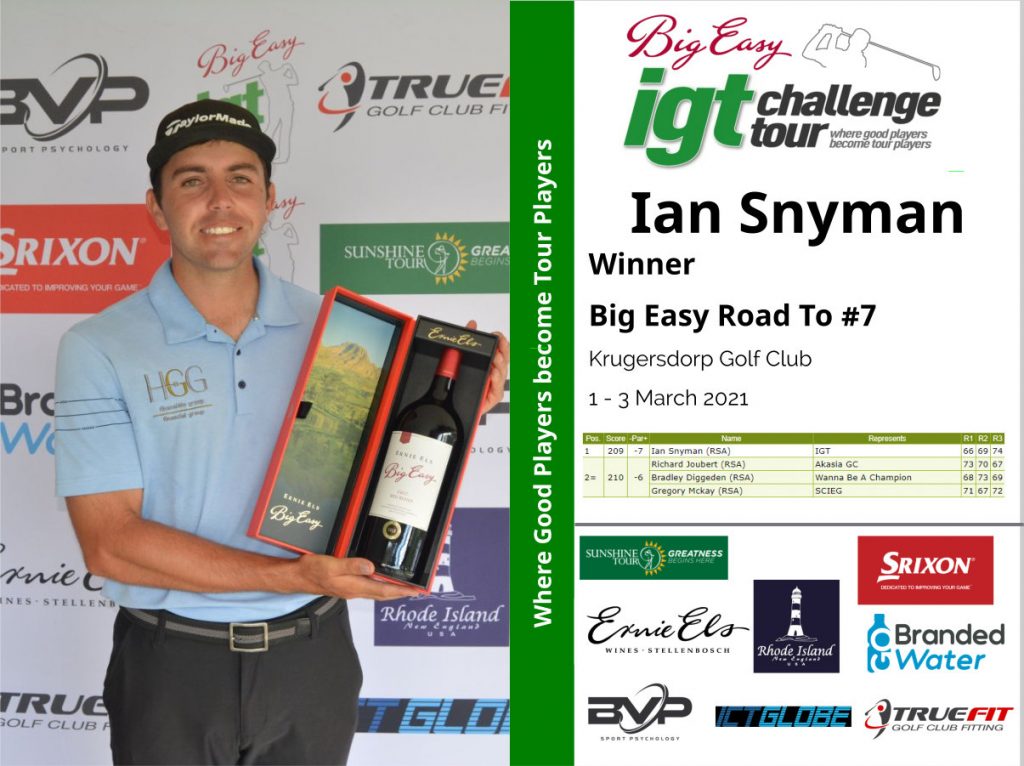 3rd March 2021 | IGT Challenge Tour
Snyman wobbles then wins Krugersdorp title
KRUGERSDORP, March 3 – There were plenty of wobbles along the way on Wednesday, but Ian Snyman rallied and his two-over final-round 74 was enough to give him the Big Easy IGT Challenge Tour's Road to the Sunshine Tour #7 title at Krugersdorp Golf Club.
The man who has qualified to play on the Asian Tour made a double bogey, four bogeys and four birdies to finish seven-under-par for the 54-hole tournament. That put him one shot clear of Richard Joubert, Bradley Diggeden and Gregory McKay who shared second after rounds of 67, 69 and 72 respectively.
"I'm very relieved to pull this one off," said Snyman. "I had a solid first two days and I couldn't miss the centre of the clubface or the fairway or green, and then today, I started off great, and started birdie-birdie-birdie. Everything was going nicely."
But then it all unravelled. "I made one bad swing," he said, "and I thought to myself that you do hit bad shots in golf. I was behind a tree, and as I tried to chip out to try and save par, I hit a branch and was still stuck behind all the trees. So suddenly, there was a big number in play.
"It just escalated quickly from three-under to level-par in two holes. I had to regroup and stay calm and patient. But the swing wasn't there today. I kept missing a bit right and that put me into some trouble today. But I knew the course was playing tough, and I knew I had a bit of a cushion when I teed off, so I just stayed calm and grafted for my pars."
He turned in two-over-par 39, and then kept things steady with seven pars on his homeward nine, together with one birdie and one bogey – a much more stable showing than his yo-yo start.
"One of the big turning points was making a par on the par-four 15th," he said. "I had about 190 yards in from a terrible like in the right rough after I blocked my tee-shot right. I knew I couldn't reach the green and it was too risky going for the green. I took a seven-iron and laid up on the fairway and told myself to get the wedge close. It was make or break, and I hit it to a foot."
It was Snyman's second win of the season, with his first one coming at ERPM when he defeated Kyle McClatchie by two shots last November 16 on the Big Easy IGT Challenge Tour's Chase to the Sunshine Tour series.
"I'm excited about the win," he said. "World ranking points are awesome. I'm very excited about that. It's my second win as a professional, so that's going to give me a nice confidence boost, especially before the Asian Tour starts up."
Latest IGT Challenge Tour News