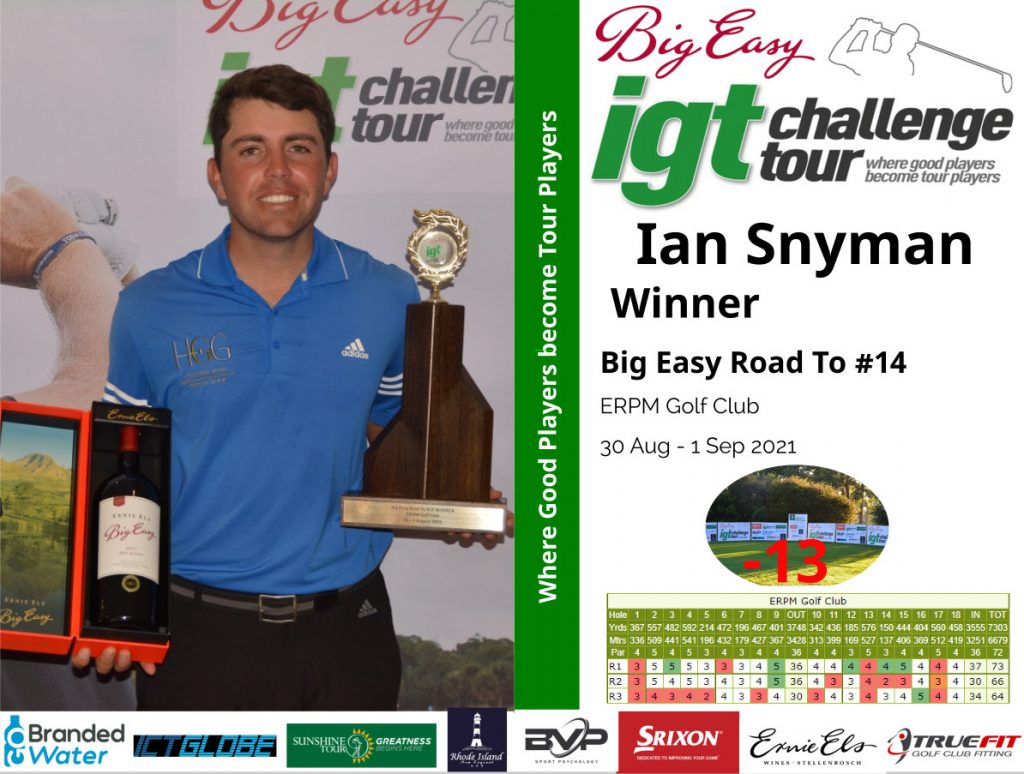 1st September 2021 | IGT Challenge Tour
Snyman's opening 9 buries opposition on way to ERPM victory
Ian Snyman found that rare zone for any golfer on Wednesday as he blew away the opposition with a final round of eight-under-par 64 to win the Big Easy IGT Challenge Tour's Road to the Sunshine Tour #14 by three shots.
He started the final round two shots off the lead, and he gave notice of his intentions with five consecutive birdies to start the day. Another before the turn which he reached in six-under 30 just about sealed the deal, and two more on 10 and 13 put him almost out of sight. He bogeyed 16, and regained that shot on 17 as he left the fast-finishing Zabastian de Jager too far off the be any better than second.
"It was a lot of fun, that front nine," said Snyman. "Everything just worked. I couldn't miss the fairways, I was judging approaches to the very hard greens perfectly, and the ball was rolling into the middle of the cup off my putter.
"In fact, my putter picked up where I left off in the second round. I closed that out yesterday with a 30, so today felt like more of the same. In the end, I just made sure I went through all the motions properly, and made smart decisions all the way around.
"When I made the birdie on 10, I felt that I had given myself a big enough cushion, and I kept reminding myself to just keep playing smart after that."
Hi 64 was just too much for anyone to chase down. De Jager came closest with his closing nine of six-under 30 for a 66, but it was simply not enough. Thanda Mavundla also chased valiantly, but his 65 left him five shots back in a share of third with Kyle McClatchie and Ryan van Velzen. McClatchie signed for a 69 and Van Velzen carded a five-under 67.
The man who led the tournament for the first two rounds, Makhetha Mazibuko, had to be satisfied with a closing level-par 72 and a share of sixth with Keelan van Wyk who shot a 69.
For Snyman, it's now a question of keeping on playing smart golf in a search for consistency as he chases one of six Sunshine Tour cards that are up for grabs for players in the Road to the Sunshine Tour Series, which has four more regular season events before the play-offs which begin on November 8 and will be held over three tournaments in four weeks.
Latest IGT Challenge Tour News