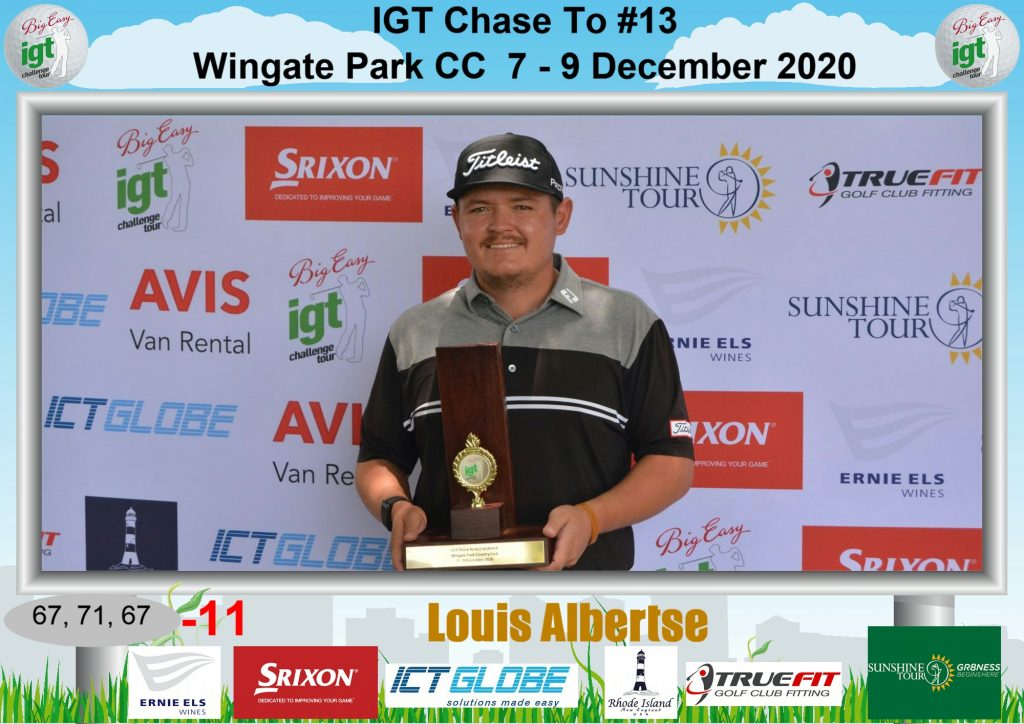 10th December 2020 | IGT Challenge Tour
Solid back nine hands Albertse fifth IGT title
PRETORIA, December 9 – Louis Albertse pieced together a brilliant back nine of five-under 32 to claim a come-from-behind two-stroke victory in the IGT Tour Chase To #13 at Wingate Park Golf Club on Wednesday.
The win is Albertse's fifth on the IGT Tour and while the Sunshine Tour campaigner admitted that he didn't think too much of his chances for a win on Wednesday, a final round of five-under 67 propelled him to victory at 11-under 205, two clear of Michael Kok. Kok had kept a two-stroke lead for two consecutive rounds after a strong start this week.
"I didn't think I was anywhere near the lead," he said. "Then when I walked off the tee on 12 I saw the leaderboard and I realised that the leading guys were struggling a bit. That gave me a little hope to say I could go for it and before I knew it, I was tied for the lead and I went from there."
A level-par front nine was characterised by birdies on the second and sixth holes, but those gains were dealt a huge blow when Albertse dropped back-to-back on the eighth and ninth.
"I had a very average front nine; started well and ended badly and didn't think I was really in it," Albertse added, "But, I knew there were going to be opportunities on the back. I made a good birdie on 10, another good birdie on 13 – I missed a short eagle putt there – and I made an exceptional birdie on 14 too. Then another birdie on 15 and then suddenly everything changed.
"16 and 17 are tough holes but I played them very solid and I made a nice birdie on 18 to finalise a 67 which was good enough."
Ranked 61 on the Sunshine Tour Order of Merit, the Natal-born Albertse wants to replicate his IGT Tour feats on the Sunshine Tour and feels he has the game to achieve this ambition.
"Five IGT wins means a lot to me," he admitted, "and it shows me that I can play some good golf. I am just hoping to move that kind of game to the Sunshine Tour stage and get that confidence going on that Tour. I want to get to a place where I can win and win on the Sunshine Tour as well It's a motivation for me."
A decent season on the Sunshine Tour has yielded a top five, a top 10, a top 20, and a top 25 and his win today on the IGT Tour solidifies him as a serious competitor.
Latest IGT Challenge Tour News