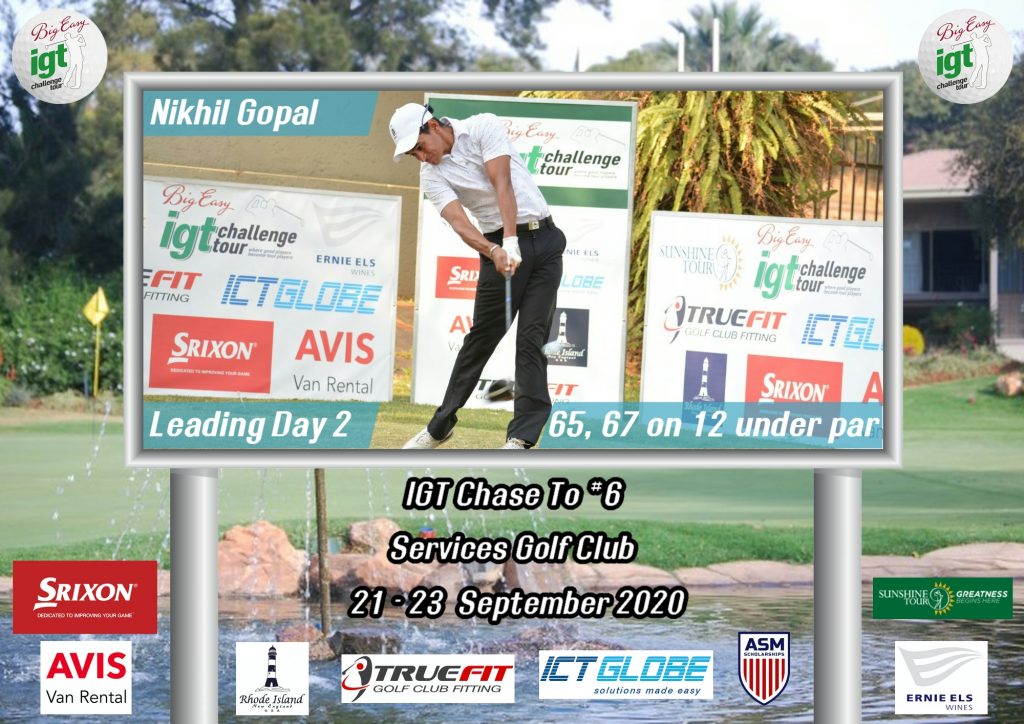 22nd September 2020 | IGT Challenge Tour
Solid Gopal consolidates Services lead
ZWARTKOP, September 22 – Amateur Nikhil Gopal birdied four of his last five holes to overturn a birdie-starved front nine and sign for a second-round five-under 67 which took his total to 12-under for a two-shot lead ahead of the final round of the IGT Chase #6 at Services Golf Club.
Leading overnight, Gopal's second round started off steadily, giving nothing away as he made eight straight pars before making his first birdie of the round, on the par-five ninth. A bogey on the next hole took from those gains, but that drop was soon followed by a birdie, this time on the par-three 11th hole.
"I really played well on the front nine; hit it well from tee to green but I just couldn't make any putts. Probably me just misreading the speeds," said Gopal after his round which ensured he remained perched at the summit ahead of the start of the final round.
"I hit the ball nicely on the front nine, so I stayed patient. I played with Karabo (Mokoena) yesterday and he was so patient that he ended up turning in a good round yesterday so I just learned from that. So, I birdied 11 and on 12 I got unlucky, my birdie-putt horse-shoed around the hole and on 13, I hit mid-green and two-putted for par.
"On 14, I made a good birdie there and hit it to about three-feet, 16 misread the greens and made par. On 17, I made a good birdie and, on the 18th, I hit it on for two and made a birdie there. So, I just played solid golf tee to green. I think I must have missed one or two greens today"
Two shots off the pace and with a real shot at victory tomorrow after a round-two 67, Dylan Kok occupies the second spot on the leaderboard and a further two-strokes off the lead, lies Danie van Niekerk and amateur Christiaan Maas, at eight-under for the tournament.
Lying fifth at seven-under-par is Casey Jarvis while Franklin Manchest, Ricky Hendler and Karabo Mokoena share sixth at six-under-par.
"Tomorrow, I'm just going to have to keep it the same as I did today," added Gopal, "I played with the lead on Monday and I'm going to play with the lead again in the final round. It's okay! I'm just going to go out there and do my best. As an amateur, I'm not trying to make a living out of this, so I will enjoy myself all the way."
132 – Nikhil Gopal (AM) (RSA) 65 67
134 – Dylan Kok (RSA) 67 67
136 – Danie Van Niekerk (RSA) 70 66, Christiaan Maas (AM) (RSA) 66 70
137 – Casey Jarvis (AM) (RSA) 66 71
138 – Franklin Manchest (RSA) 70 68, Karabo Mokoena (AM) (RSA) 70 68, Ricky Hendler (RSA) 71 67
139 – Warwick Purchase (AM) (RSA) 66 73, Vaughn Van Deventer (RSA) 71 68, Christiaan Burke (AM) (RSA) 70 69, Werner Deyzel (AM) (RSA) 67 72, Drikus Joubert (AM) (RSA) 71 68
141 – Gregg Gilson (AM) (RSA) 69 72, Handre Truter (AM) (RSA) 72 69, Gerard Du Plooy (RSA) 70 71
142 – Lincon Cele (RSA) 72 70
143 – Leon Vorster (RSA) 71 72, Keelan Van Wyk (RSA) 73 70, Francois Blaauw (AM) (RSA) 73 70, Shaydon Johnson (AM) (RSA) 73 70
144 – Oswin Schlenkrich (AM) (RSA) 73 71, Samual Mc Kenzie (AM) (RSA) 70 74, Jancarel Rossouw (RSA) 72 72, Michael Kok (RSA) 70 74, Wynand Potgieter (RSA) 72 72, Josh De Aguiar (AM) (RSA) 73 71
145 – Carlo Heunis (RSA) 70 75, Victor Lange (RSA) 71 74, Caylum Boon (RSA) 73 72
146 – Ryan Van Velzen (AM) (RSA) 69 77, Herman Loubser (RSA) 75 71, Saul Moss (AM) (RSA) 74 72, John-William Blomerus (AM) (RSA) 75 71, Marno Prinsloo (AM) (RSA) 76 70
147 – Keanu Pestana (RSA) 75 72, Lwazi Gqira (RSA) 75 72, Henning Du Plooy (RSA) 72 75
148 – Ruan Groenewald (RSA) 75 73, Warrick Moonieyan (RSA) 77 71, Phumlani Maluka (RSA) 73 75, Bradley Diggeden (RSA) 76 72, Matthew Dennis (AM) (RSA) 73 75
149 – MS Calitz (RSA) – Cut 74 75
150 – Gerhard Trytsman (AM) (RSA) – Cut 79 71, Pedro Cristovam (AM) (RSA) – Cut 73 77, Shanren Brienen (RSA) – Cut 73 77, Jade Buitendag (RSA) – Cut 77 73
151 – Ryan Tipping (RSA) – Cut 75 76, Dawid Opperman (AM) (RSA) – Cut 75 76, Juan Diedericks (AM) (RSA) – Cut 76 75, Conway Kunneke (RSA) – Cut 74 77
152 – Johan Kriek (AM) (RSA) – Cut 75 77, Lindi Coetzee (RSA) – Cut 77 75, Byron Van Der Merwe (RSA) – Cut 75 77
153 – Andrew Inggs (AM) (RSA) – Cut 80 73, Therion Nel (RSA) – Cut 72 81, Tetelo Seseni (RSA) – Cut 74 79, Matthew Mortimer (AM) (RSA) – Cut 78 75, Brandon Moodley (RSA) – Cut 77 76
154 – Donald Makhafola (RSA) – Cut 74 80, Wayne Stroebel (RSA) – Cut 78 76, Conner Mackenzie (AM) (RSA) – Cut 77 77, Tristan Leonard (AM) (RSA) – Cut 78 76, Gunther Pascal (AM) (RSA) – Cut 80 74
155 – Teddy Mathebula (RSA) – Cut 78 77
156 – Ernest Ludick (AM) (RSA) – Cut 76 80, Jason Hale (RSA) – Cut 78 78, Tiaan De Jager (AM) (RSA) – Cut 75 81
157 – Clinton Duncan (AM) (RSA) – Cut 79 78, Leon Van Der Walt (AM) (RSA) – Cut 77 80, Nkosikhona Dilla (RSA) – Cut 77 80, Ricardo V D Westhuizen (AM) (RSA) – Cut 74 83, Llewellyn Barnes (RSA) – Cut 77 80
158 – Slenda Sithebe (RSA) – Cut 80 78
159 – Adam Gamsy (AM) (RSA) – Cut 81 78, Brenden Pieters (RSA) – Cut 79 80
160 – Heinrich Bolleurs (AM) (RSA) – Cut 82 78, Bradley Fuchsloch (AM) (RSA) – Cut 81 79
161 – Christiaan Pretorius (RSA) – Cut 83 78
163 – Christopher Constantinou (AM) (RSA) – Cut 79 84
164 – Pierre Du Plessis (AM) (RSA) – Cut 78 86, Lynette Fourie (RSA) – Cut 81 83
166 – Kyle Lundy (AM) (RSA) – Cut 80 86
172 – Mchumane Wayiti (AM) (RSA) – Cut 91 81
173 – Willie Theron (AM) (RSA) – Cut 82 91
WDN – Michael Pretorius (AM) (RSA) – Cut 78 WDN
RTD – Pierre Le Roux (AM) (RSA) – Cut 88 RTD
DSQ – Jonathan George (AM) (RSA) – Cut 73 DSQ
Latest IGT Challenge Tour News