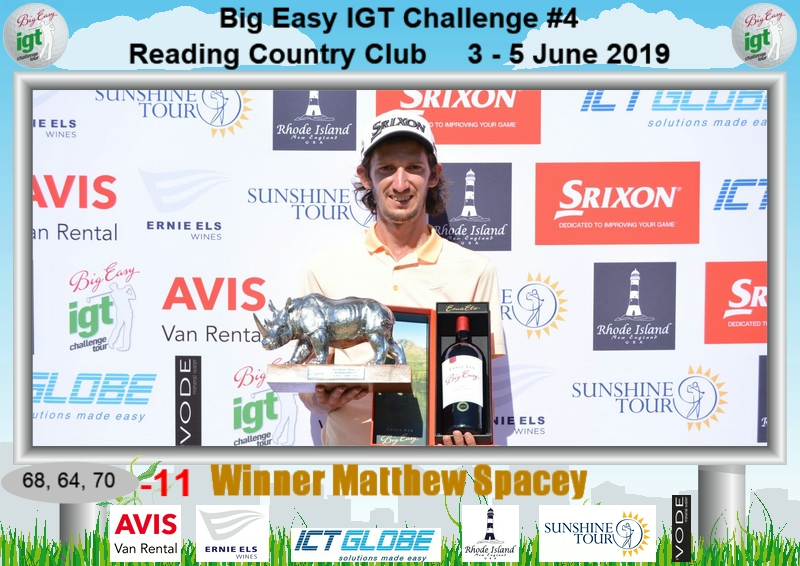 5th June 2019 | IGT Challenge Tour
Spacey seals second Big Easy IGT success at Reading
Spacey seals second Big Easy IGT success at Reading
(PHOTO – Matthew Spacey; credit CJ du Plooy)
ALBERTON, 5 June 2019 – Matthew Spacey overcame a stumbling start to win his second Big Easy IGT Challenge Tour title by one shot after a final round battle with Albert Venter and Hendrikus Stoop on a tense and dramatic day at Reading Country Club.
It was not all plain sailing for the Dainfern golfer, who led the fourth event of the season by two shots after earlier rounds of 68 and 64.
Spacey was on the ropes at one stage after a run of three bogeys from the fifth hole, but got himself back in contention with an eagle at the par five eighth. Two birdies on the back nine, coupled with bogeys from Venter and Stoop, saw the trio head down the last hole tied for the lead.
Spacey drained a 35-foot birdie putt for a round of 70 and celebrated a one-shot victory on 11-under-par 202 after both his playing partners made pars.
Stoop and Venter shared second after posting rounds of 68. Michael Pfeifer carded 67 to finish in fourth on nine under, while rookie Carlo Heunis signed for the same number to finish in fifth on his own a further stroke back.
Win number two came with a R10 500 pay-day, which catapulted Spacey to the number one spot in the Road to Sunshine Tour.
"I'm absolutely delighted," said the 28 year old, "The goal was to win and although I made a sketchy start, I hung tough, turned things around with the eagle and was able to produce a strong finish."
It had been a game of cat and mouse throughout the day between Spacey, Venter and Stoop.
Venter burst from the blocks with three birdies on the bounce, while Stoop followed a birdie start with a bogey at the second. Spacey carded four pars before getting on the bogey train.
"I was between clubs, so went with a firm 9-iron at the fifth and flew the green by 20 metres," Spacey said. "I chipped it to 15 foot, but didn't make the par putt. At the sixth, I hit a good tee shot, and a punched a 9-iron just short, but couldn't up-and-down for par.
"At the next short hole, I pulled a wedge long and left and again, couldn't up-and-down. I knew I needed to take advantage of the par five to get back in it. I hit a great drive down the middle and a pitching-wedge 15 foot short of the hole and boxed the eagle putt."
Stoop also made three at the eighth, and when Venter dropped shots around the turn, the fight was on.
"It was a strange day," said Spacey. "The wind gusted on and off and made club selection really tough. We all struggled, because you just didn't know how the ball would behave.
"The lead kept changing hands. Albert led, then Hendrikus joined him and then Carlo got in front of both of them with eagle at 12 and a birdie at 14. I just stayed patient down the back nine. At 11, I hit a punch 7 to three foot and boxed the putt that got me back to 10-under and I hit a lob-wedge to 15 foot behind the hole and made the birdie putt to take the lead on 11-under.
Over the next few holes, Venter bogeyed 15 and birdied 17. Stoop dropped on 16 but birdied 17. Spacey bogeyed 15.
"We were neck-in-neck heading down 18 and I was already thinking play-off," Spacey said. "I hit a great drive and took a 9-iron in. It was a long, ropey putt but I had the line and I putt the perfect pace on the stroke.
"My goal was to win, and I'm really pleased that I got there. The hard work starts now, though. It's all about maintenance. I need to make cuts and finish in the top five and maybe won one or two more to make sure I finish in the top six to get my card. But first, we're going out to crack open this bottle of Big Easy and toast my win."
Final Result
All competitors RSA unless otherwise specified; amateurs indicated as AMA
202 – Matthew Spacey 68 64 70
203 – Albert Venter 67 67 69, Hendrikus Stoop 70 64 69
204 – Michael Pfeifer 70 67 67
205 – Carlo Heunis 71 67 67
206 – Malcolm Mitchell 74 63 69
207 – Yubin Jung 68 70 69, Jason Smith 66 71 70, Erhard Lambrechts 66 70 71
208 – Michael Kok 70 68 70, Dino Capazario AMA 69 71 68, Christopher van der Merwe 71 66 71, Mitchell Lightfoot 75 62 71, Richard Joubert 65 72 71, Hans-Jurie Human 67 70 71
209 – Jason Roets 68 71 70, Francois Blaauw AMA 69 69 71, Maritz Wessels 70 71 68
210 – Ruan Botha 72 68 70
211 – Andrew Burmester 70 68 73, Gideon van der Vyver 67 73 71, Luan Boshoff 68 72 71, Reinhardt Blaauw 70 66 75
212 – Brandon Gildenhuys AMA 72 67 73, Marthin Scheepers 67 72 73, Bradley Diggeden 71 68 73, Jason Rossiter 72 68 72, Gary Daoust (BEL) 75 65 72
214 – Jason Viljoen 70 69 75, Gareth Sargent 71 71 72
215 – Eric Nel 73 67 75, Michiel Bothma 71 70 74, Andrew Carlsson 72 70 73
216 – Coert Groenewald 70 72 74, Jaco van der Merwe 70 72 74
222 – Andrew Williamson AMA 70 70 82
Written and released by Lali Stander on behalf of the Big Easy IGT Challenge Tour.
Latest IGT Challenge Tour News