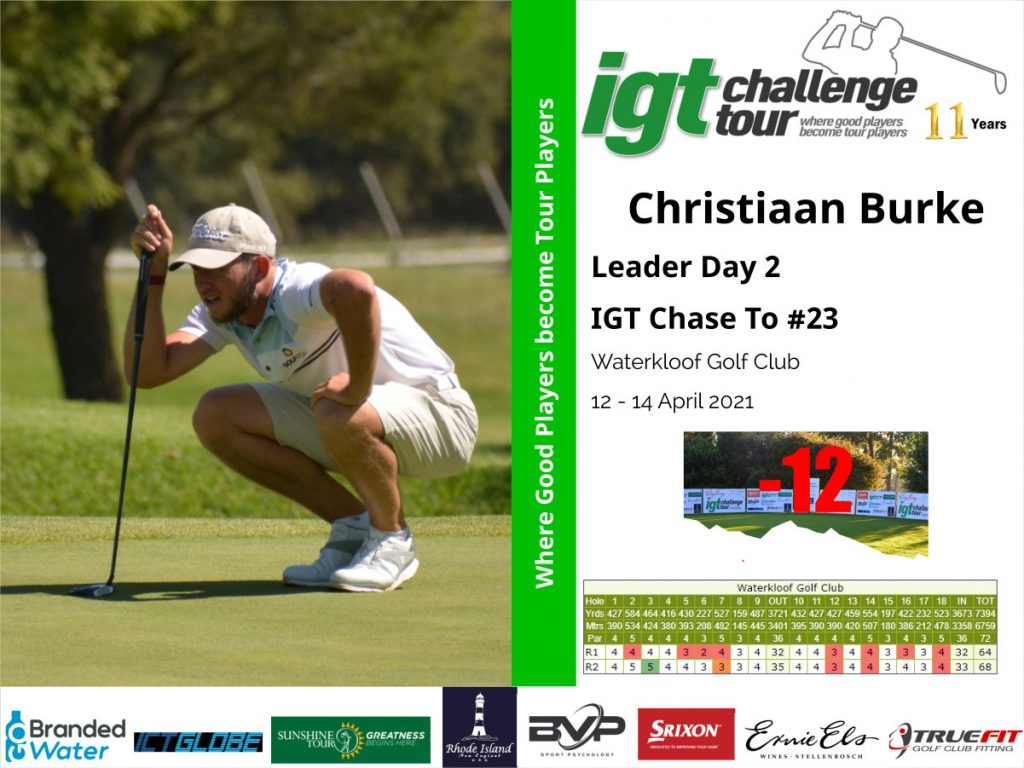 13th April 2021 | IGT Challenge Tour
Stern test ahead as Burke eyes breakthrough win
PRETORIA, April 13– The last two Big Easy IGT Tour events played at Waterkloof Golf Club this season saw amateur Christiaan Burke finish T2 and T11, respectively, and as he heads into the final round of this week's Chase To #23 in the capital, there's a lot he'll want to make up for.
Burke fired in a 68 on day two to back up his opening round of 64 to take his total to 12-under-par after 36 holes. He ties that score with local man Quintin Wilsnach, who is a member here and whose knowledge of the layout came to good effect on moving day.
Back in September last year when golf had just been allowed to get back out on the fairways rather than live on virtual platforms, the fifth event on the IGT Chase To the Sunshine Tour was held at Waterkloof, Burke who is a member of GolfRSA's Elite squad was among the trio of players which narrowly lost out to Albert Venter that week.
Burke closed with a 68 that week to back his opening two rounds of 68 and 70 and his total for the week was a significant 10-under, a score he would tie with Nikhil Rama and Vaughn Van Deventer. It was not enough to stop Venter from walking away with a one-stroke victory. Again, at IGT Chase To #11 at the same venue, his tournament total of six-under to finish in a share of 11th was some long way off Ryan Van Velzen's winning total of 19-under.
"Today was a good day again," he said, "I'm happy with how I played today. The wind started to pick up again around the last few holes but I just stuck to my game. I'm excited for tomorrow, I mean, I've come second three times on the IGT and Big Easy Tours, so I'm gonna give it my all to get the breakthrough on the Tour."
Wilsnach's knowledge of his home course was visible to see on Tuesday as he skillfully navigated his way to a six-under-par 66 round. That effort catapulted him to a share of the lead, two shots clear of the chasing Sunshine Tour professional, Heinrich Bruiners. Wilsnach will want to win this one, especially since it's at his home course but Bruiners hasn't tasted victory in a while, too, and he will be eyeing a confidence booster ahead of the Limpopo Championship.
"I just tell myself that it's just another round of golf; focus on my own game and just enjoy it," says Burke as he braces himself for the challenge. While his last two outings here did not yield a victory, Burke knows that the final round of this 54-hole event not only presents him with an opportunity to correct the errors of his last two outings here but an opportunity to finally get that elusive Tour victory.
Latest IGT Challenge Tour News