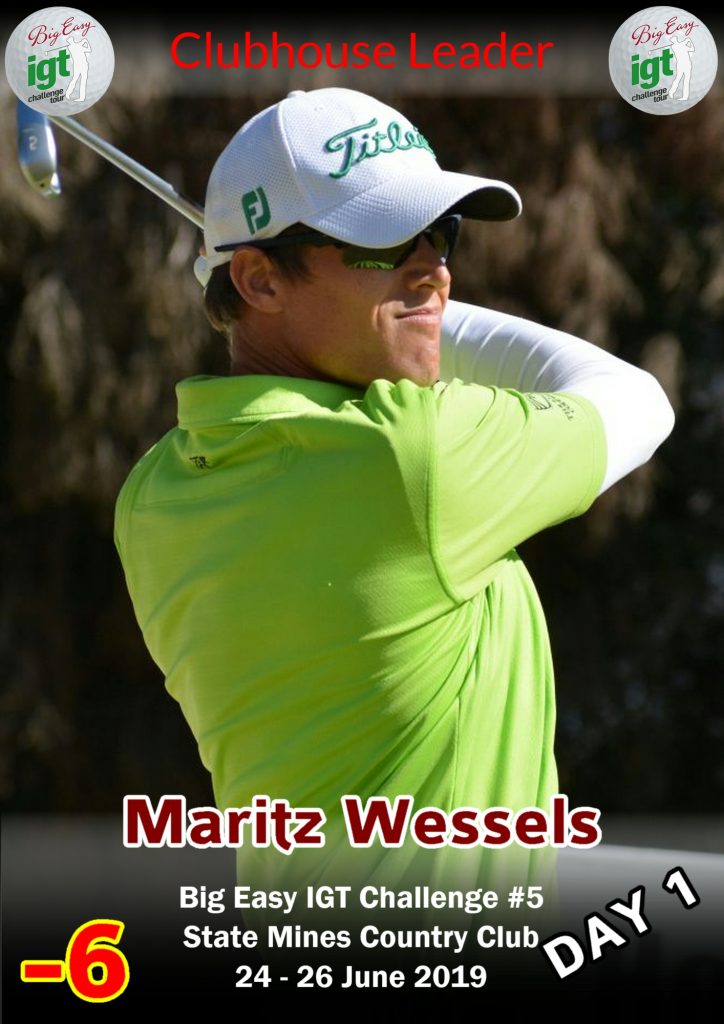 24th June 2019 | IGT Challenge Tour
Steyn and Wessels lead the way at State Mines
Steyn and Wessels lead the way at State Mines
(Michael-James Steyn and Maritz Wessels; credit CJ du Plooy)
BRAKPAN, 24 June 2019 – Michael-James Steyn and Maritz Wessels topped a congested leaderboard at State Mines Country Club as they took Route 66 on the opening day of the Big Easy IGT Challenge Tour #5 on Monday.
Steyn set the clubhouse target at six under with loops of 33, but he was joined by former Big Easy Championship winner Wessels in the late afternoon.
The leaders are two shots clear of former Sunshine Tour campaigner Quintin Wilsnach and rookie trio Zabastian de Jager, Jack Duthie and Luan Boshoff.
Ebotse amateur Clinton Duncan birdied three of his last four holes join Nicholaus Frade, Andrew Carlsson and Desne van den Bergh on seven under.
State Mines amateur Francois Blaauw also played himself into contention with a two-under-par 70 and he shares 11th spot with fellow amateur Dino Capazario, Marco de Beer, Gareth Sargent, Mike Maile, Theunis Bezuidenhout and Gary Player School of 2019 member Allister de Kock.
Steyn spent the last two years coaching toddlers at pre-primary schools in the Fourways area, but the Stellenbosch native recently packed it in to devote more time to his career.
"If I've learned anything in the last two years, it's that talent alone is not enough these days," said the 24-year-old. "I don't have any regrets because the experience taught me so much, but it's really tough to juggle a full-time job and a golf career. Something had to give.
"I worked really hard at amateur level to reach the top and I'm going to have to focus all my energy on my game to make it to next level as a pro. So "I'm going to move back home at the end of the July to give it everything I've got."
Steyn burst from the blocks with a birdie-birdie start and was four-under after another brace of gains at six and seven.
"I dropped a shot at nine, but I made a good up-and-down for birdie at 10 and then eagled the par four. Eleven is not really a driver hole, but I went for the green, finished just short and chipped it in for two," said Steyn.
"I hit 3-iron off the tee at the last par five (15) and made a regulation birdie, but I had a brain-fart on 17 and made a silly bogey. You have to take your medicine and move on. Good par finish to leave me in a nice position. I was surprised to be leading, though. I definitely haven't given golf enough attention, so I didn't expect to be in front, but like I said, it's a nice start and a good platform to build on."
Like Steyn, Wessels is also looking at winging his way back onto the Sunshine Tour via the Big Easy IGT Challenge and IGT Challenge Tours.
"I lost my card at the end of 2015, and I haven't had much luck at the Q-Schools," said the 31-year-old Waverley resident. "The two development circuits both offer an incentive to the top finishers at the end of season. It's a chance to bypass Q-School, so it's a huge opportunity."
Wessels picked up a trio of birdies in his first four holes and dipped four-under with a birdie 10. He gave a shot back to the field at 11, but recovered quickly with a gain at the par four 12th. An eagle and a birdie either side of a bogey at 17 saw him clock in with a 66.
"I struggled off the tees, but my iron-play was really good and putted extremely well today," he said.
"I took advantage of some good approach shots early in the round but I also left quite a few birdies out there. I chipped in for the eagle at the par five, but then I got too greedy at the short hole and I hit it long. With the pin right at the back I was dead, so I chipped it up and two-putted for bogey. At 17, I knocked it close for two and boxed the five-footer for birdie.
"I haven't had good results in my first three Big Easys, and I need to land a few top three finishes to move up in rankings, if I have any hope of finishing top six at the end of the season. The game is coming into form at the right time and hopefully I can keep it going for two more rounds."
First Round Scores
All competitors RSA unless otherwise specified and amateurs indicated as AMA.
66 – Michael-James Steyn, Maritz Wessels
68 – Zabastian de Jager, Quintin Wilsnach, Jack Duthie, Luan Boshoff
69 – Nicholaus Frade, Clinton Duncan AMA, Andrew Carlsson, Desne van den Bergh
70 – Marco de Beer, Dino Capazario AMA, Allister de Kock, Gareth Sargent, Mike Maile, Theunis Bezuidenhout, Francois Blaauw AMA
71 – Byron Coetzee AMA, Reinhardt Blaauw, Arno Pretorius, Adriel Poonan, Jeremy Sharpe
72 – Leon Visser, Keegan Mclachlan AMA, Jason Smith, Cameron Moralee, Hennie O'Kennedy, Erhard Lambrechts, Marthin Scheepers
73 – Brandon Gildenhuys AMA, Jonathan Waschefort, Jason Roets, Mitchell Lightfoot, Jason Rossiter, Michael Schutz, Pequestro Dyssel, CJ Levey, John McClean (NIR), Ricardo Towell, Louis Botha
74 – Andi Dill, Terence Archibald, Clayton Mansfield, Romano Saincic, Coert Groenewald, Carlo Heunis, Bryce Myburgh, Michael Kok, Patrick O'Brien, Thato Mazibuko, Paul Rodrigues, Jeff Inglis (ENG), Thabang Simon, Tumelo Molloyi, Michael Pfeifer
75 – Gary Daoust (BEL), Paulo Serrao (POR), Maverick Faber (FRA), Duan Nagel, Neil Cheetham (ENG), Gideon van der Vyver, Dylan Kok, Shalan Govender, Eric Nel, Andrew Burmester, Liam Labuschagne, Franco Putter, Ruhan van Dijk, Matthew Spacey
76 – Angus Ellis-Cole, Malcolm Mitchell, Richard Joubert, Divan Marais, Luke Trocado, Neil Swart (NAM), Evance Vukeya, Jaco van der Merwe
77 – Cameron Esau, Wynand Potgieter, Mpho Mafishe, Sipho Bujela, Henning du Plooy, Albert Visser, Leon Vorster, Mark Bright
78 – Quintin Crause, Gerard du Plooy, Donald Makhafola (AM), Angelo Marques (AM), Hanlo Jacobs, Terence Mogapi
79 – Neo Mokgatle, Michael Louth, Jason Viljoen, Nqobani Ndabambi (ZIM), Nicholas Souranis (AM), Alwyn Smith
80 – Hans-Jurie Human, Dwayne Basson, Basil Wright, Slade Pickering (AM)
82 – Byron van der Merwe
83 – Keaton Slatter
84 – James Cleasby (AM), Tristan Eeles, Carlo O'Reilly, Luca Rodrigues (AM)
87 – Christopher Constantinou (AM)
WDN – Tristan Topka, Werner Deyzel (AM)
RTD – Phumlani Maluka
Ends
Written and released by Lali Stander on behalf of the Big Easy IGT Challenge Tour.
Latest IGT Challenge Tour News