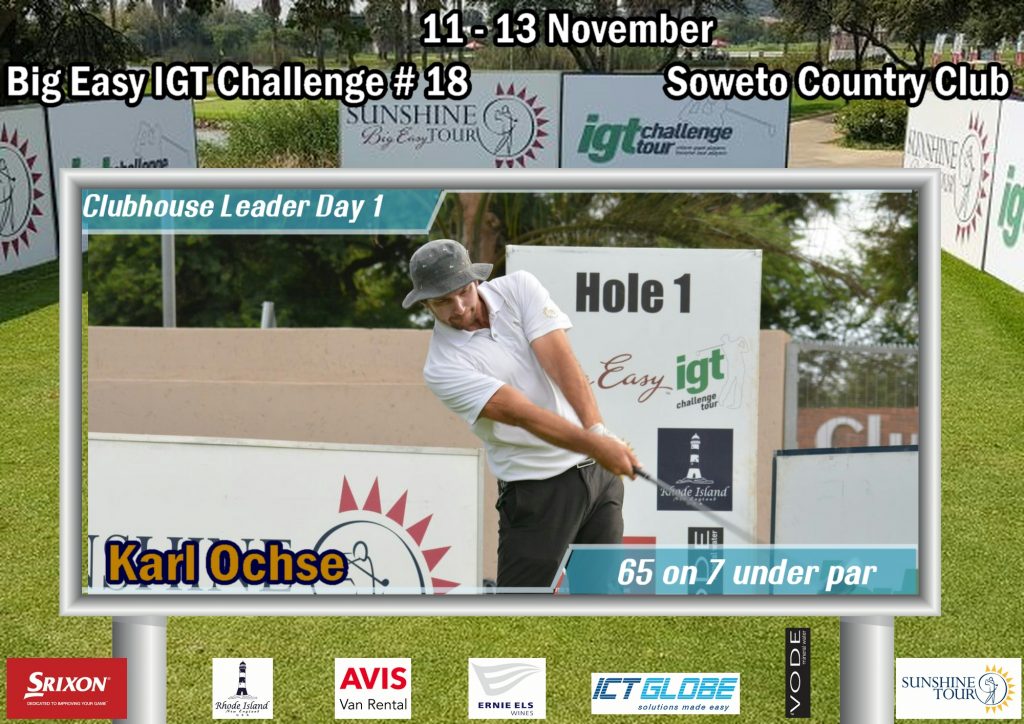 11th November 2019 | IGT Challenge Tour
Strong finish for Ochse at Soweto Country Club
Strong finish for Ochse at Soweto Country Club
SOWETO, 11 November 2019 – Karl Ochse of Stellenbosch Golf Club closed with five birdies on the back nine on Monday to card a seven-under-par 65 at Soweto Country Club and take a one stroke lead after the first round of the Big Easy IGT Challenge #18.
After a fast start with two birdies in the first three holes, he made bogey on four and was afraid he was going to start repeating the implosions which have plagued him all season long, but he needn't have worried.
He redeemed that dropped shot with a birdie on six, parred his way to the turn, and then got hot coming home. "I always get ahead of myself," said Ochse of that early bogey. "When I dropped that shot, I thought, 'Here we go again!'
"But it was really nice to score so well on the back nine, and, in fact, score well for the first time as a professional."
He has carded four-under 68 twice this season, so 65 was comfortably his most impressive card.
"I need a good finish to get into the top 30 for the championship," said Ochse of his fast start in the last event before the Big Easy IGT Championship scheduled for November 27 at Centurion Country Club.
Ochse leads by one from Desne van den Bergh, who won the Big Easy IGT Challenge #7 in July, and by a further stroke from Malcolm Mitchell of Kloof Country Club, who is a two-time winner this season with titles in July and September.
Swiss golfer Neal Woernhard is fourth on four-under, one stroke ahead of Clayton Mansfield and last week's play-off winner Jason Froneman. Ryan O'Neill from England, Theunis Bezuidenhout, Ruan Kord and Fritz Orren round out the top 10.
The top six players at end of the season finale will earn their cards for the Sunshine Tour next season, while the top three players on the Transformation Order of Merit will earn their cards at the end of the Soweto event.
It looks very much as if the current one to three – Allister de Kock, Dwayne Basson and Thabiso Ngcobo – are shoo-ins to finish in those three leading spots, however, Thabang Simon and Makhetha Mazibuko are still in with a shout.
Simon, who is fourth and R4 000 behind Ngcobo, opened with a two-over 74, while even-par 72 leaves Gary Player Class of 2019 member Mazibuko in the hunt, too. Two sub-par rounds could see Mazibuko erase the R5 000 deficit to overhaul Ngcobo for the third.
Ochse currently lies in 51st position on the Road to Sunshine Tour, and he will have to finish substantially better than his best of the season of a share of 12th in Big Easy IGT Challenge #3 back in May if he is going to punch his ticket to Centurion.
The tournament was the first visit by a men's professional event to the newly renovated Soweto Country Club, and Ochse couldn't speak highly enough about it. "The greens are perfect, the fairways play beautifully, and around the greens is just great," he enthused.
"When the trees grow to their full size, it's going to be a great course. Right now, a lot of them are small enough that we can go over them, so it reminds me a lot of courses in the Boland," said the man who represents Stellenbosch Golf Club.
"I had a few testers for par on the greens today, and, while they were a little slow, they rolled perfectly," he added. "I made important pars from about a metre-and-a-half to two metres on eight, 11 and 17, and even though I didn't hit two of those putts particularly well, they still went in."
While he's aware of the quality of the players who are gathered behind him, he's going to have to put them out of his mind going into the second round. "I'll probably think about them," he said, "but I really have to go out tomorrow and do more of the same. If I miss a fairway, or if I miss a green on the wrong side, I just have to try and make things right."
Round One Scores
All competitors RSA unless otherwise specified and amateurs indicated at AMA
65 – Karl Ochse
66 – Desne van den Bergh
67 – Malcolm Mitchell
68 – Neal Woernhard
70 – Clayton Mansfield, Jason Froneman
71 – Ryan O'Neill, Theunis Bezuidenhout, Ruan Korb, Fritz Orren
72 – Angus Ellis-Cole, Makhetha Mazibuko, Aubrey Beckley, Ruan de Smidt, Richard Joubert, Morne Buys, Yubin Jung
73 – CJ Levey, Carlo Heunis, John Mc Clean, Jack Duthie, Gideon van der Vyver, Leon Vorster, Jason Smith, Matthew Spacey, Quintin Wilsnach, Hendrikus Stoop, Zabastian de Jager, Mike Maile
74 – Charles Spencer-White, Alpheus Kelapile, Lwazi Gqira, Michael Schutz, Thabang Simon, Thabiso Ngcobo, Albert Venter, Matt Saulez, Clinton Grobler, Jason Rossiter, Darin de Smidt, Maverick Faber, Franklin Manchest
75 – Jeremy Sharpe, Hennie O'Kennedy, Marthin Scheepers, Reinhardt Blaauw, Michael Pfeifer, Basil Wright, Sipho Bujela
76 – Thanda Mavundla, Gerard du Plooy, Evance Vukeya, Michael Kok, Byron Coetzee, Coert Groenewald, Dwayne Basson, Jeff Inglis, Jaco van der Merwe, Quintin Crause, Jason Viljoen, Henning du Plooy
77 – Eric Nel, Dylan Naidoo, Keaton Slatter, Christopher van der Merwe, Donovan Pearse, Adriel Poonan, Chase Paton
78 – Divan Marais, Gareth Sargent, Luan Boshoff, Allister de Kock, Michael-James Steyn, Gary Daoust
80 – Lincon Denzy Cele, Shalan Govender, Teboho Sefatsa, Marco de Beer, Phumlani Maluka
83 – Jarryd Govender
84 – Ernst Louw
RTD – Jason Roets
Written and released by Lali Stander on behalf of the Big Easy IGT Challenge Tour.
Latest IGT Challenge Tour News