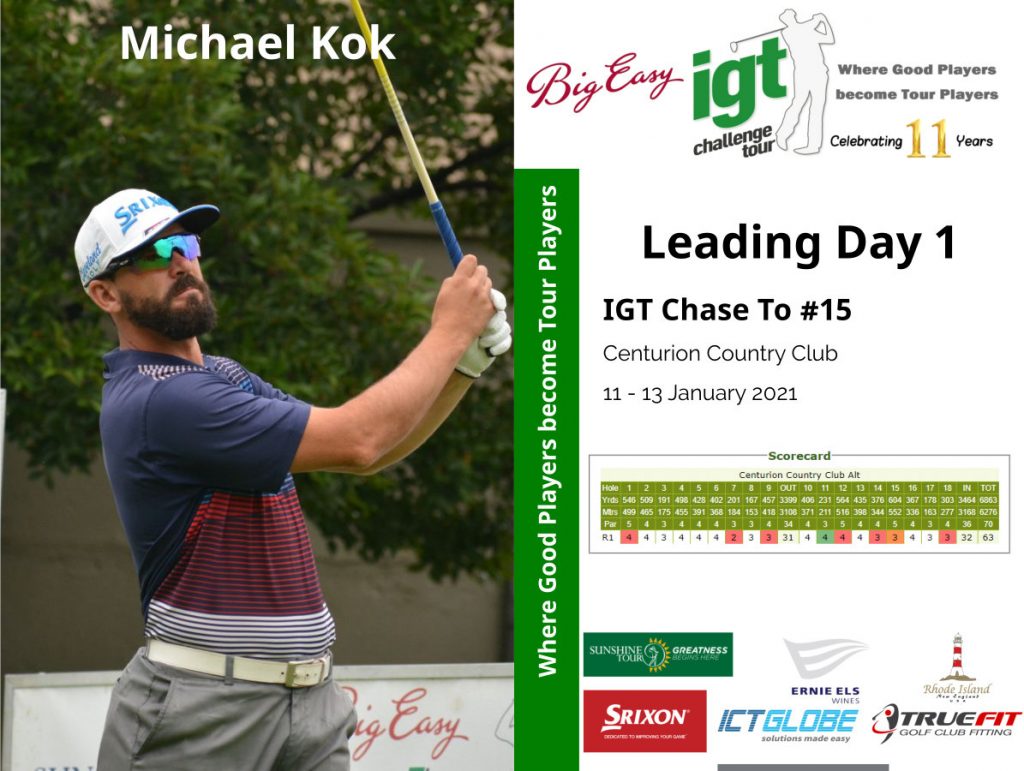 11th January 2021 | IGT Challenge Tour
Strong start for on-form Kok in Centurion
CENTURION, January 11 – Michael Kok took his golf clubs along for his Christmas holiday and continued to practice to avoid any rustiness coming into the new year, and it showed on Monday when he shot a low 63 in the Big Easy IGT Tour Chase to #15 at Centurion Country Club.
"Yeah, I took my golf clubs with me to Durban for my Christmas holiday," he chuckled after his first professional round of 2021. "I was in great form towards the end of last year and I wanted to keep that momentum going, and besides, the level of competition is crazy out here so I didn't want to slack in any way. I just kept on swinging the sticks so that I stay sharp."
He entered the event in Centurion beaming confidence following a string of good results. Kok has not finished lower than 12th in his last three events, with the runner-up finish at Wingate in the second week of December his highlight for that period. It was no surprise, then, to see him up the leaderboard and challenging for the top spot on day one.
A birdie on the first hole paved the way for a perfect front nine of 31 – consisting of birdies on the first, the seventh and ninth holes. A bogey on the 11th threatened his progress but an experienced campaigner like Kok would bounce back with ease.
He shrugged that bogey off with a birdie on the par-five 12th before making back-to-back gains – a birdie and an eagle – on 14 and 15. A birdie on the last sealed off a solid performance as the Chase To The Sunshine Tour intensifies.
"It's a long race," Kok said of his ambition to claim one of the Sunshine Tour cards available at the end of the series, "and you can't get ahead of yourself. Besides, there are so many guys here who win every work. I just take it one tournament at a time because there's still a long way to go before we can start thinking about that.
"I'm enjoying my form right now and I don't want to overthink things. Golf is a funny sport and it will humble you sometimes, so it's important that I stay zoned in and not get distracted."
Kok ties the first position on the leaderboard with the duo of Therion Nel and Quintin Wilsnach while Jeremy Sharp's six-under 64 has him sitting fourth on the leaderboard. England's amateur Zachary Chegwidden, Paul Boshoff, South African amateur Stals Swart and Donald Makhafola share fifth at five-under-par.
Latest IGT Challenge Tour News